Enthusiastic Congrats to the 2016 Tom Murrin Performance Award Winner!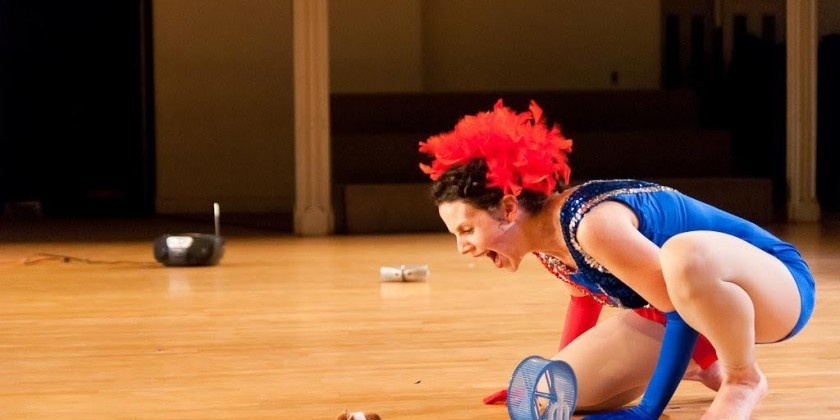 "The Tommy" Goes To Laurie Berg This Year
Dixon Place announces the recipient of the 4th Annual Tom Murrin Performance Award, also known as "The Tommy." A transformative career opportunity for an emerging NYC-based artist or company, this year's award will be presented to Laurie Berg, known for her absurd, darkly humorous choreography and living collages.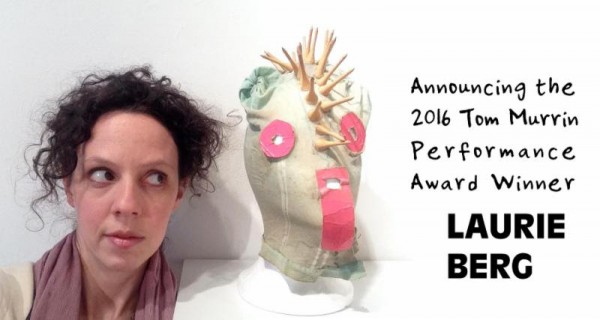 The 2016 Tom Murrin Performance Award Winner: Laurie Berg.

The Tommy is an annual award granted to a NYC-based early career artist or company who embodies Tom Murrin's generous artistic spirit and gift for unearthing big, meaningful ideas by creating resourceful, exuberant, mysterious, enlightening, theatrical, luminous and remarkable performance. The award was created in 2013 to honor Murrin, who passed away in 2012. He was an inspiration, a mentor and a role model for countless young and emerging artists. 

The award provides a yearlong residency to its recipient, followed by a 3-night run at Dixon Place and an honorarium. Past recipients include ANIMALS Performance Group (2013), Andrew Schneider (2014) and Monstah Black (2015).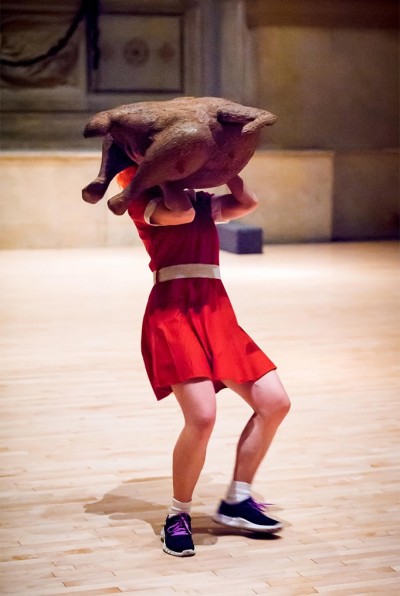 Laurie Berg. Photo by Ian Douglas.
 
Laurie Berg makes work in a variety of forms including dance and performance, collage, and jewelry. With an ongoing interest in iconography, honed absurdity and sharp, sometimes dark humor, Berg draws out a multiplicity of meanings and associations from her subject matter to create a living collage. Berg is also a co-organizer of AUNTS, a roving event platform guided by core principles of collectivity, cooperation and sharing. Most recently her work was presented at Danspace Project and as part of the Joyce UNLEASHED Series at the Invisible Dog Art Center. She was a 2013 New York Live Arts Studio Series Resident Artist, a 2010-2012 Movement Research Artist-In-Residence. Her jewelry, which plays with the juxtaposition of real and fake, new and old, precious and plastic, can be seen around the necks of many dance artists in NYC.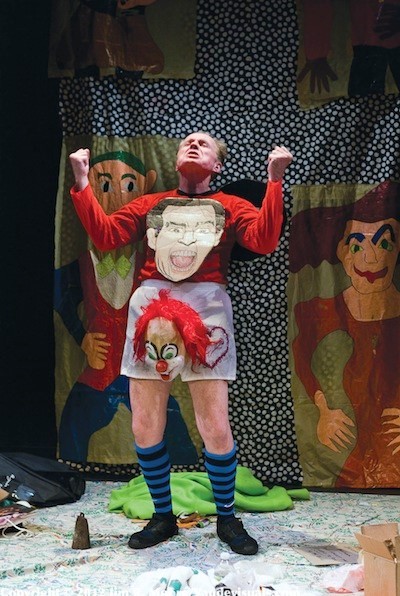 Tom Murrin (February 8, 1939 - March 12, 2012) also known as the Alien Comic and Jack Bump, was a performance pioneer whose life and work inspired both artists and audiences for over 40 years. He was a member of the first generation of La MaMa playwrights. Tom wrote four plays performed through La MaMa and produced by John Vacarro's Playhouse of the Ridiculous, including the offbeat hit, Cockstrong, which toured with Ellen Stewart's La MaMa Troupe to Paris, Amsterdam and Brussels. Under the guidance of famed rock manager Jane Friedman, Tom began to perform under the name Alien Comic, opening for acclaimed punk bands in rock clubs such as CBGBs and Max's Kansas City. He performed in NYC clubs & theaters as the Alien Comic, appearing in such venues as The Pyramid, 8BC, King Tut's Wah Wah Hut, Performance Space 122, Dixon Place, La MaMa, and more. Since the mid 80s, he created, performed & curated a series of variety nights at PS122, and later at the Club at La Mama ETC & Dixon Place, called The Full Moon Show. His plays Sportfuckers & Butt Crack Bingo (directed by David Levine) were produced at Theater for the New City & La MaMa. Tom was the first performance artist to appear on stage at the original Dixon Place location at 37 East First Street in 1986.
More details about the award presentation on May 22 can be found here.