Related Features
Contribute
Your support helps us cover dance in New York City and beyond! Donate now.
Dance News: Faye Driscoll Is The Recipient Of The 12th Annual Jacob's Pillow Dance Award
Faye Driscoll, hailed as "a postmillenium postmodern wild woman" (Deborah Jowitt, The Village Voice) for her work that is a "tour de force of performance and direction" (Brian Seibert, The New York Times), receives the 12th Annual Jacob's Pillow Dance Award. The Bessie Award-winning choreographer, director, and alumnus of The School at Jacob's Pillow joins a group of honorees that includes Annie-B Parson and Paul Lazar of Big Dance Theater, Kyle Abraham of Abraham.in.Motion, Michelle Dorrance of Dorrance Dance, Camille A. Brown of Camille A. Brown & Dancers, and Liz Lerman of Dance Exchange. The Award will be formally presented as part of the Jacob's Pillow Season Opening Gala on June 16, 2018 followed by the presentation of Driscoll's work at Jacob's Pillow Dance Festival for the second consecutive summer, August 1–5.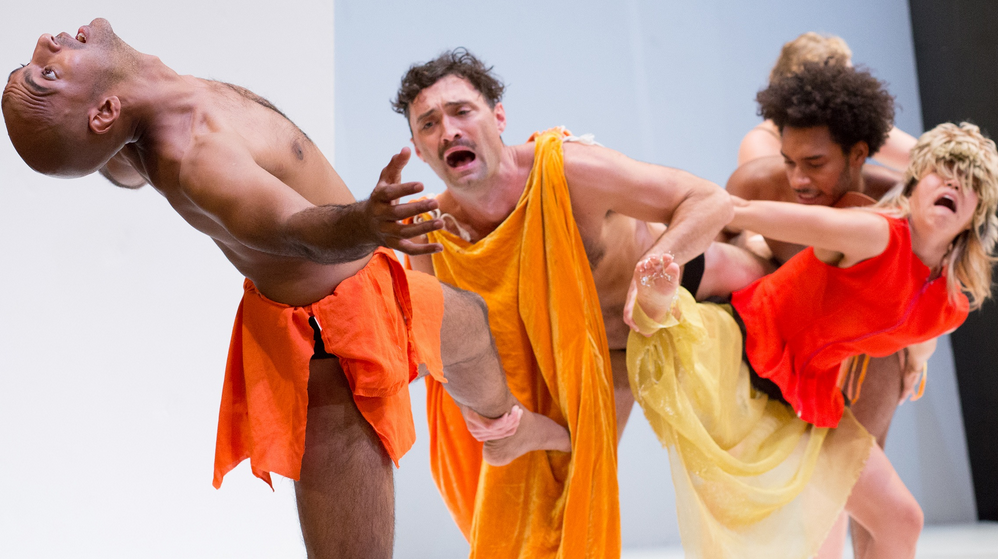 Faye Driscoll's PLAY. Photo by Francesca Beltran.
 
"Faye Driscoll is an artist/philosopher who is asking important questions: what does performance tell us about participation and about our responsibility to engage? She is keenly aware that the moment of performance is only made by the presence of both performer and audience member, and she is interested in the highly charged space that forms between them. She's consistently interrogating what it means to be human and all the ways we put on personas in our lives. She's unafraid to take risks, to ask questions we may not want to ask, and it's the purity of that quest that I so admire. We are also so proud that she is an alumnus of The School at Jacob's Pillow," says Jacob's Pillow Director Pamela Tatge.
"I am honored to receive this award and be a part of the stupefying history that is Jacob's Pillow. I was a student at the Pillow when I was 19. I remember sweating profusely in the Horton workshop all day, and then having my mind expanded watching all of the magical companies perform at night. It is profound for me to have my work become a part of the incredible legacy of Jacob's Pillow. I feel like I am holding that vulnerable 19-year-old who watched from the wings proudly in my heart," says Jacob's Pillow Dance Award Winner Faye Driscoll.
Sean Donovan from Faye Driscoll's PLAY. Photo by Francesca Beltran.
In her own words, Driscoll's work as a choreographer and director is rooted in "an obsession with the problem of being 'somebody' in a world of other 'somebodies' and all of the conflicts and comedy born in our interactions with others." By creating an immersive world of sensorial complexity and perceptual disorientation through an unwavering exploration into the ritual of performance, Driscoll investigates meticulously structured improvisatory choreography amidst set, sound, production, and audience interaction.
In her most recent body of work, the Thank You For Coming series, Driscoll extends the sphere of influence of performance, creating a communal space where everything is questioned, heightened, and palpable. Praised by Wendy Perron of Dance Magazine as "the most engaging performance I've seen in a long time," the Thank You For Coming trilogy's two current iterations have been commissioned and presented nationally and internationally by acclaimed presenters over the past four years, including Brooklyn Academy of Music, the Wexner Center for the Arts at The Ohio State University, the Institute of Contemporary Art in Boston, and the New England Foundation for the Arts' National Dance Project.
Photo copyright: Faye Driscoll.
Director Pamela Tatge will present Driscoll with the Jacob's Pillow Dance Award as part of the Season Opening Gala on June 16, where she and her company will perform. Driscoll will present the newest installment of the trilogy, Thank You For Coming: Play, at the Festival August 1–5, lead a Master Class open to the public on Sunday, August 5 at 10am, and participate in a free PillowTalk titled Award-Winning Faye Driscoll on Friday, August 3 at 5pm.
---
The Dance Enthusiast Shares News From The Dance World And Creates Conversation!
For more FROM THE PRESS pieces, click here.
If you have important news to share, please send an announcement or press release to info@dance-enthusiast.com!