Dance News: FREE OUTDOOR PERFORMANCES Elisa Monte Dance (EMD) Presents Three New Dance Works For Citi Summer Streets In August -
Three Consecutive Saturdays, Three Different Concepts, One Great City
Elisa Monte Dance (EMD), an emotionally charged and highly acclaimed dance company that champions individuality, will present three distinctive dance premieres for Citi Summer Streets this August at the Foley Square Rest Stop. In the spirit of collaboration with the New York City Department of Transportation, and the celebration of New York City's most valuable public space, the ensemble will present works rooted in the themes of the city, its inhabitants, and its history. Performances will take place at 26 Federal Plaza on August 5, 12, and 19 at 11:00 a.m.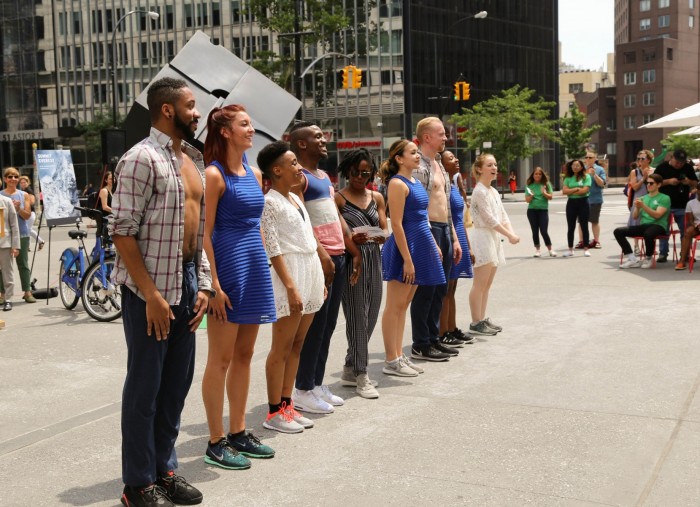 Photo credit to Department of Transportation.
"It is one thing to create a new work for a stage and seated audience," explains Artistic Director, Tiffany Rea-Fisher. "You think about the experience of your audience in a specific way. This collaboration fuses technology, interaction, integration and the element of improvisation—the final product relies on the input from the audience and the connection they make to the movement, the music and dancers. "
Premiering on the inaugural Saturday of Citi Summer Streets, Around the World and Back Again, is a 30-minute interactive experience steeped in the international make-up of the city. With live music by iconic American jazz trio Triple Play, under the musical direction of Chris Brubeck, this work intertwines music, conversation, culture, movement and food to create a global sensory experience for all ages. With a jazz history lesson at the root of this work, audiences will be taken through different generations and origins of the evolution of jazz music and the way it influences the way movement is interpreted and celebrated.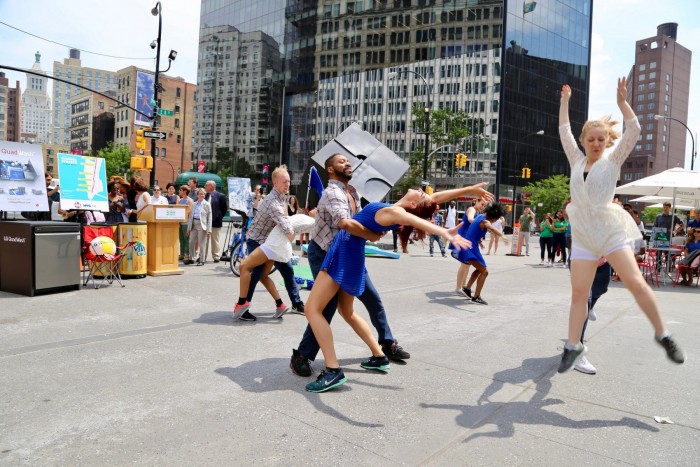 Photo credit to Department of Transportation.
On August 12, EMD will consider the ways in which dance is made and consumed in the digital age. Tying into social media phenomenon Boomerang, the interactive premiere of the same name, will set up a museum-like atmosphere of dancers performing short phrases which seem to reverse themselves like boomerang videos. With the audience to determine the space and phrases, spectators are encouraged to document their experiences inside of the movement by posting pictures and video on social media with the unique hashtag #EMDSummerStreets.
The third and final Citi Summer Streets Saturday focuses on the impermanence of creations that are built to last. Lost Art, a reference to the "Tilted Arc" sculpture by Richard Serra—the most notorious public sculpture controversy in the history of art law, removed from Foley Square in 1989 because of its "obstruction" to the pathway. With a museum card placed firmly in the plaza, audiences are invited to create messages and images around this lost art, while eight dancers perform a piece tracing the location of the once celebrated sculpture, and investigating themes of immigration and obstruction of pathways.
PERFORMANCE SCHEDULE:
August 5: Around the World and Back Again
August 12: Boomerang
August 19: Lost Art
NOTE: All performances will take place at 26 Federal Plaza based at the Foley Square Rest Stop on the corner of Lafayette Street and Worth Street in Manhattan's TriBeca neighborhood, accessible by the 1,2,3,4,5,6, A and C trains. All shows start at 11:00 a.m. and are free to the public, rain or shine.

With a strong commitment to supporting the commission of a signature dance performance each season, EMD is the third company to collaborate with Citi Summer Streets and the New York Department of Transportation. Past commissions have included Teresa Fellion Dance and Heidi Latsky Dance. Summer Streets is an annual celebration of New York City's most valuable public space—our streets. Summer Streets provides space for healthy recreation and encourages New Yorkers to use more sustainable forms of transportation. On three consecutive Saturdays in August, nearly seven miles of NYC's streets are opened for people to play, run, walk and bike. Held between 7 AM and 1 PM, Summer Streets extends from Central Park to the Brooklyn Bridge, along Park Avenue and connecting streets, with easy access from all points in New York City. All activities at Summer Streets are free of charge and designed for people of all ages and ability levels to share the streets. In 2016, nearly 300,000 people took advantage of the open streets. For more information, visit www.nyc.gov/summerstreets.
---
The Dance Enthusiast Shares News From The Dance World And Creates Conversation!
For more FROM THE PRESS pieces, click here.
If you have important news  to share, please send an announcement or press release to info@dance-enthusiast.com!