DANCE NEWS: Get Enthused for Baryshnikov Arts Center's Spring 2021 Digital Season!
Featuring Seven Premieres of New Works for Online Presentation Commissioned by BAC
Baryshnikov Arts Center (BAC) announces the Digital Spring 2021 season of free online presentations, featuring premieres of new works commissioned by BAC. Through the BAC Artist Commissions initiative, which was established September 2020 in response to the COVID-19 pandemic, BAC has continued supporting the development of new work by providing resources for artists to realize their creative visions specifically for online presentation. The resulting projects from seven mostly New York-based artists innovating in dance, music, and multimedia will be released beginning February 1, 2021 and continuing through June 21, 2021 at bacnyc.org. The spring also includes the fourth installment of PlayBAC: Performances from the Archive, a series of video recordings from 15 years of live performances presented at BAC.
The Digital Spring 2021 season launches February 1 with one of the seven BAC-commissioned works, which will be released on Mondays at 5pm EST and free and available to watch on demand at bacnyc.org for two weeks. A schedule of live-streamed conversations with the artists to discuss their projects and creative processes will be announced in conjunction with the premieres.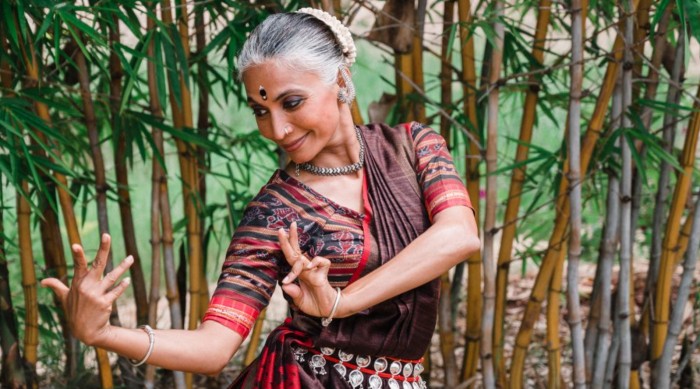 Bijayini Satpathy. Photo credit: Mahesh Bhat
The first premiere, available February 1—15 is Vibhanga, a work conceived and choreographed by classical Indian dancer Bijayini Satpathy, who performs to a reimagined score of traditional South Indian music. The program offering includes a live-streamed conversation with Satpathy, who is based in Bangalore, hosted by contemporary dance choreographer Mark Morris. Free registration for the live Zoom conversation on Wednesday, February 10 at 8PM EST will be available beginning February 1 at bacnyc.org.
Next, February 15—March 1, music and sound artist Justin Hicks premieres Use Your Head For More. Presented as a series of audiovisual portraits, the work incorporates the transcript of a conversation between Hicks and his mother in a performance of found sound and personal archive.  
Choreographer Mariana Valencia's brownout, a visual essay of movement and sound scores, premieres March 1—15. Shifting the frame from one camera lens to the next, the work explores changes in electricity, visibility, and perception. 
Next, the March 15—29 premiere of Museum of Calm by Holland Andrews is a vocal music, meditation, and performance art video. Filmed at BAC's John Cage & Merce Cunningham Studio in November 2020, the work generates interior worlds to offer strategies for survival in a reforming society.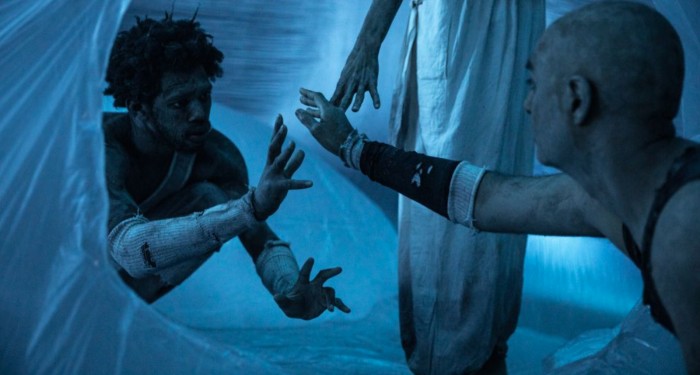 Stefanie Batten Bland's "Kolonial."  Credit: Maria Baranova
The premieres continue May 3—17 with choreographer Stefanie Batten Bland's Kolonial, performed within a large scenic installation on the stage of BAC's Jerome Robbins Theater, filmed in December 2020. The work of dance cinema examines behaviors of self and community through transparent COVID barriers of isolation.  
Next is multimedia artist Tei Blow premiering May 17—31 The Sprezzaturameron, a digital installation with music and video by Royal Osiris Karaoke Ensemble, of which Blow is a founding member. To be filmed at BAC's Jerome Robbins Theater in January 2021, the work follows a group of artists who confront the precarious nature of art-making in an apocalyptic near-future. 

The final premiere June 7—21 is STELLAR by choreographer Kyle Marshall—to be filmed at the Jerome Robbins Theater in March 2021. This dance of speculative fiction features five movement artists performing choreography based on virtual improvisation sessions led by Marshall.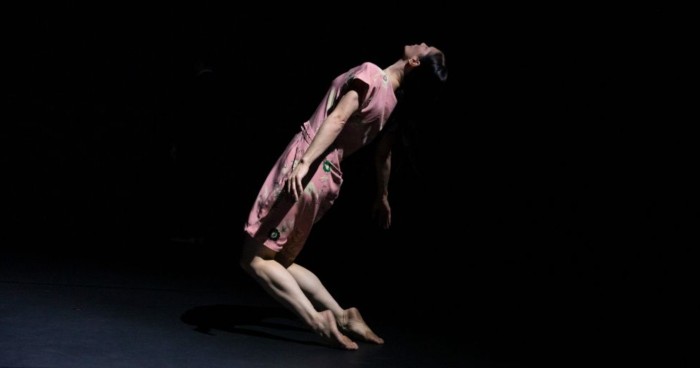 Anne Van Aerschot in Anne Teresa de Keersmaeker / Rosas' "Verklärte Nacht." Credit: Hugo Glendinning
Rounding out the season of digital offerings is the fourth installment of PlayBAC: Performances from the Archive, featuring never-before-seen, high-quality recordings of live performances at BAC.
The new PlayBAC series kicks off April 8—15 with the 2019 N.Y. Premiere of Anne Teresa De Keersmaeker's Verklärte Nacht, a powerful duet by the renowned Belgian choreographer presented in the Jerome Robbins Theater. The series continues April 15—22 with BAC Salon: Szymanowski, Berio + Debussy, a 2018 concert performed in the intimate Howard Gilman Performance Space featuring the refined Tesla Quartet and Canadian soprano Alexandra Smither in what was her first New York appearance. PlayBAC Series 4 concludes April 22—29 with the celebrated Chilean theater company Bonobo performing the U.S. Premiere of Tú Amarás, a timely work of political theater developed in residence at BAC and presented in the Jerome Robbins Theater in February 2020.
PlayBAC videos—which include special introductions from Mikhail Baryshnikov and the featured artists—are free and available to watch at BACNYC.ORG beginning at 5PM EST on Thursday until the following Thursday at 5PM EST. 

A complete schedule of BAC's Spring 2021 Digital Season can be found in our listings. 
 
---
The Dance Enthusiast Shares news from the dance world and creates conversation.
For more Dance News pieces, click here.
If you have important news to share, please send announcements or press release to info@dance-enthusiast.com!
---
The Dance Enthusiast - News, Reviews, Interviews and an Open Invitation for YOU to join the Dance Conversation.