Gibney Dance Launches GRIT: Gibney Repertory Initiative for Tomorrow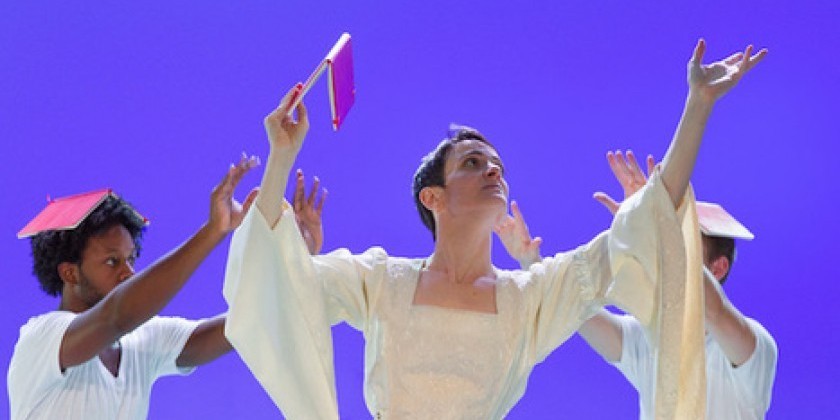 Gibney Dance Company Will Perform Works by Gina Gibney and Mariangela Lopez
As part of its celebratory 25th Anniversary year, Gibney Dance is set to launch GRIT: Gibney Repertory Initiative for Tomorrow, an ongoing presenting platform focused on commissioning new works and re-imagining signature works by contemporary dance artists. The inaugural program takes place May 11–14 at Lower Manhattan's Gibney Dance: Agnes Varis Performing Arts Center and pairs a re-imagining of Keely Garfield's acclaimed WOW with the premiere of repairing permissions by Mariangela Lopez, a commissioned work for 25 dancers (in recognition of the 25th anniversary of the organization). The works will be performed by the newly re-envisioned Gibney Dance Company: Associate Artistic Director Amy Miller and Artistic Associates Natsuki Arai, Nigel Campbell, Alexeya Eyma-Manderson, Devin Oshiro and Brandon Welch. View The Dance Enthusiast's listing here.
El Regreso (The Return) by Mariangela Lopez. Image courtesy of the artist.

"As Gibney Dance maps our course for the next 30 years at 280 Broadway, we ​feel a sense of urgency to present and preserve the work of​ our contemporary colleagues​ who may not have the infrastructure to create legacy ​companies or structures​," says Gibney Dance founder, CEO and Artistic Director, Gina Gibney. "We view GRIT as a way to make it possible for the present generation's work to be recognized and celebrated in live performance by future audiences."

"My connection to Gina and Gibney Dance began 14 years ago when I first joined the Company as a dancer and teaching artist, and has continued to grow and evolve," says Lopez about her inclusion in the inaugural GRIT program. "I have been honored with this commission to choreograph a piece for the 25th Anniversary of Gibney Dance, such an important organization in the dance world. The work features the six current members of Gibney Dance Company alongside a large group of community members—a total of 25 performers. Working on it has presented the perfect opportunity for me to return to working with a diverse and open community in my work. It almost feels like one cycle is being completed and a new one is emerging…"
Keely Garfield's WOW by Ian Douglas.

Gibney Dance's 25th Anniversary is marked by a full year of performances, programs, events and new initiatives including a planned expansion into 10,000 square feet of additional space at its downtown Agnes Varis Performing Arts Center at 280 Broadway supported by a $2.5 Million Capital Campaign. Formed in 1991 by Gina Gibney, Gibney Dance boasts 25 years of international performance (through Gibney Dance Company), social justice and humanitarian work on a global scale (through Gibney Dance Community Action) and serving the needs of the dance community both in the present and proactively planning for the future (through the two-venue Gibney Dance Center at 890 and 280 Broadway). 2016 will see a host of celebratory initiatives across all three areas—see below for a calendar of events.