Gibney Dance observes Domestic Violence Awareness Month With Community Action and Initiatives
In observance of Domestic Violence Awareness Month, Gibney Dance Community Action will present a number of activities and initiatives throughout  of October including the bestowal of the first annual Beth Silverman-Yam Social Action Award; two new Dance/NYC "NEW YORKERS FOR DANCE" videos featuring Community Action Program Clinical Advisor Beth Silverman-Yam and Sanctuary for Families Mentor Liaison Joan Hutton-Mills; the month-long "I AM AGAINST VIOLENCE" photo campaign and We Are Against Violence installation at the Gibney Dance: Agnes Varis Performing Arts Center at 280 Broadway; and an open-to-the-public Community Action Workshop on October 12.
Examples of Dance/NYC/s photo campaign. Photographer: Scott Shaw.

"Domestic Violence Awareness Month is a time not only to recognize the significant efforts that have been made to reduce domestic violence but also to recommit ourselves to serving the critical needs of survivors and their families," says Gina Gibney, CEO and Artistic Director of Gibney Dance. "Through our Community Action work, we have learned that there is a powerful synergy between domestic violence and dance that helps survivors take their whole self forward—both in body and mind. We look forward to sharing with the broader community the knowledge and expertise we have gained through 15 years of work around the issue of domestic violence."

Gibney Dance Community Action provides New York City domestic violence shelters with over 500 free movement workshops each year. At these workshops Company members share activities that draw from artistic practices to address issues of choice and self-expression. Community Action was initiated in 2000 in collaboration with Sanctuary for Families, one of the country's most prominent domestic violence agencies. Since inception, the program has partnered with other impactful agencies such as Safe Horizon and Day One. Widely regarded as a model in the field, Community Action's methods for integrating arts and social action are distributed nationally—via Institute for Community Action Training, hosting dancers annually from across the US—and internationally—through Global Community Action Residencies, most recently in Dar es Salaam, Tanzania. In 2014, Community Action initiated a dance project for youth titled Hands are for Holding with the goal of creating awareness around the issue of Teen Dating Violence. Hands are for Holding has reached over 2,000 New York City public school students in the last two years, promoting healthy relationships and providing strategies for where and how to get help if a teenager is in an abusive relationship.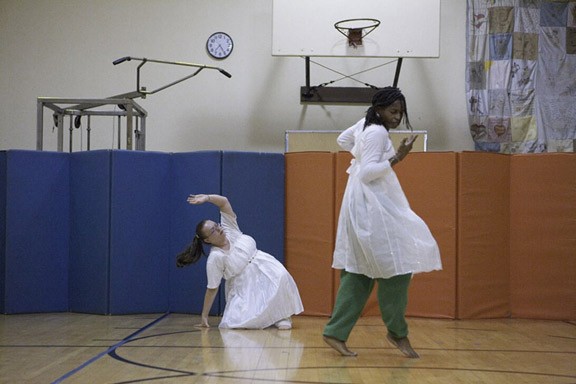 Dream a Dream Project at Bayview Correctional Facility. Photo courtesy of Vangeline Theater.
Beginning this October, Gibney Dance will present the Beth Silverman-Yam Social Action Award annually to an individual within the dance community whose use of dance in conjunction with social change is exemplary and reflects the values of Gibney Dance's Community Action program: self-reflection, personal choice, equity in collaboration and self-care.
Silverman-Yam is also featured in one of two new "NEW YORKERS FOR DANCE" videos to be released by Dance/NYC on October 1 in conjunction with Gibney Dance's observance of Domestic Violence Awareness Month. The second video features Joan Hutton-Mills, who serves as Mentor Liaison for Sanctuary for Families and has been advocating for the issue for many years in different New York City communities.