Choreographer Vladimir Angelov Creates Dance ICONS, The First Global Choreographers' Network
The International Consortium Aims for Advancement in Choreography
There are more than 50,000 choreographers in the United States, and 500,000 or more choreographers around the world. They work in professional ballet companies, and for sports team cheer squads. They make dances for kindergartners at private studios, and world-class ballroom dance competitors. They create in styles as far afield as tap and jazz, hip hop and hula, ballet and ballroom, juking and Zumba, on film, television, for theater and YouTube. While numerous dance organizations in the U.S. and beyond serve teachers, professional dancers, company administrators and others, no single organization fully meets the creative needs of choreographers.

That is, until now.
ICONS founder Vladimir Angelov.
Internationally acclaimed choreographer Vladimir Angelov announces the founding of International Consortium for Advancement in Choreography, Inc. Its moniker, Dance ICONS, draws from a creative abbreviation of the first two words of its business title, and emphasizes the important role of master choreographers who move the art form forward. 

Dance ICONS, the global network for choreographers, is gaining traction in the field and on social media as the first organization for both the creative and practical needs of the choreographer. This one-of-a-kind global network will serve choreographers of all genres, all nationalities, all levels of experience. It will provide essential information choreographers need: from a database of residencies, to announcements on festival and commissioning opportunities, to educational resources for the rising young dancemaker who wishes to enter the field, to mentoring opportunities for leaders in the dance field.

Angelov's choreographic expertise includes commissions from renowned companies including the Kirov (now Mariinsky) Ballet, Tokyo City Ballet, National Ballet of Mexico, Ballet Arizona, San Francisco Ballet, Richmond Ballet and The Washington Ballet. A native of Bulgaria, he graduated from the National Ballet School in Sofia and studied philosophy at the University of Sofia before completing his masters degree in choreography at American University in Washington, D.C.

"I've been choreographing 30 years," Angelov said, "and I realized there is no single place to go for the specific information a choreographer needs: Where are the residencies? What options are out there for summer festivals? What about commissions, who should I contact?"

"Dance ICONS, as the global network for choreographers, will help fill that gap," said Lisa Traiger, the organization's director of communications. A state-of-the-art cyber platform featuring an online database of resources, ranging from residency opportunities to choreographic commissions and competitions, will help answer these questions, enabling choreographers to expand their reach and seek a broader range of creative and performance opportunities.

Additionally, International Consortium for Advancement in Choreography, Inc., is already active on social media platforms Facebook and Twitter. In 2016, it will offer monthly newsletters featuring exclusive interviews and news-worthy items on the state of contemporary choreography around the world. Bimonthly, a true dance icon will be featured in a Q&A, along with interviews covering the most adventurous and creative up-and-coming choreographers from Cuba to Taiwan, Tel Aviv to San Francisco.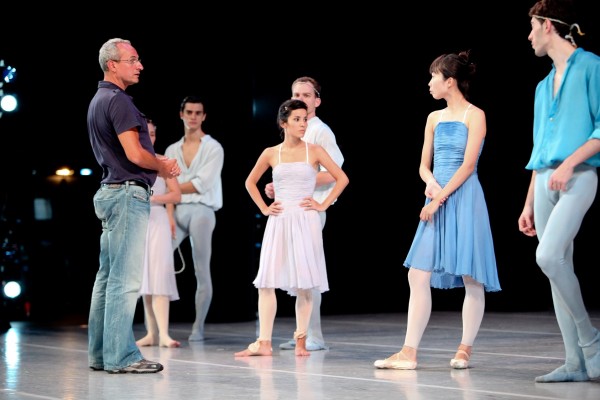 Vladimir Angelov in the studio with the National Ballet of Mexico..
"Building a worldwide network will allow choreographers to connect, share their own resources and ideas and strengthen their own work and the work of the field," Angelov stated. For students and aspiring choreographers, he is developing a ground-breaking methodology and systematic approach to teach the craft of making dances, whether in the ballet studio or on the basketball court. "Choreographers need resources. As we grow, with the creation of this unique international network and the capabilities of cyberspace, our platform will become one essential tool in the dancemaker's toolbox," Angelov said.

Choreographers from around the world have already made their voices heard: Dance ICONS will be a much needed asset in their artistic lives. Hollywood film, television and stage choreographer Debbie Allen said, "I totally endorse the formation of such a conduit of information and creativity." And Bulgarian folk dance choreographer Desi Jordanoff added that this organization is a "long needed innovative network platform to make the world of choreographers much smaller, their art connections so much richer, and the gaps in the creative space of dance choreography way narrower."
Vladimir Angelov.
Presently Dance ICONS – the global network for choreographers – is raising funds at GoFundMe.com to complete construction of the cyber platform and website, preparing for full launch in January 2016. Angelov is forging international partnerships to ensure that Dance ICONS becomes a true global resource, providing information on choreographic institutions, training, artistic incubators, development, showcases, premieres, research, publications, grant opportunities and more, everywhere in the world.
 
"People are craving to be more connected to other choreographers … to network with other choreographers in other troupes in other countries and connect people in a seamless one-stop website for all," said independent Latin dance choreographer Ramaris German, a New Yorker.