Related Features
Contribute
Your support helps us cover dance in New York City and beyond! Donate now.
Ho-Ho-Holiday Performances To Cap 2018!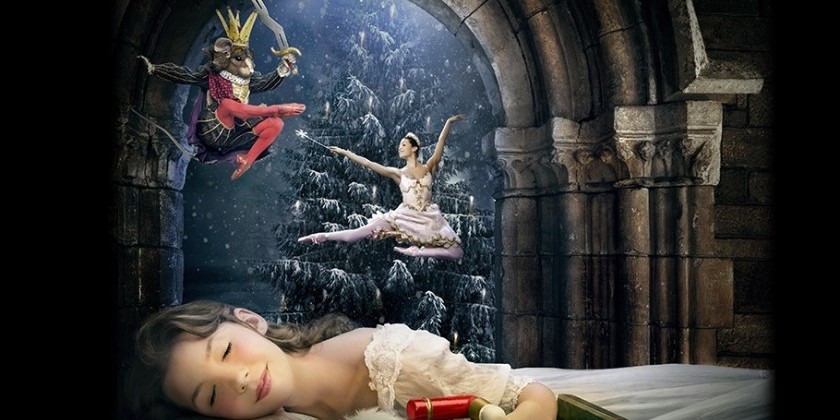 A Round-Up Of Year-End Dance Performances In NYC And Beyond
MANHATTAN
New York City Ballet's The Nutcracker
WHEN: December 18-24, 2018
WHERE: David H Koch Theater at Lincoln Center, 70 West 63rd Street, New York, NY
WHY SEE IT? Look out for the massive Christmas tree that grows from a height of 12 ft to 40, evoking audible gasps of disbelief from the audience every time!
Photo © New York City Ballet.
The New York City Ballet's annual production of George Balanchine's The Nutcracker is at the heart of New York City's year-end holiday season, and this year marks the 64th annual performance of the Big Apple's best loved Nutcracker! Whether it is a family tradition or a once-in-a-lifetime visit, your experience of this glittering classic ballet will stay with you forever and warm your spirit. TICKETS
Les Ballets Trockadero de Monte Carlo at The Joyce
WHEN: Through December 30, 2018
WHERE: The Joyce Theater
WHY SEE IT? The Trocks are the world's foremost all-male comic ballet company!
Les Ballets Trockadero de Monte Carlo in Swan Lake. Photo © Zoran Jelenic.
Spend the holidays with Ida Nevasayneva and Olga Supphozova! It's been twenty years since The Trocks, the internationally beloved male dancers who risk comfort for brilliant pointe work, first appeared on the Joyce stage, with each engagement confirming once more why audiences flock to see them year after year: they're witty, they're fun, and they're masterful at combining a real knowledge of ballet with the technical skill needed to perform it. TICKETS
ONEOFUS presents Jack and the Beanstalk at Abrons Arts Center 
WHEN: Through December 30, 2018
WHERE: Abrons Arts Center, 466 Grand Street, New York, NY
Dirty Martini; Photo: Norman Blake.
Jack is a dreamer, who needs the whole town's support to help him focus, and chop down the beanstalk, together freeing the village from their oppressor, the plundering Giant Rump. Every kid needs to feel this sense of support, and in today's worrisome world we want to bring that sentiment back, for the whole family, for our neighborhood, to enhance Society, in a fun way that sends everyone home laughing, chatting and feeling a part of what they've just seen. TICKETS
 
The 16th Anniversary Season of The Bang Group's NUT/CRACKED
WHEN: December 20-22, 2018
WHERE: The Flea, 20 Thomas Street, New York, NY
The Bang Group's Nut Cracked. Photo: Yi Chun Wu.
Fasten your seat belts! David Parker's comic, subversive, neo-vaudeville version of The Nutcracker will return for three performances. The one-hour work takes its inspiration from all corners of the dance canon, from tap riffs to en pointe ballet, with side trips into the worlds of disco, bubble wrap, and Chinese take-out noodles. In Nut/Cracked, Parker finds beauty in the ridiculous, waltzing us through many incarnations of Tchaikovsky's score, including versions by Duke Ellington and Glenn Miller, as well as the traditional orchestra suite. TICKETS
The Shell-Shocked Nut at La MaMa
WHEN: December 20-23, 2018
WHERE: La MaMa Ellen Stewart Theatre - 66 East 4th Street, New York NY
WHY SEE IT? Recommended for family audiences, The Shell-Shocked Nut is the East Village's lovenote to The Nutcracker.
 
Lauren Kravitz in "The Shell Shocked Nut."  Photo by Stacie Joy.
In this unconventional take on the seasonal staple, a wandering child and a war veteran suffering from PTSD take a magical voyage through the East Village. The pair of characters visit Tompkins Square Park, Economy Candy Store, Saint Mark's Place, and other iconic East Village landmarks while exploring themes of loss and recovery. TICKETS

A Kwanzaa Celebration: Regeneration Night featuring Abdel R. Salaam's Forces of Nature Dance Theatre
WHEN: December 30, 2018
WHERE: Apollo Theater, 253 W 125th St, New York, NY
WHY SEE IT? Neither a religious holiday nor meant to replace Christmas, Kwanzaa is celebrated in the US and in other nations of the African diaspora in the Americas. Come learn about its 7 core principles.
 
Photo courtesy of Forces of Nature Dance Theatre.
Since 2006, the Apollo has established an annual show to celebrate this holiday tradition on one day of the Kwanzaa holiday. The Apollo's celebration is a joyful evening of dance  and music honoring the principles of Kwanzaa—family, community, and culture. Feel free to bring your new and unused items to the collection bin located in the lobby to benefit the Apollo Theater's Toy and Book Drive in support of Greenhope Services for Women. TICKETS
---
BROOKLYN
BAM and Mark Morris Dance Group present The Hard Nut
WHEN: Through December 23, 2018
WHERE: BAM Howard Gilman Opera House, Boerum Hill, Brooklyn, NY
Mark Morris Dance Group's "The Hard Nut." Photo © Julieta Cervantes.
A cascade of wit and wintry beauty, this lavish, gender-bent love letter to the classic transplants E.T.A. Hoffmann's original story from the straitlaced 1890s to the swinging 70s, with raucous parties, dancing G.I. Joes, whimsical costumes, and a Waltz of the Snowflakes like no other. Based on the comic book art of Charles Burns and featuring Tchaikovsky's complete original score, performed live by the 53-piece MMDG Music Ensemble, Morris' lyrical, modern retelling playfully preserves the warm spirit of an essential holiday tradition. TICKETS​
---
UPSTATE NEW YORK
 
(World Premiere) Ballet des Amériques presents Nutcracker Dream
WHEN: December 22, 2018
WHERE: The Emelin Theater, Mamaroneck, New York
WHY SEE IT? A family-friendly world premiere of a holiday classic!
Photo © Ballet des Ameriques.
The Emelin Theatre comes together with renowned choreographer Carole Alexis to present America's favorite seasonal ballet with the professional dance company Ballet des Amériques. Alexis' Nutcracker Dream is inspired by the work of Marius Petipa and Rudolf Nureyev and will be presented as a one-hour family friendly adaptation of the classic ballet. TICKETS
---
NEW JERSEY
American Repertory Ballet Announces 55th Nutcracker Season
WHEN: Through December 23, 2018
WHERE: McCarter Theatre Center | Princeton NJ; Union County Performing Arts Center | Rahway, NJ; South Orange Performing Arts Center | South Orange, NJ; Two River Theater | Red Bank, NJ; State Theatre New Jersey | New Brunswick, NJ
WHY SEE IT? Performances at Two River Theater and State Theatre New Jersey will be accompanied by live chorale music.
 
American Repertory Ballet's The Nutcracker. Photo courtesy of Union County Board of Chosen Freeholders.
"ARB's Nutcracker is a timeless family tradition and a wonderful way to celebrate the magic of the holiday season," says Executive Director Julie Diana Hench. "It's a great way to introduce people of all ages to professional ballet, and a treat for our dancers, as they know that it brings such joy to audiences year after year." TICKETS
---
PHILADELPHIA
Pennsylvania Ballet Celebrates 50 Years of Performing The Nutcracker
WHEN: Through December 31, 2018
WHERE: Academy of Music, 240 S Broad St, Philadelphia, PA
WHY SEE IT? Pennsylvania Ballet offers a specially adjusted sensory-friendly performance as well as a tea session and photo opp with the Sugarplum Fairy.
Brett Mitchell leads The Cleveland Orchestra and Pennsylvania Ballet in The Nutcracker. Photo by Roger Mastroianni.
In 1968, Pennsylvania Ballet's founder, Barbara Weisberger, felt it was time to establish Pennsylvania Ballet as an important part of Philadelphia's cultural scene while also offering her dancers and students more opportunities to perform – an annual production of The Nutcracker was the perfect solution. Pennsylvania Ballet's performances of The Nutcracker quickly become an annual holiday tradition for thousands in the Philadelphia area, which over the past 50 years has been seen by well over a million people. TICKETS
---
CALIFORNIA
Ballet Repertory Theatre's 42-year-old The Nutcracker Tradition
WHEN: Through December 24, 2018
WHERE: 15751 Gothard St, Huntington Beach, CA
WHY SEE IT? With 15 enchanting performances, Orange County's longest-running Nutcracker is the ultimate feel-good family tradition.
Photo credit: Ballet Repertory Theatre.
Ballet Repertory Theatre's cherished 42-year-old tradition of bringing beloved holiday music to life with nearly 300 performers in dazzling costumes. Travel with young Clara through a magical world of life-size dolls, toy soldiers, colossal mice, and delicate snowflakes to the fabulous Land of Sweets, home of the Sugar Plum Fairy and her Cavalier. Exuberant French, Spanish, Arabian, Russian, and Chinese dancers await you, along with twirling candy canes and waltzing flowers. TICKETS
---
The Dance Enthusiast Shares News From The Dance World And Creates Conversation!
For more FROM THE PRESS pieces, click here.
If you have important news to share, please send an announcement or press release to info@dance-enthusiast.com!