Related Features
Contribute
Your support helps us cover dance in New York City and beyond! Donate now.
Janine Antoni, Anna Halprin and Stephen Petronio Navigate Gap Between Art And Dance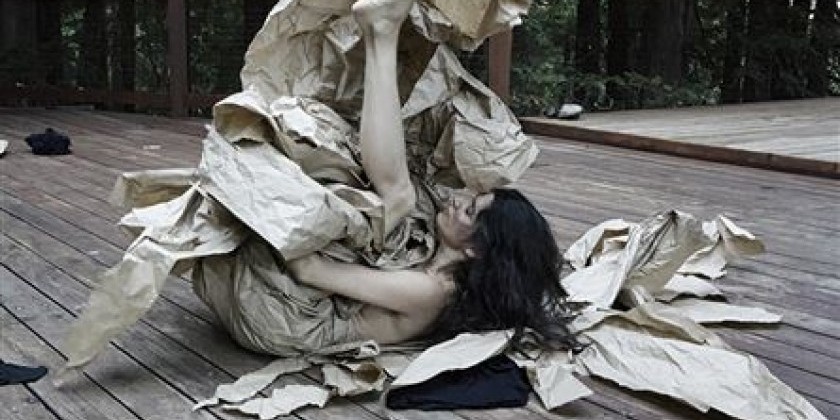 In Major Exhibition Opens at The Fabric Workshop and Museum
On Thursday, April 21, 2016, The Fabric Workshop and Museum (FWM) premieres Ally, an exhibition of art and dance conceived and performed by artist Janine Antoni in collaboration with choreographer Stephen Petronio and movement artist Anna Halprin. Taking the form of performances, installation environments, videos, and sculptures, Ally will occupy four floors of the contemporary art museum in Center City Philadelphia for three months, through Sunday, July 31, 2016. A book will follow, edited by the British writer and performance scholar Adrian Heathfield.
 
"For nearly 40 years, The Fabric Workshop and Museum has invited artists to create new work using experimental materials and techniques. In both itphysical and conceptual scope, Ally is one of the most ambitious projects ever to grow out of our residency program," says Susan Lubowsky Talbott, interim executive director. "We are honored to partner with these visionary artists in creating what we believe will become a milestone in contemporary art, a work that challenges the expected ways that art and dance are experienced in museum settings."
Stephen Petronio. Photo by Sarah Silver.
"I conceived of this project more than six years ago as a kind of retrospective of my art making, told through dance," says Janine Antoni. "It has evolved into a truly collaborative creation that allows us to find a way to continue making new work while looking back."
 
Ally explores shifting configurations and possibilities between the three artists, at times drawing on all three and at other times pairing Antoni and Halprin, Antoni and Petronio, and Halprin and Petronio. Says Stephen Petronio, "Ally is fundamentally about connection. And part of that is three distinct artistic languages coming together to meet in the gap between art and dance."
Paper Dance, Visual Artist Janine Antoni's collaboration with Choreographer Anna Halprin. Photo by Pak Han Foto.
 
The exhibition comprises four projects:
Rope Dance is an improvised performance work instigated by Halprin, who presented a rope to Antoni and Petronio to be used as a tool to connect their bodies and draw lines through space. The concept is expanded in Ally to include the participation of audience members as well. A wall-sized projection will be screened in the gallery space, when the performance is not taking place: here, rather than documenting the dancers, the camera captures Halprin watching the process of a dance coming into form. This emotive close-up suggests that another expressive facet of Rope Dance is the dance of Halprin's face. The 'witness' becomes the performer.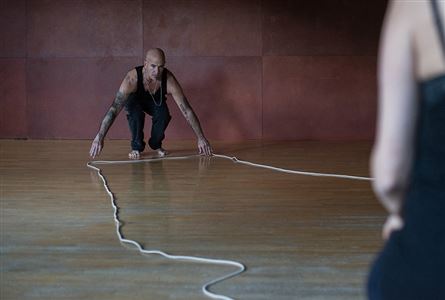 Janine Antoni, Anna Halprin, Stephen Petronio, Rope Dance, 2015. Photo: Hugo Glendinning.
 
Swallow, a complex installation project, aims to connect Antoni, Petronio, and the audience on a very basic human and symbolic level. Swallow began with Antoni and Petronio making a unique performance for invited 'witnesses' in which they each swallowed half of a 10-foot strip of cloth woven by The Fabric Workshop and Museum. The recovered remnant of the cloth is housed in the visual centerpiece of the installation: a spot-lit, elevated gold reliquary. Inspired by the form of a traditional monstrance, the shape of the reliquary echoes that of the human body: its 'diaphragm' arches up to support two undulating 'esophagi,' topped by a 'larynx' that blooms to cradle a two-chambered, blown-glass vessel. An ornate magnifying lens crowns the reliquary, inviting the viewer to peer down into the dual chambers at the point in the fabric where Antoni and Petronio met.
Eight audio speakers are suspended from the ceiling over conversation chairs, where visitors may listen to different 'testimonies' from the only ten 'witnesses' to the live act of swallowing, among them an expert on swallowing disorders, young twins, a poet, and a New York City subway worker. Finally, across the room, visitors encounter a simple glass vitrine containing another piece of cloth, upon which has been screen-printed in graphite and saliva the only photograph of the swallowing ritual. The viewer will see that this relic is slowly decomposing.

Wearing a shimmery gold robe, a Venetian mask, and a pair of women's pumps, Stephen Petronio performs The Courtesan and the Crone, a dance of seduction originally created by Halprin as a solo for herself in 1999. At its completion, Petronio hooks his golden robe to a rope attached to a red theater curtain. As the curtain descends, the costume rises. This dramatically lit tableau counter-balances the illusion of the theater with that of seduction.
Once a week for 14 weeks Antoni performs Paper Dance, an improvised movement performance. Drawing on images and concerns that have long preoccupied her as an artist, Antoni uses rolls of brown paper originally employed by Halprin in her seminal work Parades and Changes (1965). These performances take place within an installed arena of many wooden packing crates containing artworks by Antoni. Each iteration calls for Antoni to begin by unpacking one of her earlier works from a crate, whether it be a sculpture made of chocolate and soap like Lick & Lather (1993) or a photographic image like Mortar and Pestle (1999). A 'retrospective' of Antoni's previous works slowly emerges over the duration of the exhibition, with chosen works appearing, remaining for a week, then disappearing as they are re-packed into the installed crates. After executing this repetitive activity, Antoni enacts the improvised performance work with paper, shifting its content weekly in relation to the installation's new assembly of her artistic history. When the performance is not taking place, a film of Halprin's earliest version of Parades and Changes is screened amidst the crated works. The paper remnants of Antoni's performances slowly accumulate over the course of the exhibition.