Juneteenth March: Call for 1 Million Demonstrators at City Hall and Further Discussion on the Role of Race in the Arts
On June 19, 2020 at 12:00 PM, Tiffany Rea-Fisher of Elisa Monte Dance will be one of the hosts of the Juneteenth March, taking place at City Hall. Juneteenth is the oldest nationally celebrated commemoration of the ending of slavery in the United States. In celebration of Juneteenth and in continuing protest of police brutality and systematic racism spurred by the death of George Floyd and many others before him, Rea-Fisher is using her platform as an artist and community organizer to ask dancers and those in the dance community to join her in this march and other events to further the discussion of race relations in America and in the dance community. The goal will be to rally 1,000,000 attendees at City Hall. Other dance organizations and companies that will participate alongside EMD are The International Association of Blacks in Dance and Dance NYC. 
Following the Juneteenth march, Rea-Fisher will further her role as a community organizer and artist throughout the summer with a wide variety of events aimed at furthering the narrative on race and its role in the arts and dance continuum.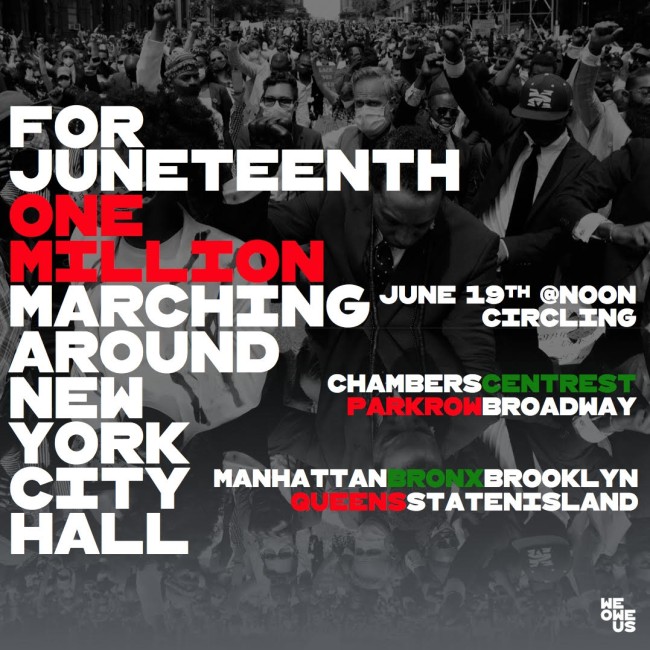 Photo courtesy Elisa Monte Dance

On June 25th, Rea-Fisher will participate in a free, open to the public discussion hosted by the leadership organization, The Future of Executive Development (FRED). Led by Julie Staudenmier, FRED board member and VP of Global Learning and Development at Pfizer, this discussion will focus on how to talk about race within an organizational context and how to transform that conversation into meaningful action. It will engage the FRED community in a dialogue about how leaders can develop muscle memory for courage and resilience to make daily choices that bring more equity and justice to our world.

On June 30th, EMD will host another installment of its Elisa Monte Dance Town Hall series, entitled "Feet in the Streets" which will be open for public viewing on Zoom. In this town hall, moderated by Rea-Fisher and former Bessies Awards Executive Director Lucy Sexton; dancers from Elisa Monte Dance, Dance Theatre of Harlem and Paul Taylor Dance Company will discuss their experiences taking to the streets against injustice and the role of the arts in civil rights.

In addition, Rea-Fisher will dig deeper into her role as an activist at Dartmouth College this June through August as a guest lecturer  via the co-creation of a new course in conjunction with choreographer John Heginbotham, Dance Theatre of Harlem's Artistic Director Virginia Johnson, and Dr. Monica White Ndounou entitled, "The Hazel Scott Project: Artist as Activists."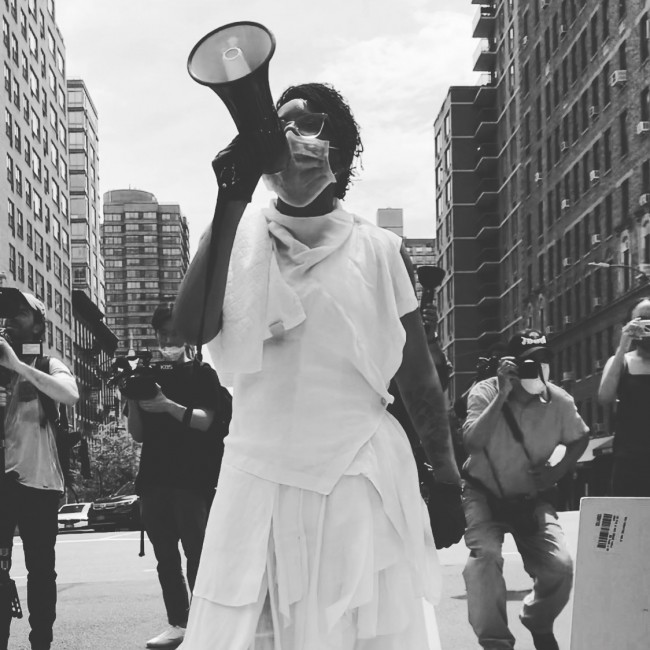 Tiffany Rea-Fisher; photo courtesy Elisa Monte Dance

Elisa Monte Dance has always historically had a civic and civil focus since the 80's when the company refused to tour in apartheid South Africa. In the beginning of the COVID-19 quarantine, Rea-Fisher created the "A Movement Through Movement Challenge," an Instagram call for dancers to create a 16-count phrase inspired by a political issue that either inspired or frustrated them. Winners were announced April 16th and were awarded the opportunity to have a conversation on how to foster change and progress with James Felton Keith who is currently running for U.S. Congress in New York's 13th District. Recently on June 4th, the funeral date for George Floyd, Rea-Fisher in conjunction with others in dance, fashion and politics hosted and led a peaceful Harlem march that attracted over 1,000 protesters of all races and ages, garnering news coverage on local news as well as CNN and VOGUE. Rea-Fisher managed to attract members and administrators from Dance Theatre of Harlem, Paul Taylor Dance Company and The Bessies Awards to the march.

"Being an artist is inherently a political act since we channel our insights and views of the world into our creations. Acting as a community organizer is an extension of my creative nature and allows me to proactively and physically create something alongside society. I am asking those in the dance community to support and flex their civic muscle during this time" said Tiffany Rea-Fisher, Artistic Director of Elisa Monte Dance.
About Elisa Monte Dance
Elisa Monte Dance (EMD) bridges cultural barriers through the universal language of dance. Now in its 39th year, EMD is hailed around the world for its visceral and physical style of movement that embraces diverse cultural influences. The organization was founded in 1981, by former Martha Graham dancer Elisa Monte to bridge cultural barriers through dance. In 2016, Ms. Monte retired, and Tiffany Rea-Fisher was appointed the company's new Artistic Director. Rea-Fisher has been with EMD for 15 years and was a principal dancer with the company from 2004-2010 before becoming Associate Artistic Director in 2010 and Artistic Director in 2016. Under Rea-Fisher's direction, the company has expanded its scope and vision to become a truly 21st Century organization; flourishing, growing, and expanding its network and reach outside of the traditional modern dance sphere. From community dance classes to stadiums filled with thousands of spectators, EMD's new leadership has shown that modern dance can be accessible and relatable to people of all ages and socio-economic backgrounds.
Photo courtesy Elisa Monte Dance
---
The Dance Enthusiast Shares news from the dance world and creates conversation.
For more Dance News pieces, click here.
If you have important news to share, please send announcements or press release to info@dance-enthusiast.com!
---
The Dance Enthusiast - News, Reviews, Interviews and an Open Invitation for YOU to join the Dance Conversation.