Top Dance Companies And Dance Schools In New York City Celebrate the Life of Kazuko Hirabayashi at Symphony Space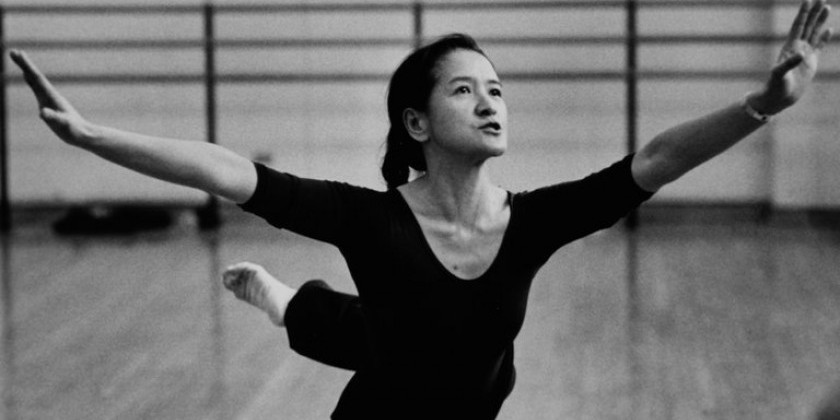 Remembering A Legend
Join dancers from the most renowned dance companies in New York City as they celebrate the life of legendary dance teacher and choreographer, Kazuko Hirabayashi. Dancers from American Ballet Theater, Alvin Ailey American Dance Theater, Merce Cunningham Dance Company, Batsheva Dance Company, Martha Graham Dance Company, Doug Varone and Dancers, Terese Capucilli, Christine Dakin and George Faison all come together along with students from The Juilliard School, The Conservatory of Dance at Purchase College, SUNY, The Ailey School and The Martha Graham School to perform one more time in honor of Kazuko Hirabayashi at Symphony Space on November 7, 2016 at 7:30pm.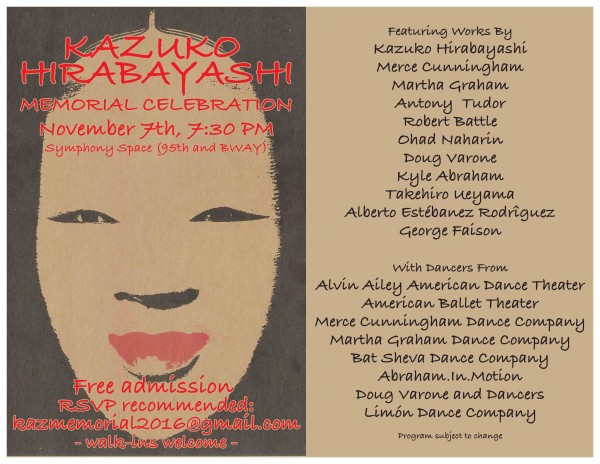 Experience the unparalleled career of New York's most prolific modern dance and choreography teacher through the eyes of her dancers. Discover previously unknown aspects of her life which contributed to her storied personality and explore the breadth of work that inspired her choreography. Those who knew and loved her will once again be in her presence. Those who studied from her will gain a more complete picture of who she was. Those too young to have met her will discover her incredible career and reverberating effect on modern dance.
Symphony Space is located at 2537 Broadway at 95th Street, New York, NY 10025. Tickets are free and can be reserved by emailing kazmemorial2016@gmail.com
---
ABOUT KAZUKO HIRABAYASHI (from her NY Times Obituary)
Kazuko Hirabayashi, a Japanese-born modern-dance choreographer who was even more widely known as an exceptional teacher and mentor to many leading dancers, died on March 25 at her home in Harrison, N.Y. She was 82.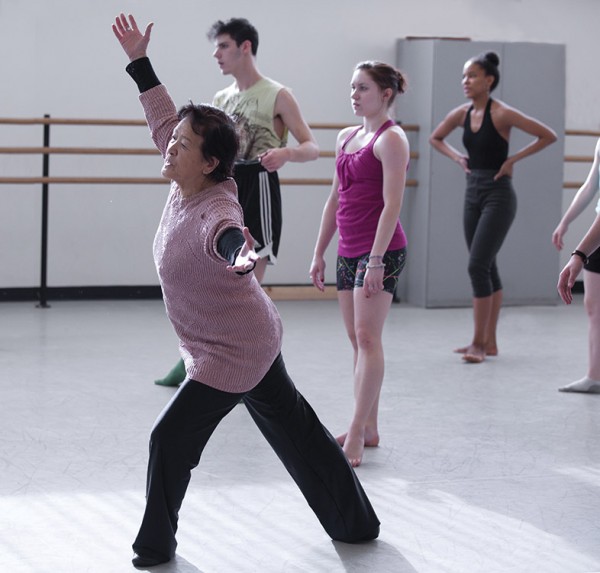 Kazuko Hirabayashi teaching Scott McCabe, Molly Griffin, and Julia Headley, all of whom received their degrees in 2013. Photo by Rosalie O'Connor.
As a choreographer, Ms. Hirabayashi came to early notice in the 1960s with a highly personal style that combined American modern dance and some ballet with a Japanese theatrical sensibility. Yet her own creativity in the two companies she founded and directed was eventually overshadowed by her international reputation as a teacher whose depth and dignity inspired extreme devotion from students at the Juilliard School and elsewhere.
Ohad Naharin, now director of the Batsheva Dance Company in Israel, and Robert Swinston, a major dancer in the Merce Cunningham company, were among "the hundreds of hundreds of individuals Kazuko helped to find their own way," Terese Capucilli said in a recent interview.
Kazuko Hirabayashi was born on Oct. 18, 1933, in Nagoya, Japan. She received a bachelor of science degree from a college in Japan before coming to the United States in 1958 and enrolling at Juilliard. Martha Graham and members of her company taught there at the time along with other modern-dance figures like José Limón and the ballet choreographer Antony Tudor.
Ms. Hirabayashi later taught the Graham movement technique at Juilliard, Purchase, the Alvin Ailey school and abroad.

Kazuko speaking about her concert, Return to Roots, which premiered at the Ailey Citigroup Theater in Oct. 23-25, 2009.
 
In 1965, she formed a troupe, Triad, with Richard Kuch and Richard Gain, two Graham dancers, and in 1967, she founded the Kazuko Hirabayashi Dance Theater. At various times, she was director of the Graham school and director of the Martha Graham Ensemble, a junior troupe.
As a choreographer, however, she used her own more lyrical version of the Graham dance idiom. Reviewing Ms. Hirabayashi's "Mudai" in The New York Times in 1972, Clive Barnes wrote: "The work is delicate, yet strong, passive and unflustered. Nothing seems done simply for effect."
---
The Dance Enthusiast Sharing Dance News and Creating Conversation
See more Dance News Articles in our From The Press section