Dance News: Marquee.TV Unveils First-Of-Its-Kind Digital Dance Season for Fall 2018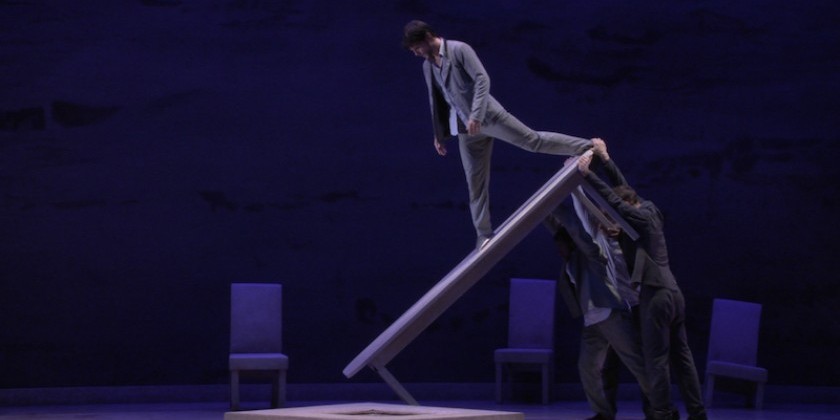 New Online TV Service Brings Touring Productions To Home Audiences
Marquee.TV (www.marquee.tv), the online TV service for arts and culture programming, has announced its fall dance season. In a digital first, the platform will roll-out a catalogue of cutting-edge dance performances that are currently or have recently toured major venues and festivals across North America and the UK, including Sadler's Wells, the Joyce Theater, Jacob's Pillow, Fall for Dance, Canada's National Arts Center and Brooklyn Academy of Music's Next Wave Festival. This new approach from Marquee.TV will enable dance lovers to experience first hand the critically acclaimed performances that they've read about, but until now, have been unable to see.
A.I.M's Pavement. Photo: Ian Douglas
The Marquee.TV fall season kicks off on September 20th with two important programmes from New York based artists. Jonah Bokaer's Rules of the Game features Bokaer's highly regarded collaboration with Daniel Arsham and Pharrell Williams. Akram Khan and Sidi Larbi Cherkaoui's collaboration Zero Degrees, which is based on a journey Khan made from Bangladesh to India, is a simple yet profound duet, inspired by the two artists' own dual identities. Through an intertwining narrative of opposites and parallels, Zero Degrees "talks about borders and how blurry they actually are." 
Sidi Larbi Cherkaoui's Sutra; Photo: Glen Dinning
The line-up, which will unfold over the course of the 12 week season, aligns with the upcoming New York, London and Toronto dance seasons and gives audiences the opportunity to further engage with the work of dance artists that they will see or read about in reviews this fall. The focus on Cherkaoui continues with works such as Sutra (returning to White Light Festival 10/ 17; Marquee 10/11); Fractus V (10/4), fresh off a worldwide tour that included a stop at Jacob's Pillow in July this year, and Faun (live on Marquee to coincide with World Ballet Day, October 2), and is expected to draw international audiences to Marque's all-access platform this season. Details of the full programme and a sample of complementary live events are included below.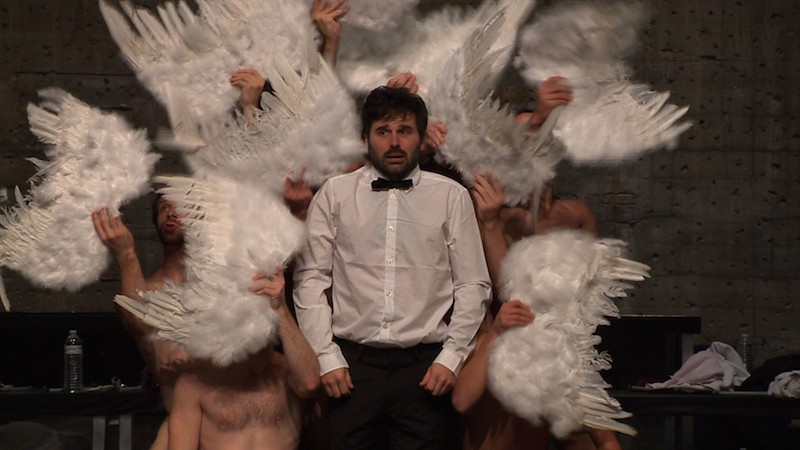 Dave St. Pierre Dance Company's Foudres
"Marquee's Fall digital dance season is the beginning of an exciting evolution for the entire dance field," according to Head of Content Marc Kirschner. "Marquee's goal is to have audiences be able to dig into a choreographer's history the way they dive into the back catalog of a band that they've just discovered. By presenting these works that are current, important and critically acclaimed, Marquee is able to both deliver a great experience for audiences, and inspire them to visit local theaters to see these artists live."
The fall season will launch September 20, and over 300 hours of additional dance, opera and theatre programmes are now available to access via the Marquee.TV platform. Marquee is available on iOS and Android, Apple TV, Amazon Fire and Smart TVs for $8.99 (£8.99 in the UK) per month.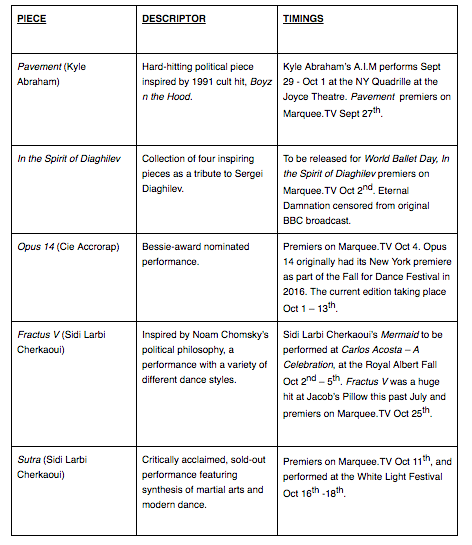 SOME DANCE HIGHLIGHTS FROM THE MARQUEE FALL DIGITAL DANCE SEASON.
---
The Dance Enthusiast Shares News From The Dance World And Creates Conversation!
For more FROM THE PRESS pieces, click here.
If you have important news to share, please send an announcement or press release to info@dance-enthusiast.com!