Related Features
Contribute
Your support helps us cover dance in New York City and beyond! Donate now.
Art Partners: JW Marriott Hotels Partners w/ Joffrey Ballet. Lincoln Center Education Partners w/ Leaders who #thinklikeanartist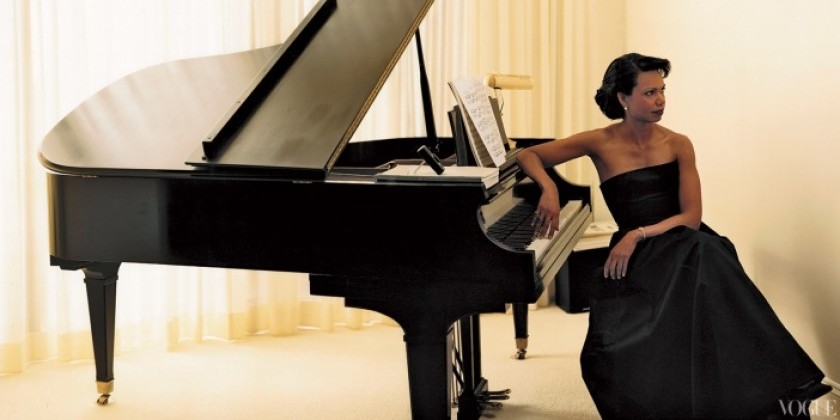 Ballet, Big Business, Leaders, and Celebrities on the Value of Art
JW MARRIOTT HOTELS & RESORTS INTRODUCES THE JW TREATMENT
Luxury Hotel Brand Launches Newly Conceptualized Campaign Showcasing Its Associates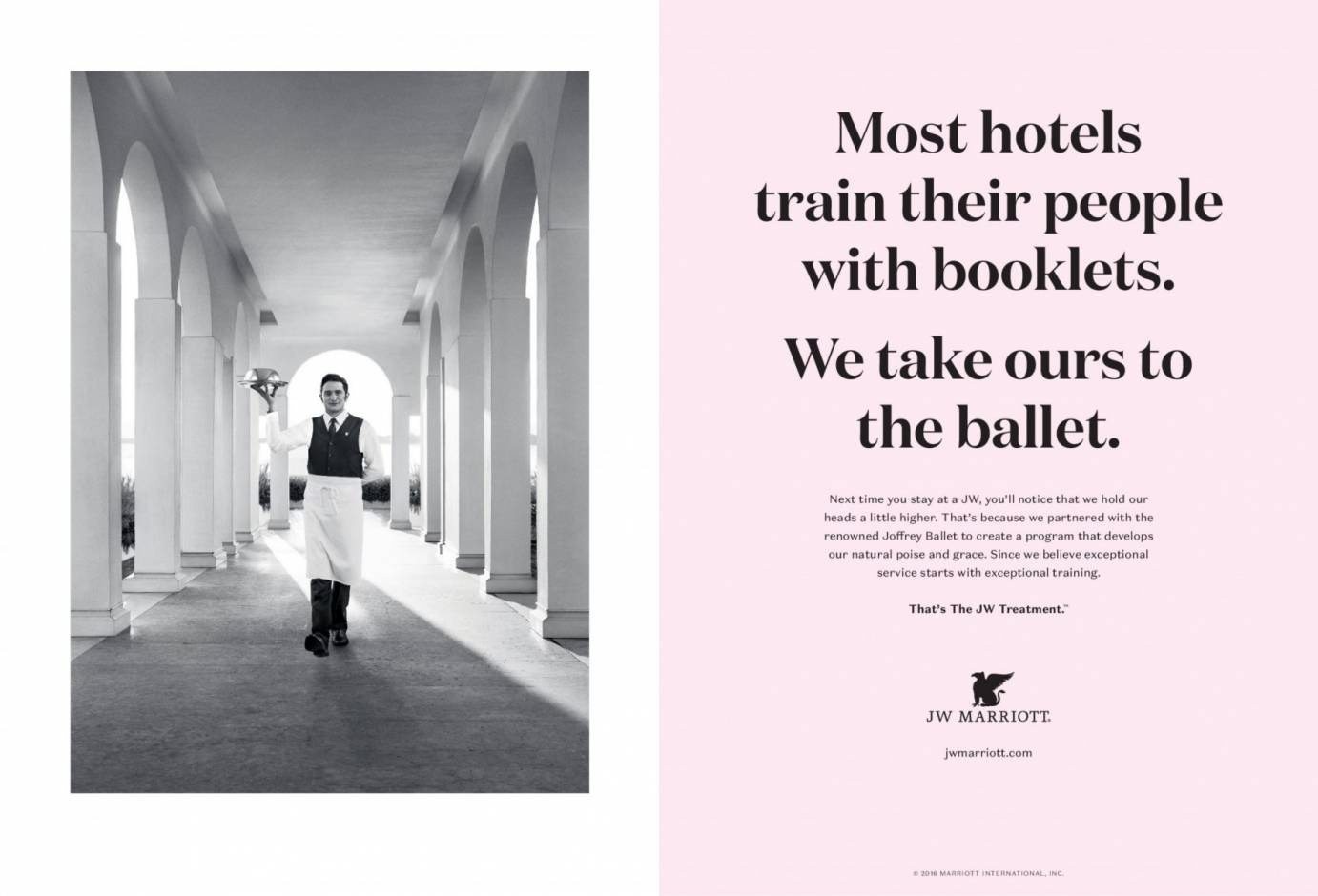 JW Marriott Hotels & Resorts has launched The JW Treatment, the luxury brand's newly conceptualized creative campaign, reaffirming JW Marriott as Marriott International's cornerstone luxury brand.  Created by award-winning independent creative agency Mother New York, The JW Treatment is a non-traditional, multi-faceted print, digital, and video campaign inspired by the brand's rich heritage and founder J.W. Marriott's famous quote: "Take care of your employees and they'll take care of your customers."
Told through the lens of the luxury brand's associates and shot at the recently opened JW Marriott Venice Resort & Spa, The JW Treatment showcases the brand's philosophy that true luxury is created by people who love and are passionate about what they do.  The majority of talent featured in the new campaign are hotel associates who offer a distinctive and personal definition of The JW Treatment, bringing the brand's commitment to highly choreographed, anticipatory service and modern design to life.  Five of the brand's celebrated chefs, including Michelin-starred Chef Giancarlo Perbellini, JW Marriott Venice, Thierry Blouet, JW Marriott Los Cabos, Leo Cao, JW Marriot Beijing Central, and award-winning Pastry Chef Roger Fok, JW Marriot Hong Kong are featured in the campaign, striking a perfect balance between sophistication and playfulness.

At JW Marriott each employee must embody a similar poise and grace to that of a presentable dancer. The Joffrey Ballet company gives the hotel staff a hand.
 
The seven unique executions, produced by award-winning Director Gustav Johansson and shot in black and white, showcase how the brand invests in its associates through innovative and in-depth service training, resulting in an emotional and elevated guest experience.   Each campaign asset visually captures the essence of the JW Marriott brand and speak to the guest passions of culinary, culture, and well-being. Creative content showcases the brand's strong chef presence, in addition to highlighting Spa by JW, the brand's global spa concept, and their partnership with award-winning Joffrey Ballet.  A re-imagined website will also launch in 2017.
"The JW Treatment is the largest, most-integrated global campaign for JW Marriott, and speaks to the brand's rich heritage while highlighting our distinctive approach to luxury," says Kathleen Coney, Director of Brand Marketing for JW Marriott Hotels & Resorts. "Our associates are truly passionate about what they do, and this campaign is a direct reflection of how treating guests exceptionally starts with how we treat each other."  
"We are thrilled to partner with JW Marriott to bring to life the JW philosophy, which resonates deeply with us culturally here at Mother New York," said Peter Ravailhe, CEO, Mother New York.  "With the JW Treatment campaign, we wanted to honor and showcase the unique level of passion and dedication that the brand puts into taking care of their associates so they, in return, can offer an exceptional guest experience."
The global campaign has been launched this month across key markets including the Americas, Europe, Asia, and the Middle East, and confirmed media partners include Architectural Digest, Vanity Fair, WSJ., Bon Appetit, Condé Nast Traveller India, both South East Asia and China edition of Travel + Leisure and more. 
---
LINCOLN CENTER EDUCATION UNVEILS THINK LIKE AN ARTIST VIDEO SERIES
Condoleezza Rice, Deepak Chopra, Chelesa Clinton, And More Talk About The Crucial Life Skills Learned From an Arts-Infused Education 

As part of the celebration of its 40th anniversary and in conjunction with the National Arts in Education week, Lincoln Center Education (LCE), launched a new series called Think Like an Artist, consisting of inspiring videos of leaders who strongly believe that an education infused with the arts leads to originality, effective leadership, a balance between rigor and innovation, and enhanced communication.

Russell Granet, Executive Vice President of Lincoln Center Education, Community Engagement, and International announced the series saying, "Study after study has shown that the arts, when integrated thoughtfully and taught skillfully, are incredibly effective at developing vital skills and preparing students for their academic and professional lives, whether that is in the arts field or another chosen profession."

Playing the piano helps Condoleezza Rice balance rigor and innovation.

Leaders from a variety of industries talk about the value a quality arts education brought to their lives and how it helped fuel the success they achieved in their professional careers. Former Secretary of State Condoleezza Rice, who has been playing piano since the age of three, says in her video segment that music has given her a sense of balance and direction like nothing else in her life. Rice explains, "The artist is actually in some ways the highest form of a human being."

The Think Like an Artist video series also features author/speaker Deepak Chopra; Chelsea Clinton, Vice Chair of the Clinton Foundation; serial entrepreneur Michael Lazerow; and JetBlue Airways Chairman Joel Peterson.

"Thinking like an artist should be an essential part of everyone's education to connect creativity, imagination, and problem solving," says Granet. "We view this series as a call-to-action to support high quality arts education for all, and a reminder that you are never too old to continue to engage in the arts."
Ballet taught Chelsea Clinton how to appreciate different ways of communicating.
 
LCE is encouraging viewers to take action by advocating for arts education in their own communities through the following partner organizations and resource links available at ThinkLikeAnArtist.org: advance art programs in schools with the Center for Arts Education's Parent Advocacy Toolkit; explore state policies with Art Education Partnership's ArtScan database; and contact elected officials at the Americans for the Arts Action Center. Additionally, a tax-deductible donation will go directly to supporting LCE's arts-based programs in public and charter schools, teacher training, free and low-cost family programming, and other initiatives designed to close the access gap to the arts.

Lincoln Center Education is encouraging people from all walks of life to celebrate how they Think Like an Artist by sharing stories on social media with the hashtag #ThinkLikeAnArtist.