Dance News: Martha Graham Dance Company's Exciting 2017-18 Season!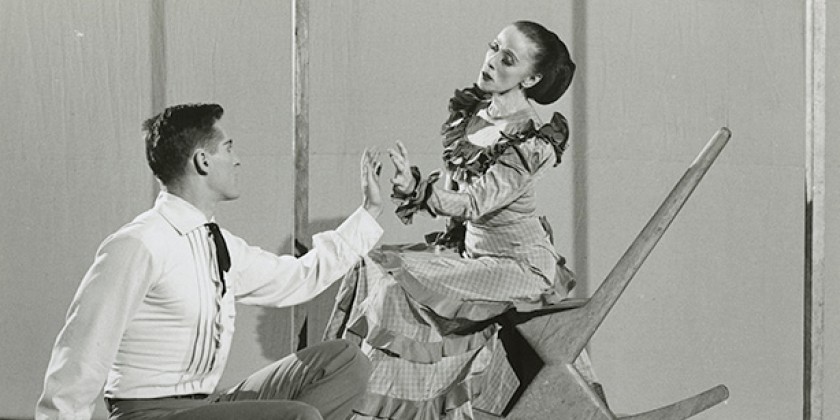 Highlights Include Martha Graham Masterworks, A World Premiere by Lucinda Childs, Lar Lubovitch's "The Legend of Ten" And The 10-Year Anniversary Of "Lamentation Variations"
The world-renowned Martha Graham Dance Company is pleased to announce its New York City Center season, new commissions, studio series, and tour schedule for the 2017–2018 season. The season includes performances at international arts festivals and renowned venues across the United States and in Canada, Germany, Luxembourg, The Netherlands, and Taiwan. The Company's New York season in April will feature Martha Graham masterworks alongside works by internationally acclaimed choreographers Lucinda Childs and Lar Lubovitch. The season also includes seven events as part of the Company's popular Graham Studio Series, which offers audiences a behind-the-scenes look at the Company's work in the intimate setting of the Martha Graham Studio Theater.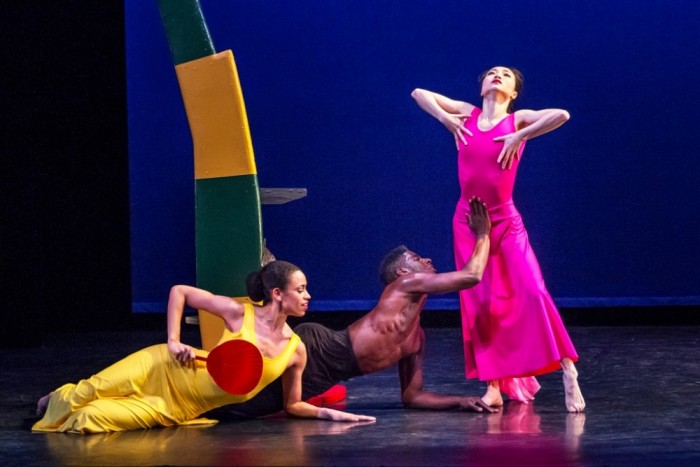 Martha Graham's Embattled Garden with Natasha Diamond-Walker, Lloyd Knight, and XiaoChuan Xie. Photo by Brigid Pierce.
The centerpiece of the Company's 2017–18 season is its New York City Center season from April 11–14, 2018. The season will feature several Graham masterworks including her extraordinary, deeply visceral The Rite of Spring (1984), her stark, powerful anti-war statement Chronicle (1936), and the sly melodrama Embattled Garden (1958). The City Center program will also feature a world premiere by the inimitable Lucinda Childs. Childs' stunning duet Histoire, which she created for the Company in 1999, with music by Krzysztof Knittle, will also be presented. The season also includes the Company's first performances of Lar Lubovitch's lyrical, masterfully crafted The Legend of Ten (2010), set to Brahms' Quintet for Piano and Strings in F Minor, Op. 34, and the recently commissioned Mosaic, choreographed by acclaimed Belgian choreographerSidi Larbi Cherkaoui. All programs will include live music. Detailed program information will be available in November 2017.
The Graham Studio Series opens on October 17 with a two-night NEW@Graham event celebrating the tenth anniversary of the Lamentation Variations, short commissioned works inspired by Graham's iconic solo, Lamentation. The event will feature variations by Doug Varone (premiered in 2012) and Aszure Barton (premiered in 2007), a preview of a new variation by Gwen Welliver, and conversations with some of the other renowned choreographers who have created variations over the years. Leading up to the October event, the Company will provide audiences all around the world with the opportunity to watch the Lamentation Variations created over the years through live-streamed performances and rehearsals, as well as limited-release links to rarely seen Variations and more.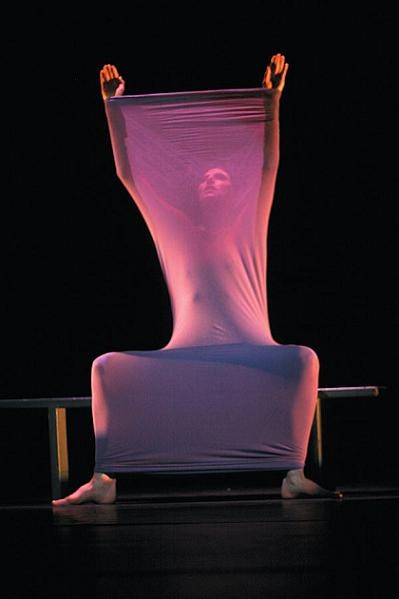 Photo of Martha Graham Dance Company in Lamentation by Petra Bober, 2009.
Other NEW@Graham events this season include a preview of Lucinda Childs' new work for the Company and a sneak peek at Virginie Mécène's new work for Graham 2. There will also be a special Appalachian Spring Holiday Event featuring a full performance of Graham's beloved masterwork with costumes, lights, and the historic set by Isamu Noguchi. This season's GrahamDeconstructed focuses on The Rite of Spring, offering the audience an up-close look at a rehearsal run-through of this heart-stopping choreography before the Company takes it on the road. The Studio Series also includes the second annual NEXT@Graham featuring works by Graham alumni, and Shoot the Dancers, a book launch event for Rose Eichenbaum's new book of dance photography, Inside the Dancer's Art. The event will include a short performance by the Company, in which audience members are invited to photograph the world-renowned Graham dancers.
The Company's touring includes performances at the Vail International Dance Festival, followed by performances this fall in Houston, TX; Fort Collins, Boulder, and Denver, CO; and next winter in Naples, Gainesville, and Tallahassee, FL, with the South Florida Symphony joining the Company in performances of Graham's The Rite of Spring and Appalachian Spring in Key West, Fort Lauderdale, and Miami. The Company's tour also includes performance engagements in Rotterdam, Amsterdam, The Hague; Bonn and Neuss; Montreal and L'Assomption; and Taipei. Among the touring repertory are Graham classics Chronicle, Dark Meadow Suite, Errand into the Maze, and Maple Leaf Rag as well as works by contemporary choreographers, including Pontus Lidberg's Woodland and several Lamentation Variations.
Martha Graham Dance Company 2017–2018 Schedule
2017
August 11:                   Vail International Dance Festival (Colorado)
October 1:                   Cullen Theater (Houston, Texas)
October 3:                   Lincoln Center Performance Hall (Fort Collins, Colorado)
October 5:                   The Mackey Auditorium (Boulder, Colorado)
October 7:                   Robert and Judi Newman Center for Performing Arts (Denver, Colorado)
October 17–18:           NEW@Graham: Lamentation Variations 10th Anniversary
November 15–16:        Shoot the Dancers with Rose Eichenbaum
December 1–2             Appalachian Spring Holiday Event
 
2018 
January 10:                  NEW@Graham featuring Graham 2
January 16–17:            GrahamDeconstructed: The Rite of Spring
January 21:                  Tennessee Williams Theater (Key West, Florida)
January 23:                  AuRene Theater, Broward Center (Fort Lauderdale, Florida)
January 24:                  Arsht Center (Miami, Florida)
February 3–4:              Grand Théâtre de la Ville de Luxembourg
February 7–8:              Zuiderstrandtheater (The Hague, The Netherlands)
February 10:                Nieuwe Luxor Theater (Rotterdam, The Netherlands)
February 13:                Stadsshouwburg (Amsterdam, The Netherlands)
February 16:                Opernhaus Bonn (Germany)
February 17:                Internationalen Tanzwochen Neuss (Germany)
February 20:                Théâtre Hector-Charland (L'Assomption, Canada)
February 22–24:          Théâtre Maisonneuve (Montreal, Canada)
February 27–28:          Nancy Smith Fichter Theater (Tallahassee, Florida)
March 3:                      Hayes Hall (Naples, Florida)
March 5:                      Phillips Center for the Performing Arts (Gainesville, Florida)
March 16–18:              The National Dr. Sun Yat-sen Memorial Hall (Taipei, Taiwan)
March 27:                    NEW@Graham: Preview of works by Lucinda Childs and Lar Lubovitch
April 11–14:                 New York City Center (New York, New York)
April 29:                       Tilles Center (Greenvale, New York)
May 2–3:                     NEXT@Graham: Works by Graham alumni     
Tickets for the New York City Center season will go on sale on September 5, 2017. Tickets start at $35. New York City Center is located at 131 West 55th Street, between 6th and 7th Avenues, in Manhattan.
Tickets for Graham Studio Series events, including series subscriptions, can be purchased at: www.marthagraham.org/studioseries. All Graham Studio Series events will take place at the Martha Graham Studio Theater, 55 Bethune Street, in Manhattan.
---
The Dance Enthusiast Shares News From The Dance World And Creates Conversation!
For more FROM THE PRESS pieces, click here.
If you have important news  to share, please send an announcement or press release to info@dance-enthusiast.com!