Related Features
Contribute
Your support helps us cover dance in New York City and beyond! Donate now.
Dance News: Congratulations To Mikhail Baryshnikov Recipient Japan Art Association's 2017 Praemium Imperiale International Arts Award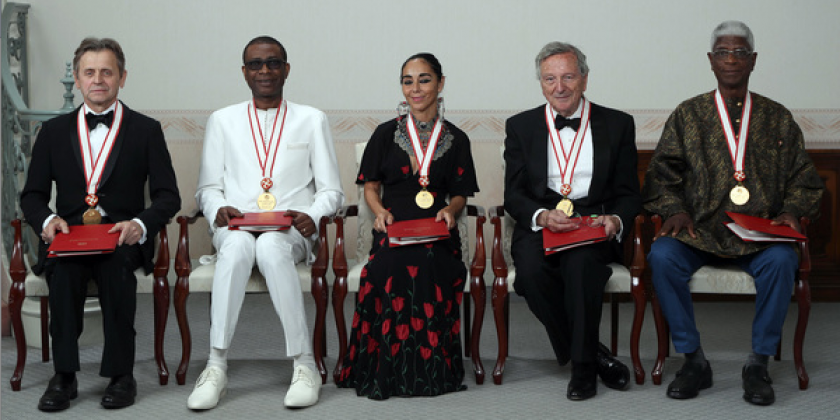 Baryshnikov And Four Other Creative Artists Are Honored by Japan's Prince Hitachi
At a ceremony in Tokyo on Wednesday, October 18th 2017, His Imperial Highness Prince Hitachi, honorary patron of the Japan Art Association, paid homage to the winners of the Association's 2017 Praemium Imperiale International Arts Award. This year's laureates are legendary performer Mikhail Baryshnikov, world music star Youssou N'Dour, architect Rafael Moneo, visual artist Shirin Neshat and sculptor El Anatsui.
Photo credit: Forbes.
Mikhail Baryshnikov is considered one of the greatest dancers of our time, dazzling audiences with his astounding physical and technical skills, and emotional expressiveness. He is also a successful dramatic actor on stage, cinema and television – definitively one of the world's most widely recognized contemporary artists. Baryshnikov began studying ballet in 1959 at age 11. After commencing a spectacular career with the Kirov Ballet in Leningrad, he came to New York in 1974 to be a principal dancer with American Ballet Theatre (ABT). In 1979 he joined New York City Ballet, where he worked with George Balanchine and Jerome Robbins. The next year he was appointed artistic director of ABT where, for a decade, he introduced a new generation of dancers and choreographers. From 1990-2002, Baryshnikov was director and dancer of the White Oak Dance Project, which he co-founded with choreographer Mark Morris to expand the repertoire and visibility of American modern dance. As an actor, Baryshnikov has performed widely on and off Broadway, as well as in television and film, receiving a Tony Award nomination and a Drama Desk Award for Metamorphosis, and an Academy Award nomination for The Turning Point. In 2005, he launched Baryshnikov Arts Center in New York, a space supporting multidisciplinary artists from around the globe. Baryshnikov is a dual citizen of the United States and Latvia.
N'Dour and Anatsui are the first artists from Senegal and Ghana, respectively, and Neshat the first Iranian woman, to receive the Praemium Imperiale.
Now in its 29th year, the Praemium Imperiale celebrates lifetime achievement in Painting, Sculpture, Architecture, Music, and Theatre/Film/Dance, categories not recognized by the Nobel Prize. The award has become a powerful voice for the importance of cultural expression in today's world, bringing international attention to the arts in much the same way as the Nobel Prize brings attention to the sciences.
After the Praemium Imperiale gold medals were given to the Laureates, Mr. Mikhail Baryshnikov made a impressive message of thanks on behalf of all of the 2017 laureates.
At the Tokyo ceremony, Prince Hitachi awarded each laureate specially-designed gold medal, a testimonial letter and a check for 15 million yen (approximately $136,000). Biographies of the 2017 winners can be found here.
The Praemium Imperiale was created in 1988 to commemorate the 100th anniversary of the Japan Art Association and to honor the late Prince Takamatsu, who was the Association's honorary patron for almost six decades. The Association chooses the winners based on the recommendations of International Advisors in England, France, Italy, Germany, Japan and the United States. The Advisors, leading figures with a deep interest or involvement in the arts, are guided by the recommendations of nominating committees comprising cultural leaders from each Advisor's home country.
For information about the Japan Art Association and the Praemium Imperiale International Arts Award, please visit www.PraemiumImperiale.org.
---
The Dance Enthusiast Shares News From The Dance World And Creates Conversation!
For more FROM THE PRESS pieces, click here.
If you have important news to share, please send an announcement or press release to info@dance-enthusiast.com!