Dance News: New Downtown Brooklyn Arts Management Fellowship Spearheaded by BRIC, Mark Morris Dance Group, MoCADA, TFANA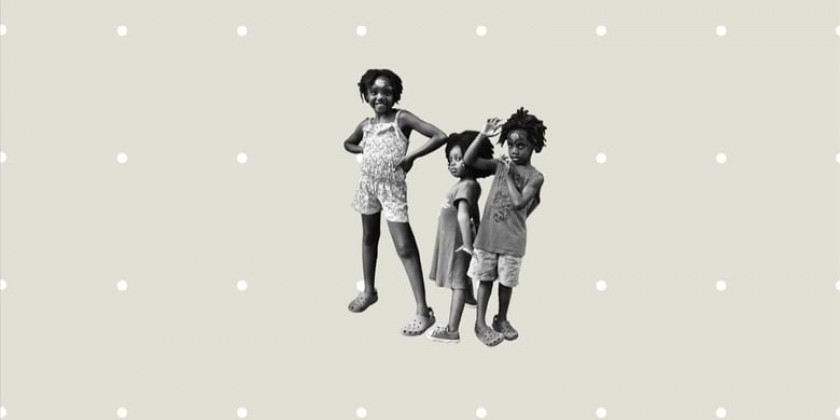 Program Aims To Build Long-Term Equity And Diversity In Arts Management
BRIC, Mark Morris Dance Group (MMDG), The Museum of Contemporary African Diasporan Arts (MoCADA) and Theatre for a New Audience (TFANA) are pleased to announce the launch of the Downtown Brooklyn Arts Management Fellowship, a new program whose aim is to build long-term equity and diversity in the field of arts management. In the pilot year, beginning in September, seven Fellows—Sarah Branch, Kiana Carrington, Linda Diaz, Donnay Edmund, Claire Kim, Alexandria Ryahl and Alexa Smithwrick—will work with and be mentored by arts managers from the cohort of four organizations, participate in a comprehensive professional development training curriculum, have opportunities to connect with and learn from each other through formal and informal activities, and build networking connections to springboard their careers as emerging arts leaders in New York City. They will receive full-time salary and benefits throughout the year.
BRIC facade. Credit: Thomas Lesser.
These four leading Downtown Brooklyn arts organizations have created the Downtown Brooklyn Arts Management Fellowship in response to a study released in 2016 by the New York City Department of Cultural Affairs (DCLA) on the state of diversity in DCLA-funded organizations, which found that 55% of junior staff at New York City arts organizations identify as white, with cultural diversity decreasing significantly among more senior positions. The Fellowship prioritizes emerging voices from racial and ethnic communities that are historically underrepresented in the industry, as well as low-income individuals who have not had access to internships or costly master's degrees that are often the entrée into the industry. Over 600 applications were received for the seven available fellowship positions.
Each Fellow will complete a twelve-week work intensive at each of the four partner institutions, receiving a fully immersive experience in multiple departments of an arts organization, including Marketing and Community Engagement, Development, Administration and Finance, Production and Tech, Education, and Curatorial and Programming. Each partner organization will host one or two Fellows at a time, and each Fellow will rotate through the four organizations over the Fellowship year.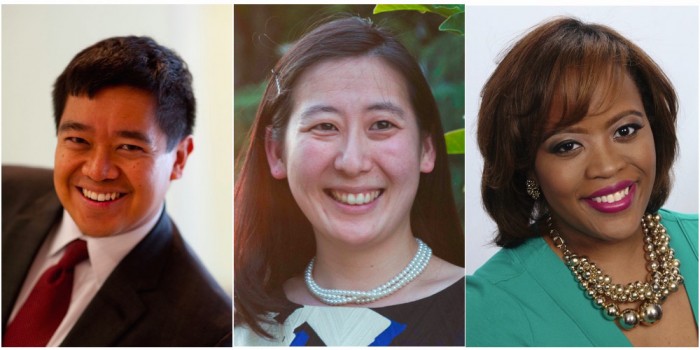 Jonas Cartano, Angela Han and Alison McNeil of Third Eye Cultural Collaborative.
The 40-week Professional Development Curriculum, designed in partnership with Third Eye Cultural Collaborative (TECC), is designed to progressively build knowledge, starting with basic skills and topics and moving toward more complex concepts. Jonas Cartano, one of three Third Eye Cultural Collaborative partners, will serve as the lead instructor on the program. The key principles for the professional development curriculum are:
A balance of practical skills instruction (i.e. reading a financial statement) with interpersonal skills (i.e., networking and leadership).
A scaffold of curriculum concepts, gaining complexity throughout the year, which are disseminated using a variety of formats (lecture, discussion, experiential, etc.).
Structured mentoring and an opportunity to learn from the mission and work style of all four partner organizations, as well as visiting additional organizations.
Learner-centered education, with an opportunity for the fellows to craft their own activities and to give feedback to improve the curriculum over future years. 
The Downtown Brooklyn Arts Management Fellowship begins in the midst of a vital national conversation regarding diversity in arts administration, and about practices that seek to recruit and train arts administrators from underrepresented groups. The partner institutions hope to make a substantial contribution to this discourse in the form of thought-leadership, as well as by sharing results and documentation from the pilot program.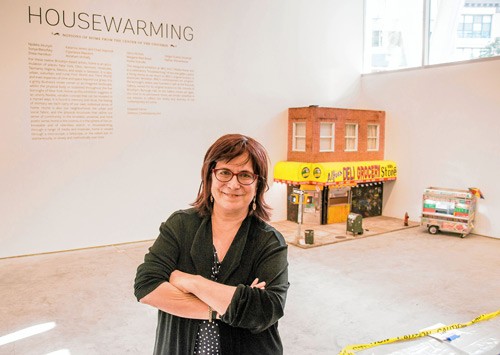 Bric Arts president Leslie G. Schultz. Photo © Stefano Giovannini.
"BRIC is dedicated to making arts and media genuinely accessible and inclusive, and to serving audiences and artists who demographically reflect our City. We do our work most effectively when our team is also diverse and inclusive. This fellowship program enables BRIC and our partners to invest in the careers of a new generation of arts administrators who are not adequately represented in our field. We are tremendously grateful to New York City's Theater Subdistrict Council, the New York City Cultural Agenda Fund in The New York Community Trust and the New York State Council on the Arts' Regional Economic Development Council Program (REDC) for helping to make this ambitious dream a reality," said Leslie Schultz, President of BRIC.
"The 2016 DCLA study revealed that the theater field has a great deal of work to do in creating diversity among theater professionals. As a modern classical theatre we maintain that these plays belong to everyone, and should be created by everyone and accessible to everyone. We embrace this opportunity to support the development of young professionals who might not otherwise have the opportunity to build their careers in the field of theater administration and production. The vibrant and diverse community of residents and artists that is now our home should also help to build a vibrant and diverse community of emerging arts professionals." said Dorothy Ryan, Managing Director of Theatre for a New Audience.
Mark Morris Dance Group. Credit: Gareth Jones Photography.
"The Mark Morris Dance Group is honored to join this distinguished group of arts organizations representing a wide range of disciplines to carve a new pathway for greater diversity in arts leadership," said Nancy Umanoff, Executive Director of Mark Morris Dance Group. "This program will expand MMDG's commitment to providing comprehensive professional development opportunities and hands-on learning experiences."
Support for The Downtown Brooklyn Arts Management Fellowship is provided by New York City's Theater Subdistrict Council, the New York City Cultural Agenda Fund in The New York Community Trust, and the New York State Council on the Arts' Regional Economic Development Council Program (REDC).
---
The Dance Enthusiast Shares News From The Dance World And Creates Conversation!
For more FROM THE PRESS pieces, click here.
If you have important news to share, please send an announcement or press release to info@dance-enthusiast.com!