Dance News: Performance Space New York (formerly PS 122) Presents "The East Village Series"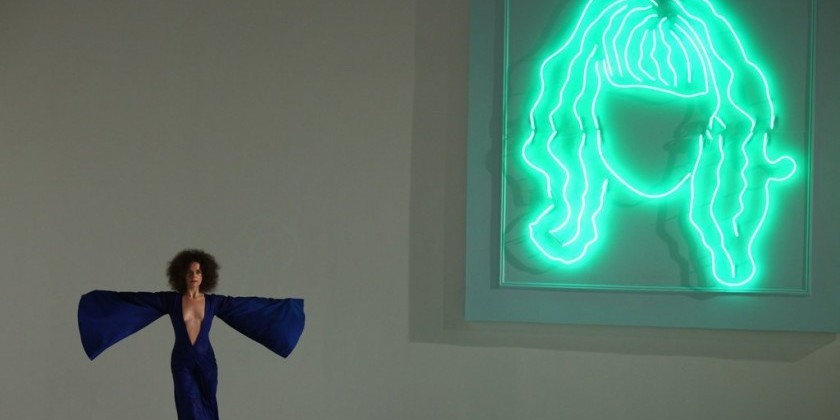 New Semi-annual Themed Series Is Also The First Program Curated By New Executive Artistic Director Jenny Schlenzka
The inaugural East Village Series asks what kind of art organization it needs to become in light of this ever-more exclusionary social and political context. The multidisciplinary performances in this series evoke a neighborhood—largely erased and reshaped by the collusion of time and capital—and considers new paths for its future.
__________________________________________________________________________________________________________________
Performance Space New York (formerly Performance Space 122) presents The East Village Series, its first semi-annual themed series, and the first program curated by the institution's new Executive Artistic Director, Jenny Schlenzka. This presentation of works from some of today's most radical performers and multidisciplinary artists resituates the institution in newly revamped spaces, designed by Deborah Berke Partners, in 122 Community Center (150 First Avenue, at East 9th Street), where Performance Space 122 was founded, and where it operated until it moved out in 2011 for the building renovation. The series contemplates the past, present, and future of the organization and its neighborhood.
As the organization prepares to welcome the public for the 2018 Coil Festival (January 10 – February 4, 2018), it has updated its name, to Performance Space New York, to communicate its ambition going forward: to be New York's performance space—one representing, and inclusive of, all of New York—while also honoring this singular history. The name nods to both the local and globally-reaching nature of New York, and to the organization's rise as one New York's—and the United States'—most internationally influential sources of contemporary performance.   
Today Performance Space New York also announces five additions to its Board of Directors—visual artist Kerstin Brätsch; choreographer Ishmael Houston-Jones; Opening Ceremony and Kenzo Paris creative director Humberto Leon; Poppy Pulitzer; and artist, singer/songwriter, and producer Michael Stipe—and its 2018 gala, honoring poet Eileen Myles, April 14.
The themed series are a new, semi-annual mode of programming devised by Schlenzka to further expand Performance Space New York's ideal of interdisciplinarity and hybridity—not only the blurring of genres within works, but also the juxtaposition of artists' visions and philosophies. Through their placement within a larger themed series, the organization's performances, exhibitions, readings, and screenings (and more) create a vital dialogue. The East Village Series brings together works by Performance Space New York veterans and newcomers alike, with programming that looks toward a neighborhood's history as a guide to its future. Mining the multifaceted movements and histories within the neighborhood since the 1980s, the East Village Series examines punk, fashion, club culture, forces of gentrification, the AIDS epidemic, activist organizing, and the history of Performance Space New York itself.
New member on Performance Space New Yorks Board of Directors, Ishmael Houston-Jones
From 1980, when a group of local artists occupied the empty building that had been home to Public School 122, through the 1990s, the country saw a swell of social conservatism and neoliberalism overtaking American politics, further neglecting the poor and leading, on a local level, to a long history of gentrification in this historical immigrant community. From this well of necessity and desire, East Village artists created highly political and personal work in response to a reactionary government that was defunding their art and violently ignoring the premature deaths of queer peers during the AIDS epidemic. It was a time of explosive creativity—when the spirit of punk rock gave everyone permission to make art and collaborate, freely disregarding conventional distinctions between artistic genres.
Today, almost 40 years since its birth, Performance Space New York is faced with a radically transformed neighborhood unaffordable for young artists and a national political climate that feeds off social inequity more than ever. The inaugural East Village Series asks what kind of art organization it needs to become in light of this ever-more exclusionary social and political context. The multidisciplinary performances in this series evoke a neighborhood—largely erased and reshaped by the collusion of time and capital—and considers new paths for its future.
The series begins with Welcome to Lenapehoking (February 17), organized by the Lenape Center, the Indigenous organization devoted to continuing the Lenape cultural presence. This opening celebration led by Indigenous artists and leaders recognizes the original caretakers of Manhattan, as well as the widespread yet oft-uncited influence of Native American artists. The story of this city begins with the Lenape. The opening also brings an expanded version of Avant-Garde-Arama, the institution's longest-running program, to the new spaces (February 18). This Avant-Garde-Aramafeatures a mixed bill of performers, dancers, musicians, and filmmakers. The renewal of this Performance Space New York tradition, gathering disparate artistic forces into one liberating evening, exemplifies the organization's historical and continued role as a catalyst for wild experimentation.
Quote by punk poet/novelist Kathy Acker. Credit: AZ Quotes.
Performance Space New York pays homage to the punk culture that grew from the neighborhood during the 1970s and 1980s with a multiform tribute to the late postmodern punk poet/novelist Kathy Acker, whose hypersexual feminism was steeped in the culture of '70s and '80s Downtown New York. This sub-series, Focus on Kathy Acker, includes a group exhibit, a marathon reading, screenings, and more.
Co-curated by celebrated art provocateur Bjarne Melgaard, the exhibit Kathy Acker: Who Wants to Be Human All the Time (March 8–April 8) features works from Ser Brandon-Castro Serpas, Celia Hempton, Beatrice Marchi, Bjarne Melgaard, Alan Sondheim, Diamond Stingily, and Women's History Museum, and celebrates Acker's work and considerable but often-unacknowledged influence. Blue Tape, the hour-long, highly charged and confrontational truth-and-sex tape made by Acker—at the beginning of her career—and conceptual artist Alan Sondheim, are shown alongside these works by other artists.
Focus on Kathy Acker also includes Kathy Acker: "In the beginning there was a young girl…," organized by Tina Satter and featuring performances and readings by Shana Fletcher and Jess Barbagallo, I.U.D., Jeremy O. Harris, Gary Indiana, Ariana Reines, Tina Satter, Ser Brandon-Castro Serpas, and Anne Waldman (March 25); Kathy Acker: "boyfriend, brother, sister, money, amusement, and father," a screening, organized by Matias Viegener, of clips of Acker reading, performing and being interviewed from the 1970s to the 1990s (April 7); and a marathon reading, organized by Sarah Schulman, of Acker's novel Blood and Guts In High School, with Lynne Tillman, Carolee Schneemann, Charles Bernstein, Penny Arcade, Jennifer Blowdryer, Justin Vivian Bond, Richard Foreman, John Godfrey, Bette Gordon, Jessica Hagedorn, Carla Harryman, Tracie Morris, Matias Viegener, Tommy Pico, Betsy Sussler, Carl Hancock Rux, Bina Sharif, Kate Zambreno, and many more (April 8).
Beyond Focus on Kathy Acker features performances from artists whose work has fundamentally influenced the identity of the space. Choreographer Ishmael Houston-Jones, composer/guitarist Chris Cochrane, and poet/novelist Dennis Cooper revive THEM, their cacophonous and unblinking work that, in response to the AIDS epidemic, depicted the ways men could be with men, and made its trailblazing debut at Performance Space 122 in 1986 (June 21-30). Likewise returning to the institution is legendary Downtown New York rabble-rouser Penny Arcade, who continues to tear down oppressive conventions in her fifth decade of biting performance. She revives her hit Bitch! Dyke! Faghag! Whore! (May 11-19), a performance that, in its 1990 premiere at Performance Space 122, asserted the importance of political art, at a time when conservative politicians sought to defund anything that could be deemed offensive. Bitch! Dyke! Faghag! Whore!'s enduring testament to free speech returns at a moment where threats of censorship weigh heavily on national discourse. The East Village Series also features the U.S. premiere screening of "high priestess of death goth" (The Guardian) Diamanda Galás' film Schrei 27, based on a work she first developed for radio, and ultimately performed at Performance Space 122 in 1996 (March 30).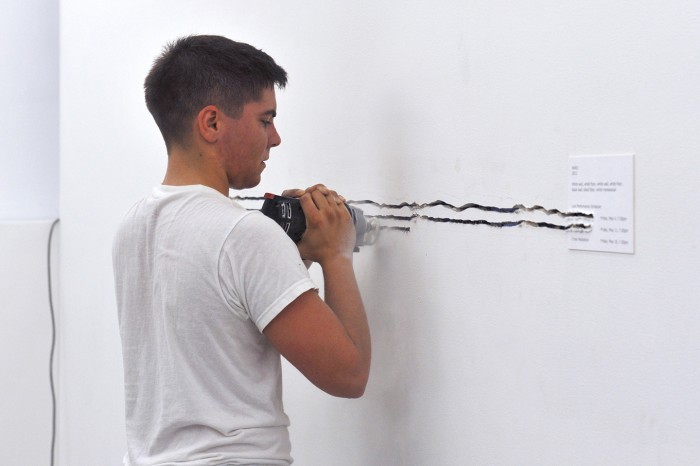 Among, Within, and Elsewhere by Yve Laris Cohen.
The East Village Series includes new commissions from two choreographers—Yve Laris Cohen (March 8-11) and Sarah Michelson (April 27-May 5). Cohen is interested in dance as it responds to  architecture; his new piece will be a site-specific work made for Performance Space New York's new large theater. Michelson has been a defining presence at Performance Space 122 through the years, presenting work like the site-specific two-part Shadowmann Part II, Group Experience, and Daylight in the space, and constantly remapping the lines between audience and performance.
Performance Space New York collaborates with the Alliance for Positive Change, one of its neighbors in 122 Community Center, helping New Yorkers living with HIV and other chronic health conditions get medical care, peer support, and housing assistance—to throw a Kiki Ball (June 16). The event, for which all profits will go to the Alliance for Positive Change, honors the intricacies of another highly related vital support system—the Kiki scene. Veering from New York's infamous mainstream Ballroom scene, the Kiki subculture was initially formed by organizers in community nonprofits, and provides a safe haven for young queer people of color and members impacted by HIV. This evening provides a platform for the artistry of the members of Kiki houses who've helped build the celebratory refuge of the subculture.
Artist/curatorTiona Nekkia McClodden presents CLUB (May 3–26), a performative installation that transforms the space into a club of sorts and thereby transforms a club into a work of sculpture, with sound installations, lighting, video, objects, and ephemera referencing legendary Lower East Side clubs. Fashion label Women's History Museum, whose aesthetic is largely inspired by the vintage and consignment shops of the East Village, brings a theatrical runway show to Performance Space New York, deepening the label's focus on feminine narratives using clothing, speech, puppetry, moving images, sculpture, sound, scent, taste, and screens (March 23). The series also features BRUJAS (Robin Giordani, Tabby Wakes, Sarah Snider, Ripley Soprano, Myles Sales, Taj Williams, Orlando Gil, Miles Giordani (May 24–June 9), the feminist art collective with a passion for radical politics, streetwear, and skateboarding, activating Performance Space New York with a skate park—built by industrial designer Jonathan Olivares—in the middle of the organization's retrofitted theater. BRUJAS founder Arianna Gil grew up skating in the East Village and Lower East Side, and was known as the "Tompkins Square Babysitter" at the local skate park; now, she and the BRUJAS bring a display of public enjoyment and expression to a neighborhood that has, since her youth, been engulfed by privatization.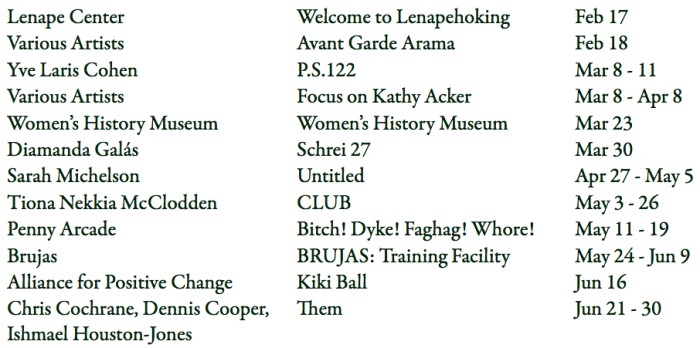 Performance Space New York's new logo and identity were created by acclaimed international artist Sarah Ortmeyer. The identity is executed in collaboration with graphic designer Erin Knutson.
---
The Dance Enthusiast Shares News From The Dance World And Creates Conversation!
For more FROM THE PRESS pieces, click here.
If you have important news to share, please send an announcement or press release to info@dance-enthusiast.com!