Related Features
Contribute
Your support helps us cover dance in New York City and beyond! Donate now.
The Second Annual LUMBERYARD in the City Festival Presents Vicky Shick and Raja Feather Kelly's the feath3r theory
At The Second Annual LUMBERYARD In The City Festival From June 8-10 and June 22-24 Respectively
LUMBERYARD Contemporary Performing Arts (formerly American Dance Institute), a national non-profit organization that evaluates the needs of artists and fills gaps to support them, is pleased to present:
Let It Linger, a new work from renowned choreographer Vicky Shick, from June 8-10, as well as
the feath3r theory in: Another Fucking Warhol Production, or Who's Afraid of Andy Warhol?, a new work from Raja Feather Kelly and his company the feath3r theory, from June 22–24
...at The Kitchen as part of the second annual LUMBERYARD in the City festival.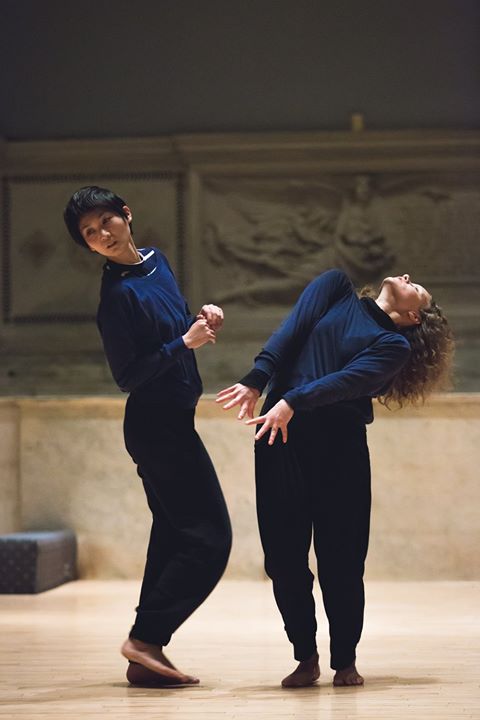 Photo by David Gonsier. Courtesy of Vicky Shick.
Let It Linger is a dance for five performers: Anna Azrieli, Lily Gold, Marilyn Maywald-Yahel, Mina Nishimura and Vicky Shick. The production marks Shick's first collaboration with Swiss video artist Seline Baumgartner. The sound design, by Shick's longtime collaborator Elise Kermani, with Todd Lent, includes found radio music, some of which may be familiar. Carol Mullins, another longtime collaborator, provides the lighting design. Together these elements contribute to the sense of loneliness inherent in the choreography. Indeed, Shick sees the design as an integral part of the choreography, and vice versa.
Vicky Shick has been involved with the New York dance community for over three decades—performing, choreographing and teaching. For six years she was a member of the Trisha Brown Company, during which time she received a New York Dance and Performance Award (a Bessie) for performance. Other long-term performing relationships have been with Yoshiko Chuma, Risa Jaroslow, Wendy Perron, Susan Rethorst and Sara Rudner. She has been making dances since the mid-eighties, mostly in collaboration with visual artist Barbara Kilpatrick and sound designer Elise Kermani. Their 2003 piece received a Bessie for outstanding creative achievement, and their 2013 work was nominated for a Bessie. Over the years, Shick's choreography has been presented by the Brooklyn Museum, Danspace Project, Dance Theatre Workshop (DTW, now NYLA), The Kitchen, La Mama Moves, Movement Research at Judson Church, PS 122, Sundays on Broadway, The West End Theatre and internationally at Project Art Centre in Dublin, the Verbier Music Festival in Switzerland and at Trafó Theatre in Budapest, her home town. This is Shick's second presentation with LUMBERYARD.
Photo courtesy of Raja feather Kelly.
Meanwhile, Kelly's world premiere is the culmination of his work with the support of LUMBERYARD's 2016 Solange MacArthur Award for New Choreography. The artist was bestowed with commissioning funds, fee-free fiscal sponsorship, strategic marketing and development support, and the opportunity to present the upcoming work.
Kelly describes the feath3r theory in: Another Fucking Warhol Production, or Who's Afraid of Andy Warhol? as a "docufiction performance." The work stars Kelly and his company, the feath3r theory (as themselves), performing a post-ballet theater musical that reimagines and attempts to re-create unrecorded, deleted and lost footage from a rumored 2015 "Saturday Night Live" episode on love and war ("The Love Episode"), featuring musical guest Kanye West.
In addition to Kelly, the cast of the feath3r theory in: Another Fucking Warhol Production, or Who's Afraid of Andy Warhol includes Amy Gernux, Sara Gurevich, Rachel Pritzlaff, Collin Ranf, Aaron Moses Robin, Benjamin Wolk and Aitor Mendilibar as the camera man. The work features lighting design by Tuce Yasak, video by Laura Snow, photography by Kate Enman and sound design by Emily Auciello.
Born in Fort Hood, Texas, Raja Feather Kelly is the first and only choreographer to dedicate the entirety of his company's work to Andy Warhol and the development of popular culture over the last thirty years. He is the creator of Andy Warhol's 25 Cats Name Sam; Andy Warhol's Drella (I Love You Faye Driscoll); Andy Warhol's 15: Color Me, Warhol; Another 37 Reasons to Cry (Another Warholian Production); Andy Warhol's TROPICO, and Andy Warhol's Bleu Movie, all of which have been created and performed in New York City theaters. For over a decade, Kelly has worked throughout the United States and abroad (Austria, Germany, Australia, United Kingdom, and France) in search of the connections between popular culture and humanity and their integration into experiential dance-theater. Kelly currently choreographs, writes and directs his own work as Artistic Director of the feath3r theory, a culture-driven dance-theater company.