Dance News: BAC Spring 2018 Dance Series Featuring Work in Progress by Marguerite Hemmings, Yaa Samar! Dance Theatre and Michelle Boulé with more to come
BAC's Committment to the Creative Process Continues with Support to Multiple Artists in Residency Formats
Baryshnikov Arts Center (BAC) announces the Spring 2018 Dance Series, celebrating BAC's founding core principle to support creative process with work-in-progress showings by Marguerite Hemmings, Yaa Samar! Dance Theatre, and Michelle Boulé. The three public dance events will be held in the Rudolf Nureyev Studio at BAC (450 West 37th Street, Manhattan). Tickets ($15) and reservations are available now at bacnyc.org or 866-811-4111. A robust season of BAC Residencies will also provide support to eleven other artists developing projects and collaborations across disciplines.
The Spring 2018 Dance Series presentations of works-in-progress will each culminate a weeklong residency in the Rudolf Nureyev Studio. The series of public performances aims to highlight BAC's role in providing essential support to art-makers.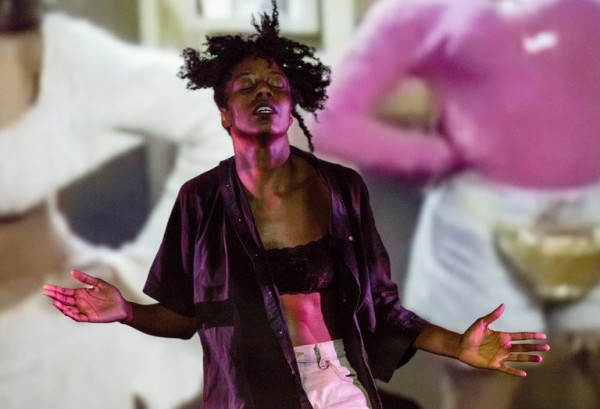 Marguerite Hemmings performing her multimedia work We Free. Photo credit: Scott Shaw.
 
"BAC was built on a fundamental respect for and commitment to creative process. Whenever our artists generously open up the studio doors, we hope to shine a light on the space, time, and resources it takes to make a dance, or a play, or a piece of music," said Mikhail Baryshnikov, BAC Artistic Director.
The Dance Series begins February 23 at 7PM with Jamaica-born, New York-based Marguerite Hemmings, who will share sketches of a new work based on dance styles that develop on the street—in dancehalls, social settings, and in response to social conditions. On April 20 at 4PM, members of Yaa Samar! Dance Theatre—from Palestine, the U.S. and Europe—will hold an open rehearsal led by choreographer Samar Haddad King. A conversation will follow with Haddad King and her collaborator, playwright and theater director Amir Nizar Zuabi. Finally, on May 11 at 7PM, New York's Michelle Boulé will share her work-in-progress Field (working title), examining relationships between the scientific research of traditional and contemporary healing practices and aesthetic form.
In addition to residency support provided to these choreographers, Spring 2018 BAC Residencies includes BAC Space, running March 19 through April 14. This residency format hosts multiple artists in all of BAC's spaces concurrently and is designed to encourage peer exchange. BAC Space will include a series of Studio Showings open to the public, to be announced by March 1. The BAC Space Spring 2018 Resident Artists are: choreographers/dancers Ligia Lewis, Jimena Paz, and RoseAnne Spradlin; dance/theater artist David Neumann; theater/performance artist Sacha Yanow; and musician/composer Tarek Yamani.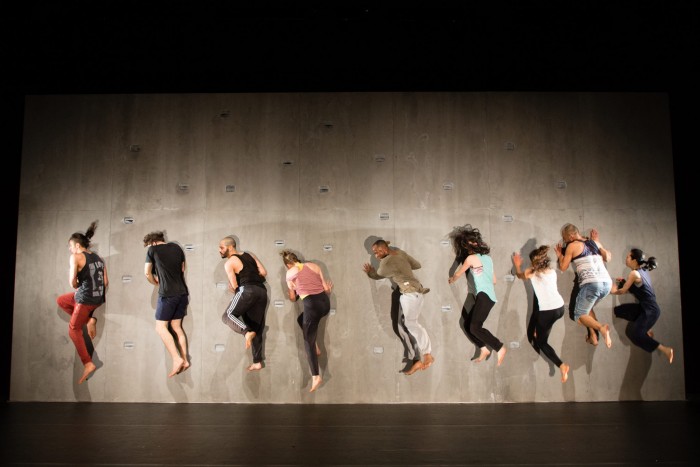 Yaa Samar! Dance Theatre in Against a Hard Surface at Theater der Welt Festival in Hamburg, Germany, June 2017. Photo by Ahmad Alrifaee.
BAC Residencies continue with three Princess Grace Foundation-USA Works-in-Progress Resident Artists: Carlos Alexis Cruz (March 24—April 7), Sarah Cameron Sunde (May 7—26), and Dustin Wills (May 14—26). These theater artists will receive substantial support through BAC's decade-long partnership with the Princess Grace Foundation-USA to provide residencies to Princess Grace Award-winners developing multimedia or interdisciplinary projects.
The new season of residencies also includes two fellows. Composer Nathan Davis is the second recipient of the Bogliasco Fellowship. Through this opportunity, artists develop projects first at the Bogliasco Foundation's facility in the serene coastal Italian environment, and then at BAC's studios in the urban setting of New York City. And choreographer Pam Tanowitz continues her tenure as the 2017-18 Cage Cunningham Fellow, an award established in 2015 to support artists who embody John Cage and Merce Cunningham's commitment to artistic innovation.
For information about BAC Resident Artists, their projects and collaborators, please visit http://bacnyc.org/residencies/current.
Tickets for BAC's Spring 2018 Dance Series are on sale now and can be purchased online or by phone: BACNYC.ORG / 866 811 4111.
Michelle Boulé. Photo by Ian Douglas.
BARYSHNIKOV ARTS CENTER SPRING 2018 DANCE SERIES
An Evening with Marguerite Hemmings
February 23 / Friday at 7PM
Rudolf Nureyev Studio
Tickets $15
Running Time: 60 Minutes

Marguerite Hemming's style is experimental, capturing the dynamics of improvisation through choreography. She studies dance styles that develop on the street; in dancehalls, in social settings, in response to social conditions. She finds here the pulse that drives innovation and transformation. She is delving deeper into these styles of dance, listening to what they are saying, experimenting, and pushing further.
Open Rehearsal & Conversation: Samar Haddad King & Amir Nizar Zuabi
April 20 / Friday at 4PM
Rudolf Nureyev Studio
Free / Reservations Required
Running Time: 60 Minutes
Created by Yaa Samar! Dance Theatre, Artistic Director Samar Haddad King, in collaboration with playwright and theater director Amir Nizar Zuabi, and working transnationally between Palestine, the U.S, and Europe, The Keeper includes collaborating artists from culturally and aesthetically diverse backgrounds. The work will be influenced by its development across three continents. Through movement, dialogue, and set design, The Keeper explores humanity's relationship with land as it relates to human survival, culture and identity, and as a source of political conflict.
An Evening with Michelle Boulé
May 11 / Friday at 7PM
Rudolf Nureyev Studio
Tickets $15
Running Time: 60 Minutes
Field (working title) investigates the relationship between the scientific research of traditional and contemporary healing practices and aesthetic form. Numerous energetic and consciousness-based healing practices work with the idea that a healing process is guided by an internal knowing, as well as a universal blueprint for order and balance. Field explores what arises and what can be created with guidance from personal and transpersonal wisdom.
---
The Dance Enthusiast Shares News From The Dance World And Creates Conversation!
For more FROM THE PRESS pieces, click here.
If you have important news to share, please send an announcement or press release to info@dance-enthusiast.com!