Dance News:The Kennedy Center presents Ballet Across America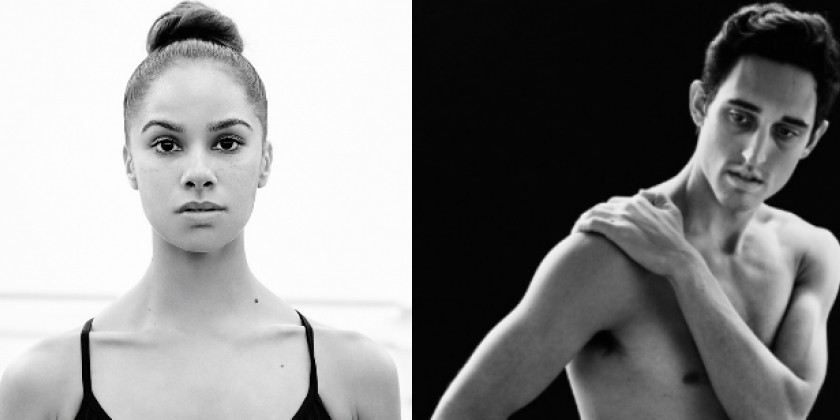 (WASHINGTON)—Celebrating innovation and diversity in American ballet, the Kennedy Center presents the return of its week-long Ballet Across America series, April 17 and April 19–23, for seven performances in the Opera House. Last seen in 2013, and illustrating the most exciting, creative dance happening across America today, this season's engagement explores new directions in the art form through programs curated by two of the biggest superstars in the ballet world: dancer-choreographer Justin Peck and principal dancer Misty Copeland. By placing artists at the center of the curation, Copeland and Peck offer their unique perspective and insight into the thrill, challenge, and the future of dance. The first evening for each program will be followed by a free post-performance discussion with the artists. This program is also part of JFKC: A Centennial Celebration of John F. Kennedy, the Kennedy Center's yearlong programming initiative marking the 100th anniversary of John F. Kennedy's birth and legacy, inspired by five ideals frequently attributed to America's 35th President: Courage, Freedom, Justice, Service, and Gratitude. The Kennedy Center Opera House Orchestra will accompany all performances.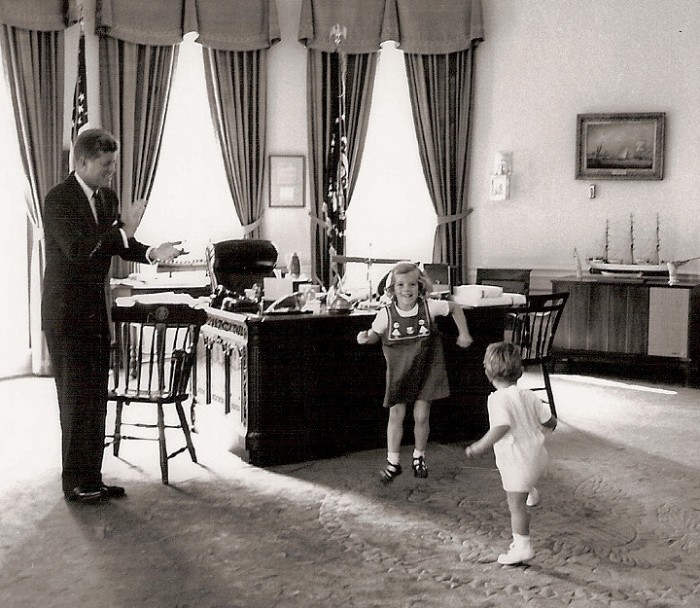 Pictured: Fun in the Oval Office as President John Kennedy encourages young Caroline and little John Jr. to dance.
 
"Celebrating President Kennedy's Centennial this year has given the Center the opportunity to highlight works that reflect ideals attributed to our nation's 35th President." said Deborah F. Rutter, President of the John F. Kennedy Center for the Performing Arts. "By focusing on a more artist-centric approach we get to see through the eyes of these two celebrated artists how the art form is evolving in terms of approach, diversity, and new choreography. Their unique insight illuminates the courageous journey today's dancers undergo to experience artistic freedom and excellence, embodying the bold spirit of President Kennedy and the vision he had for America. We are proud to honor the extraordinary ballet and dance artistry thriving across the United States today." 
A spectacular opening night celebration on April 17 will bring together a variety of special guests to open up the week as well as two world premiere commissions—both of which focus on the dancer's journey to artistic freedom—a new film by Ezra Hurwitz and Garden of Dreams, a new ballet by emerging choreographer Jeremy McQueen. The commissioned film features dancers Stella Abrera, Isabella Boylston, Marcelo Gomes, Calvin Royal III, and James Whiteside, among others. Set to Mendelssohn's Piano Trio No. 2 in C minor, Garden of Dreams will be performed by students of the Jacqueline Kennedy Onassis School of American Ballet Theatre. Hosted by Sara Mearns, principal dancer at New York City Ballet, and other special guests, the evening also features performances by American Ballet Theatre Principal dancers Stella Abrera and Marcelo Gomes in Anthony Tudor's The Leaves are Fading; Complexions Contemporary Ballet's Desmond Richardson in Imprint/Maya, a solo work set to words by Maya Angelou and music by the jazz composer David Rozenblatt; and a special one-night-only performance of Nashville Ballet's Concerto with the composer Ben Folds on piano accompanying the ballet onstage. Additional programming to be announced at a later date.
"American ballet is this exquisitely intricate melting pot of different techniques and interpretations. We all bring in our own experiences and interpretations to the stage, especially through choreography." said curator Misty Copeland. "Every dancer has to have so much courage to sustain a career in this beautiful yet demanding art form, but I also think it sets a wonderful example that anything is possible. I hope that American ballet will continue to evolve in a way that really embraces who we are as artists and Americans."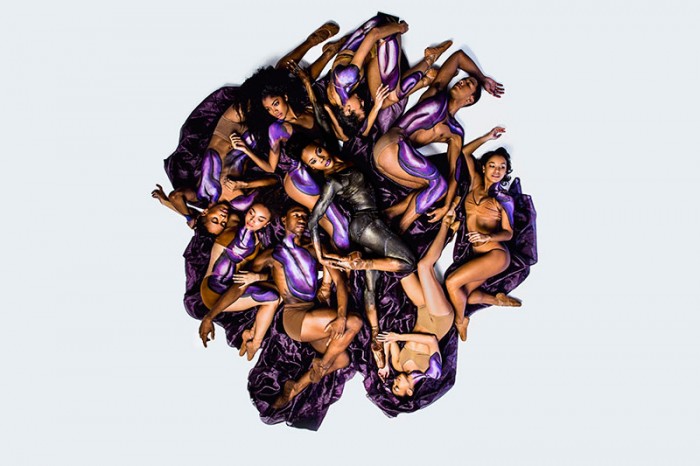 Jeremy McQueen's The Black Iris Project. Photo by Matthew Murphy.
Opening on Wednesday, April 19, the first program of the week is curated by Copeland and features three companies in their Kennedy Center debuts. Nashville Ballet will perform pop artist/composer Ben Folds's Concerto for Piano and Orchestra, which premiered to Nashville audiences in May 2014 and showcases original choreography by Artistic Director & CEO Paul Vasterling set to Folds's concerto. Paying tribute to the late David Bowie's wide-ranging career, Complexions Contemporary Ballet brings Star Dust, choreographed by Artistic Director Dwight Rhoden, and is an exploration of the way movement revels additional layers of Bowie's iconic music. It will feature Bowie favorites such as "Space Oddity," "Changes," "Modern Love," and "Life on Mars?," as well as "Lazarus" from Blackstar. One of the newest works from Jeremy McQueen's The Black Iris Project, Madiba, is a socially-relevant classical ballet based on the life of humanitarian and political icon Nelson "Madiba" Mandela that takes his experience as an avid activist and encourages others to discover the value and purpose in their lives just as he did, despite his 27-year prison sentence. It is led by Washington Ballet's Andile Ndlovu, a native of Johannesburg, South Africa, as Nelson Mandela and is set to an original score by award-winning composer Carman Moore.   
 
The second program, April 22-23, curated by celebrated dancer/choreographer Justin Peck, features three companies, two of which will be making their Kennedy Center debuts. "Everything I've chosen for the festival is something that I hope people across America get to experience and enjoy." said curator Justin Peck. "American Ballet is a community of support and strength, empowering artists with the freedom to cultivate new ideas—it is ultimately an evolutionary art form, requiring many voices to creatively carry forward. To pay respect to the classical technique and form while simultaneously exploring new territory is a challenge that has always inspired me."   
The Joffrey Ballet in Fool's Paradise. Photo by Cheryl Mann.
Within Peck's program, The Joffrey Ballet performs Christopher Wheeldon's Fool's Paradise, an abstract work blending classical technique with a modern sensibility in choreography to a romantic score by Joby Talbot. The work contains a moving pas de deux and builds to a spectacular arrangement for the whole ensemble, as gold petals shower down on the stage. Making their Kennedy Center debuts, L.A. Dance Project brings Hearts & Arrows, the second part of Artistic Director and choreographer Benjamin Millepied's trilogy, Gems. Premiered in 2014 to Philip Glass's String Quartet No. 3 ("Mishima"), Millepied pays tribute to another jewel-inspired work—legendary choreographer George Balanchine's masterpiece, Jewels. Also making their Kennedy Center debut, Kyle Abraham/Abraham.In.Motion performs The Gettin' with live jazz music on stage. Created during Abraham's tenure as Resident Commissioned Artist at New York Live Arts, the ensemble work draws inspiration from jazz legend Max's Roach's seminal album during the civil rights movement, We Insist! Max Roach's Freedom Suite. Composed by Grammy Award®-winning jazz pianist Robert Glasper, and featuring members of his trio, the live music captures the spirit of protest and endurance in Roach's timeless album.