The New Dance Alliance Board, Advisory Board & Staff Announce the Launch of the Black Artists Space to Create Residency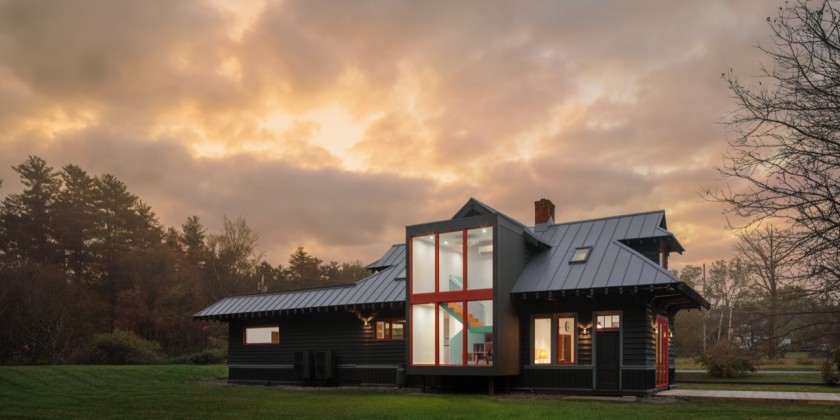 The Selected Artists are Johnnie Cruise Mercer, Leslie Cuyjet, and Angie Pittman
The Black Artists Space to Create Residency is a pilot project offering three Black artists a residency at Modern Accord Depot in Accord, NY. The recipients are Johnnie Cruise Mercer, Leslie Cuyjet, and Angie Pittman. Each will receive a two-week residency with unlimited access to a dance studio and full living space. Residency schedules will be determined by the individual needs of the artists, who will also receive a stipend of $2,000. New Dance Alliance (NDA) is offering this space for resting, dancing, creating, healing, grieving, laughing, and breathing. There is no expectation of production and artists will not have to present new work at the end of this residency. The artists were selected by a core team consisting of NDA staff and board members.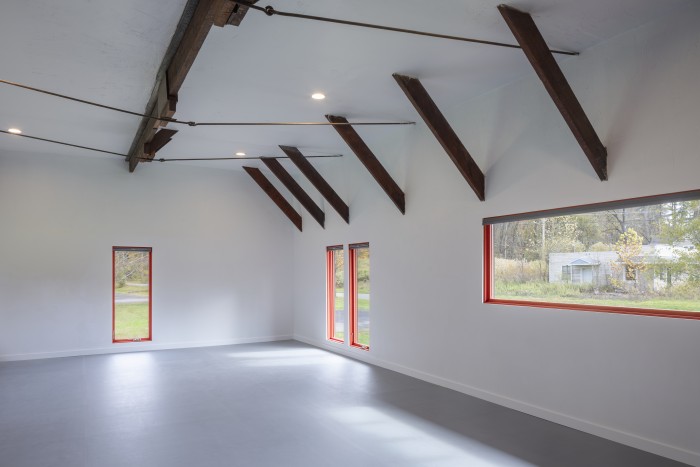 MAD studio photo by Feinknopf Studio.
The residency project was created in response to current movements within the dance community and the movements they are building upon. As an artist services organization and presenter, NDA has been guided by the core question: What does it mean to center and support Black artists in this field? NDA understands the stark reality that Black people are currently navigating not one, but two pandemics: one is new, and one is 400 years old. Covid-19 and racism are both disproportionately affecting Black life. In light of this, "we wish to radically reimagine what it means to serve Black artists right now and to do so in the specific spirit of reparations," says NDA Board President Fernando Maneca. "We call in abundance as we reimagine modes of leadership and hand over the keys to Black artists as a way to confront the scarcity mindset currently afflicting non-profit organizations." 
NDA is also excited to announce that Angie Pittman has been hired as Residency Director. An NDA advisory board member since 2018, Pittman helped conceive of the residency project and will lead it into future iterations. 
"While we are honored to offer this residency program, we understand that the ideas around it are not new and not ours," says Pittman. "As a Black artist working with a white-led organization, I want to make sure we credit the countless Black, femme scholars and activists who have called for the equitable payment of Black folks. I also want to call attention to how Black artists have historically shaped our nation's imagination, language, and humanity so we want to use this residency as a way to value and amplify that tremendous work." 
The pilot project was made possible by a generous contribution from an anonymous donor.
The Artists:
Johnnie Cruise Mercer. Photo by TorianUgworji.
Johnnie Cruise Mercer is a maker, freelance-performer, educator, and artistic entrepreneur based in New York City. A graduate of Virginia Commonwealth University with a BFA in Dance and Choreography, he has had the privilege of performing for, and collaborating with Antonio Brown, Monstah Black, Andre Zachery, Yon Tande, Ishmael Houston-Jones (2018 remount of THEM), Netta Yerushalmy, Maria Bauman/MBDance, Edisa Weeks/Delirious Dances, and Antonio Ramos, and was a part of Ishmael Houston-Jones's and Miguel Gutierrez's Bessie Award-winning reconstruction/reimaging Variations on Themes from  Lost and Found: Scenes from a Life and other works by John Bernd. 
An active educator, Mercer teaches in the New York public school system through The Leadership Program, a mentorship-based organization that uses art to engage restorative justice, and self empowerment. Mercer has also been on the teaching faculty at the American Dance Festival, Bates Dance Festival, Pratt Institute, NYU Tisch, Gibney, University of Massachusetts Amherst, DeSales University, Muhlenberg College, and the University of Texas at Austin (in residence as its 2016 Vanguard Choreographer).  
As the Choreographic/Company Director of Johnnie Cruise Mercer/TheREDprojectNYC, his processes/works have been shared recently at 92Y Harkness Dance Center, Gibney: Agnes Varis Performing Arts Center, Dixon Place, Danspace Project Inc, the Fusebox Festival, Mana Contemporary, the NADA Conference, and Abrons Arts Center. Mercer is currently in his second year as an Artist in Residence at Brooklyn Arts Exchange. Follow him (and his company) on Instagram to find out more about his/their current projects and works. @jcruisem, @jcm_redprojectnyc
Leslie Cuyjet,  2017.  Photo: Maria Baranova.
Leslie Cuyjet is best known as a performer whose body of work was recognized with a 2019 New York Dance and Performance "Bessie" Award for Outstanding Performer for Sustained Achievement. She has collaborated, co-directed, designed, and danced with a range of artists that include Will Rawls, Juliana F. May, Cynthia Oliver, Jane Comfort, David Gordon, NARCISSISTER, Kim Brandt, and Yanira Castro/a canary torsi among others. Her work interrogates those experiences as a performer in various experimental and post-modern works through the lens of a Black body; and has been supported by residencies at Movement Research, Center for Performance Research, Yaddo, Marble House Project, and MacDowell. Cuyjet's dances have been presented at MoMA PS1, Center for Performance Research, La MaMa Moves! Festival, Gibney Double Plus, Movement Research Fall Festival at Judson Church, and Danspace Draftworks. Her recent evening-length solo, Talented, at Center for Performance Research received a Last-Stage Production Stipend from the Mertz-Gilmore Foundation. She is co-editor of the Movement Research online publication Critical Correspondence.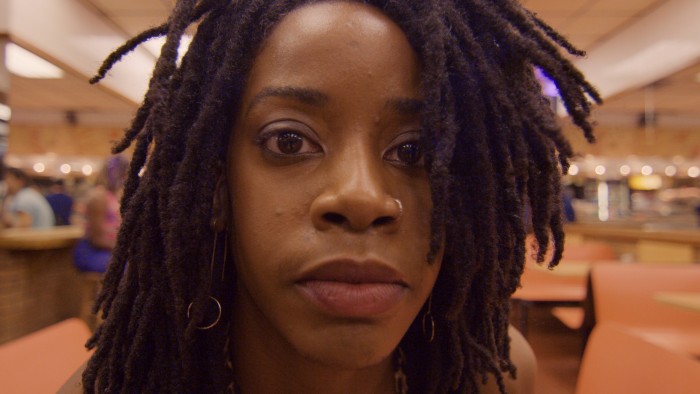 Angie Pittman. Photo: Lily Baldwin.
Angie Pittman is a New York-based Bessie award-winning dance artist, dance maker, and dance educator. Her choreographic work has been performed at the Kitchen, Gibney Dance, BAAD! (BlaktinX Performance Series), Movement Research at Judson Church, Triskelion Arts, STooPS, the Domestic Performance Agency, the KnockDown Center (Sunday Service), the Invisible Dog (Catch 73), and Danspace Project (Food for Thought 2017, Draftworks, Platform 2018, A Shared Evening of New Work 2019). Pittman has had the pleasure of dancing in work by MBDance, Ralph Lemon, Tere O'Connor, Cynthia Oliver, Anna Sperber, Donna Uchizono Company, Jennifer Monson, Kim Brandt, Tess Dworman, Antonio Ramos, and many others.  She has also been able to create collaboratively with Jasmine Hearn, Jonathan Gonzalez, Athena Kokoronis, and Anita Mullin. Pittman holds an MFA in Dance and Choreography with a graduate minor in African American Studies, and is an M'Singha Wuti certified teacher of the Umfundalai technique. Her work has been supported by a Foundation for Contemporary Arts Emergency Grant and residencies through Tofte Lake Center and Movement Research. Pittman is a founding member of Skeleton Architecture, a vessel of Black womyn and gender- nonconforming artists rooted in the rigor and power of the collective in practice. Her work resides in a space that investigates how the body moves through ballad, groove, sparkle, spirit, spirituals, ancestry, vulnerability, and power. Angiepittman.com
---
The Dance Enthusiast Shares news from the dance world and creates conversation.
For more Dance News pieces, click here.
If you have important news to share, please send announcements or press release to info@dance-enthusiast.com!
---
The Dance Enthusiast - News, Reviews, Interviews and an Open Invitation for YOU to join the Dance Conversation.