What 28 Dance Artists & Companies Have Been Getting Up To Lately
Dance Goings-Ons In NYC, as Shared by Dance Publicist Audrey Ross
"As Cassie says in A Chorus Line: "A dancer dances!"
Theaters, studios, and schools may be closed, but dancers, ever-resourceful, keep dancing.
I've collected information from some of my clients, and a few of the Denishawn dancers, about what they have been doing during this tough time, and here is a little newsletter with brief mentions of their activities."
— Audrey Ross, Dance Publicist & Founder of Audrey Ross Publicity
---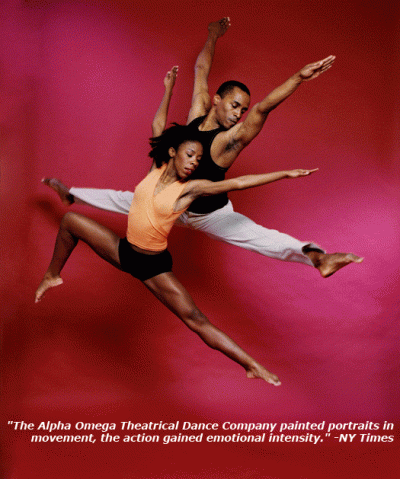 Photos © Alpha Omega Theatrical Dance Company
ALPHA OMEGA THEATRICAL DANCE COMPANY -  On-line activities include classes and The Choreography Lab created and conducted by artistic director Enrique Cruz DeJesus. The company also makes rehearsal space available to choreographers to create and give live performances when venues are allowed to reopen.  Alpha Omega Theatrical Dance Company is a recipient of support from Dance/NYC's Coronavirus Dance Relief Fund.   
AUDREY ROSS - My production, Modern Dance 101: Dances by Ruth St. Denis and Ted Shawn, which was scheduled for May 2-5, 2020 was, of course, cancelled.  It will happen live at the Theatre St. Jean Baptiste, but who can say when?
BANG GROUP - David Parker continues to recover from knee surgery and, as co-founder and co-director with Jeffrey Kazin, is creating a new dance which combines Cunningham's Fifty Looks and tap dancing.
LORI BELILOVE - has been releasing videos from the Company's archives with guest Sara Mearns. Her next creative project is Wild Beauty with support from the NEA and Mikhail Baryshnikov, through his BAC residency program.
JACQULYN BUGLISI - is working on her new work titled The Invisible Embrace of Beauty, to be premiered in April 2021. The Table of Silence Project Meditation Variation is online every Sunday at noon, launching the 10th anniversary of The Table of Silence Project 9/11.  The company received support from Dance/NYC's Coronavirus Dance Relief Fund and New York Community Trust. Buglisi will teach virtual Summer Intensives at the Graham and Ailey Schools. 
Chen Dance Center, August 2019.
ERNESTA CORVINO -  is teaching 75-minute ballet classes 6 days a week (except for Tuesdays) on Zoom.  Mon/Wed/Fri/Sun at 1 PM and Thurs/Sat at 11 AM.  Email ecdoesit3@gmail.com to request the link.
ALESSANDRA CORONA - teaches ballet classes starting at 11:15 AM every weekday on Zoom through July 10th.  Proceeds for all Friday classes will be donated to a different charity each week.
CHEN DANCE CENTER - With the tragic fire at the Center's home at 70 Mulberry St., they have been teaching virtual classes, and are planning to present their newsteps performances at LaMaMa.  Gibney Dance and the Paul Taylor organization have offered rehearsal space for the newsteps choreographers.  Sadly, the Center was deemed unsaveable after the fire and is being demolished with 95% of the Chen's belongings still inside: 3 pianos, studios, a fully equipped theater, 39 years of costumes, props, and more.  
CHRISTINE DAKIN - completed the French translation of her film La Voz del Cuerop/The Body Speaks with Charlotte Delpit-Hacke, joining Spanish and Italian translations of the film made in Colima, Mexico. She will speak to the University of Colima's Dance and Theater Department on July 11th and teach technique and repertory in Italy this summer. Christine is scheduled to dance Ruth St. Denis' Waltz/Liebestraum for Modern Dance 101: Dances by Ruth St. Denis and Ted Shawn. 
Photo © Mark deGarmo Dance
MARK DeGARMO - After completing its Salon Series online, the Company is launching a transdisciplinary summer festival online and is seeking 10-second clips from choreographers for its next edition.  Send clips to info@markdegarmodance.org by July 13th.
ALICE FARLEY - received a Jim Henson Foundation Workshop Grant to continue work on Conversations with Monsters, and is working on choreography for Plague Dances on the 1000th year anniversary of the first recorded plague dances in Northern Europe (in the year 1021). 

ELIOT FELD'S BALLET TECH - finished out the school year with Zoom ballet classes for the Ballet Tech students. Congratulations to Feld for receiving an NEA grant in the amount of $35,000!

ANTONIO FINI - His annual New York summer intensive has been cancelled, but the Calabria Italy intensive will still take place.  A special feature is a new solo for Fini created by Virginie Mecene via Zoom.
Watch Lake Tahoe Dance Festival 2020 from your homes.
CATHERINE GALLANT - is offering a Dances by Isadora Duncan Workshop from July 6-10 @ 2-3:30 PM, and looks forward to a season of an original Gallant work in February 2021.
MIMI GARRARD - continues to show her work twice monthly on Manhattan Neighborhood Network.  Her dance videos are being watched at festivals worldwide and have won 85 awards in the last three years.
MARTITA GOSHEN - A longtime conservationist, she continues her educational work on line to connect children to the natural world and the kingdom of wildlife.
CHRISTIN HANNA - The founder/director of the Lake Tahoe Dance Festival announces online dance programs and interviews. On July 22nd, catch American Classical Ballet with works by Tudor, DeMille, Balanchine & Lovette; July 23 will see Mid Century Modern Dance with works by Graham, Hawkins, Taylor and Horton; and July 24 focuses on Europe's Influence with works by Marco Pelle, Jacopo Godani and more.
LYDIA JOHNSON - will offer a 3-week virtual summer program for dancers of all ages, and is grateful for a PPP loan and the continuing support of a Dodge grant.  
Dante Puleio staging The Traitor, Photo © Limon Dance Company
VALENTINA KOZLOVA - teaches private classes at her school with Ct., which includes three vast studios, storage space, and more. She looks forward to the next Kozlova International Ballet Competition in March 2021 at Symphony Space, a delayed celebration of the Competition's 10th anniversary, and the 40th anniversary of Kozlova's defection from the Bolshoi.  Kozlova is scheduled to dance Ruth St. Denis' Incense for Modern Dance 101: Dances by Ruth St. Denis and Ted Shawn.
LIMON DANCE COMPANY - Under newly appointed artistic director Dante Puleio, the Company has many current activities, including teaching free Limon classes every day at 3 PM on Instagram Live.   They are also reconstructing Limon's There is a Time via Zoom with Raphael Boumaila and Nina Watt.  
MARE NOSTRUM ELEMENTS - Director Nicola Iervasi is planning the company's annual Emerging Choreographer Series for presentation in 2021, which will also celebrate the organization's 20th anniversary.
MIRO MAGLOIRE - is preparing new ballets to violin sonatas by Brahms and Beethoven, and exploring dance films.
Photo © Neville Dance Theatre
NEVILLE DANCE THEATRE - Brenda Neville's company has been active on social media channels, streaming videos and creating digital content such as artist interviews.  The Company received funding from various sources, including the Paychecks Protection Program. 

NEW YORK SCANDIA SYMPHONY - The April 2020 performances have been postponed to November.  Under the direction of Denmark native Ms. Dorritt Matson, the Orchestra performs music, including some rarely heard compositions by Scandinavian composers.  
KATHRYN POSIN - will present a work on the Battery Dance Festival.  Has received an Emergency Grant from the Rauschenberg Foundation.
Henning Rübsam. Photo © Antonio Yussif 
HENNING RUBSAM - is working on new choreography for Sensedance, and continuing to teach seminar courses on musical theater and dance history at the Juilliard Evening Division.  He continues to work on the faculty for the BFA program of The Ailey School and Fordham University, and is scheduled to teach Shawn's Floor Plastique to dancers from the Limon Institute to open the program of Modern Dance 101: Dances by Ruth St. Denis and Ted Shawn.
BETH SOLL - is working on two solos using Zoom: one for Soll and the second for dancer Abigail Dias.
SOKOLOW THEATRE DANCE ENSEMBLE - continues to be the major custodian of the works of Anna Sokolow with a new revival of  Rooms, which is currently being shown online.   
FRANCESCA TODESCO - is looking forward to the premiere of her new company, Dances We Dance, and continuing to work with Sokolow Theatre Dance Ensemble.  
 
---
The Dance Enthusiast Shares news from the dance world and creates conversation.
For more Dance News pieces, click here.
If you have important news to share, please send announcements or press release to info@dance-enthusiast.com!
---
The Dance Enthusiast - News, Reviews, Interviews and an Open Invitation for YOU to join the Dance Conversation.