Related Features
Contribute
Your support helps us cover dance in New York City and beyond! Donate now.
Dance News: NOT TO BE MISSED... Jacobs Pillow and the Williams College Museum of Art Present Dance We Must: Treasures from Jacobs Pillow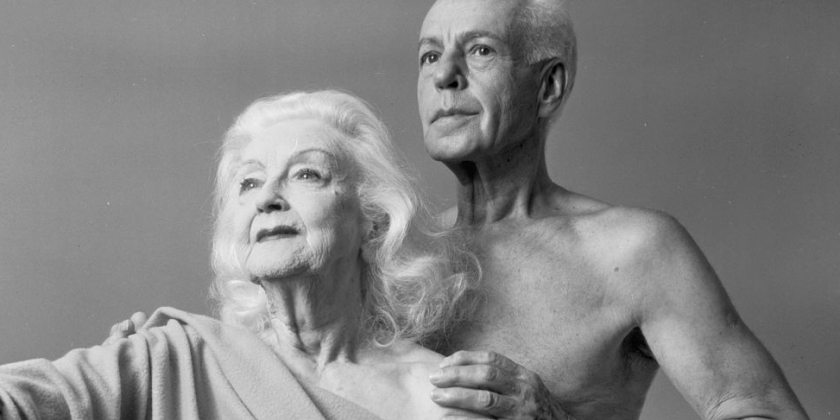 In an Unprecedented Collaboration, Dance Performance, Visual Art, and Archival Documents Invite Audiences to Immerse Themselves into and Critically Re-examine Dance History
Dance We Must: Treasures from Jacob's Pillow, 1906-1940 explores the contributions of Jacob's Pillow founder Ted Shawn and the iconic Ruth St. Denis to American modern dance. Gathering over 350 materials, including more than 30 costumes and accessories, over 200 photographs, five original antique costume trunks, and a dozen original artworks from both the Jacob's Pillow Archives and Williams College Special Collections, the exhibition contextualizes the pioneering work of Shawn and St. Denis within the scope of American art history through artifacts that have never been seen before. Dance We Must will be on view at Williams College Museum of Art (WCMA) from June 29 through November 11, 2018. The opening celebration will take place on July 2, featuring performances by Adam H. Weinert and Williams College Artist-in-Residence in Dance Erica Dankmeyer.
"WCMA is known for our dynamic gallery-based art experiences and Jacob's Pillow is of course a renowned center for live dance performance. With this unprecedented collaboration WCMA is able to bring to life many extraordinary objects from Jacob's Pillow's groundbreaking history for the first time since they debuted on stage." says Interim Director of WCMA Lisa Dorin. "Dance performance, visual art, and archival documents come together to tell important and complicated stories that will be sources of delight, as well as contemplation and inquiry for Williams students and visitors alike."
"WCMA has given Jacob's Pillow the extraordinary opportunity to bring so many precious objects from our collection into the light and we are excited to have people enter into the work of Ted Shawn and Ruth St. Denis in this immersive way. We welcome the wide spectrum of responses this exhibit will prompt as an opportunity to critically re-examine dance history and as a platform for discussion about issues of cultural appropriation and privilege," says Jacob's Pillow Director Pamela Tatge.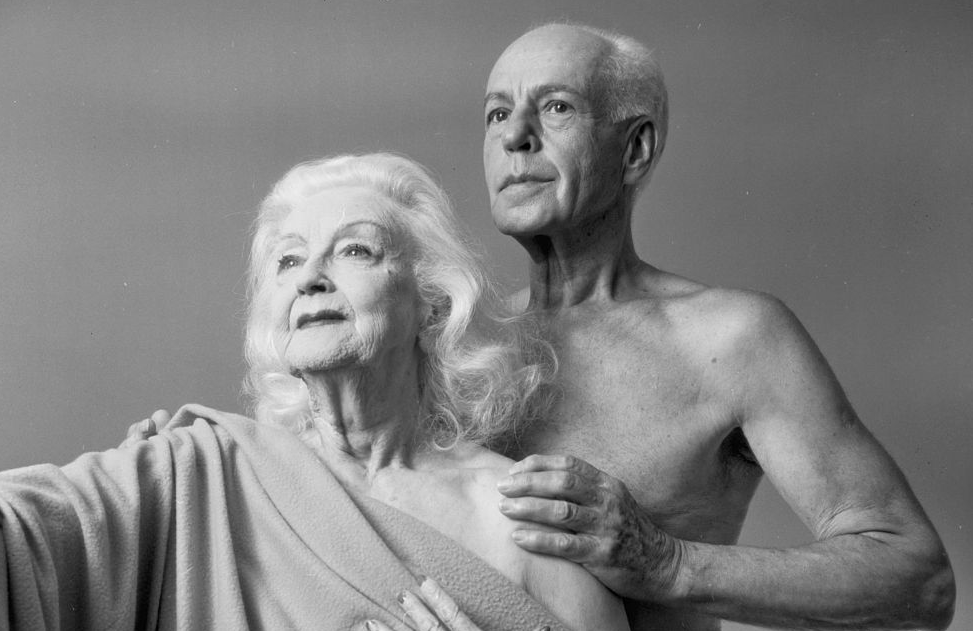 Jacob's Pillow founder Ted Shawn and his wife Ruth St. Denis photographed on their 50th anniversary. Image credit: Getty Images.
 
Ruth St. Denis and Ted Shawn transformed dance in America by developing a style of movement and choreography that sought to connect the physical and the spiritual, often inspired by their understanding of ancient, indigenous, and international sources. Borrowing from a variety of influences percolating through elite culture including Theosophy, the Occult, and Orientalism with specific interests in Buddhism and Hinduism, the two forged new territory in international dance after founding Denishawn, a dance school and performing company in 1915. Denishawn made contributions to what would become a recognizably modern and American style of movement by discarding traditions of European ballet, performing in bare feet, often flexed, rather than pointed, in parallel instead of turned out, and making full-body contact with the floor.
St. Denis and Shawn's appropriation of non-Western and indigenous forms of movement was a search for more authentic modes of self-expression than many in their predominantly white and upper class circles believed existed in the industrialized West. However, it is not possible to separate Shawn's Native American works from the continued marginalization of indigenous peoples in the United States and globally. Similarly, St. Denis darkening her skin with makeup to appear Southeast Asian can be interpreted as cultural imperialism that brings to the fore white performers' privilege–then and now–to adopt at will the identities of people of color. Images, dances, and costumes of Shawn and St. Denis intended to celebrate other cultures may be deeply offensive to contemporary audiences, and the historical context within which they lived and worked will be interrogated in the exhibition narrative and programming.
After separating from St. Denis in 1930, Ted Shawn purchased a rundown farm in the Berkshires known as Jacob's Pillow. There he laid the groundwork for his revolutionary company of Men Dancers and the now internationally-renowned dance festival. Through developing boldly muscular choreography that was influenced by their time farming the land of Jacob's Pillow and building barn-like dance studios and theaters still used today, Shawn's Men Dancers choreography placed men, rather than women, as the dominant bodies in dance, and provided insights into discourses of masculinity and queerness in early twentieth century America. His Men Dancers toured the country relentlessly, elevating and reimagining the status of men in dance.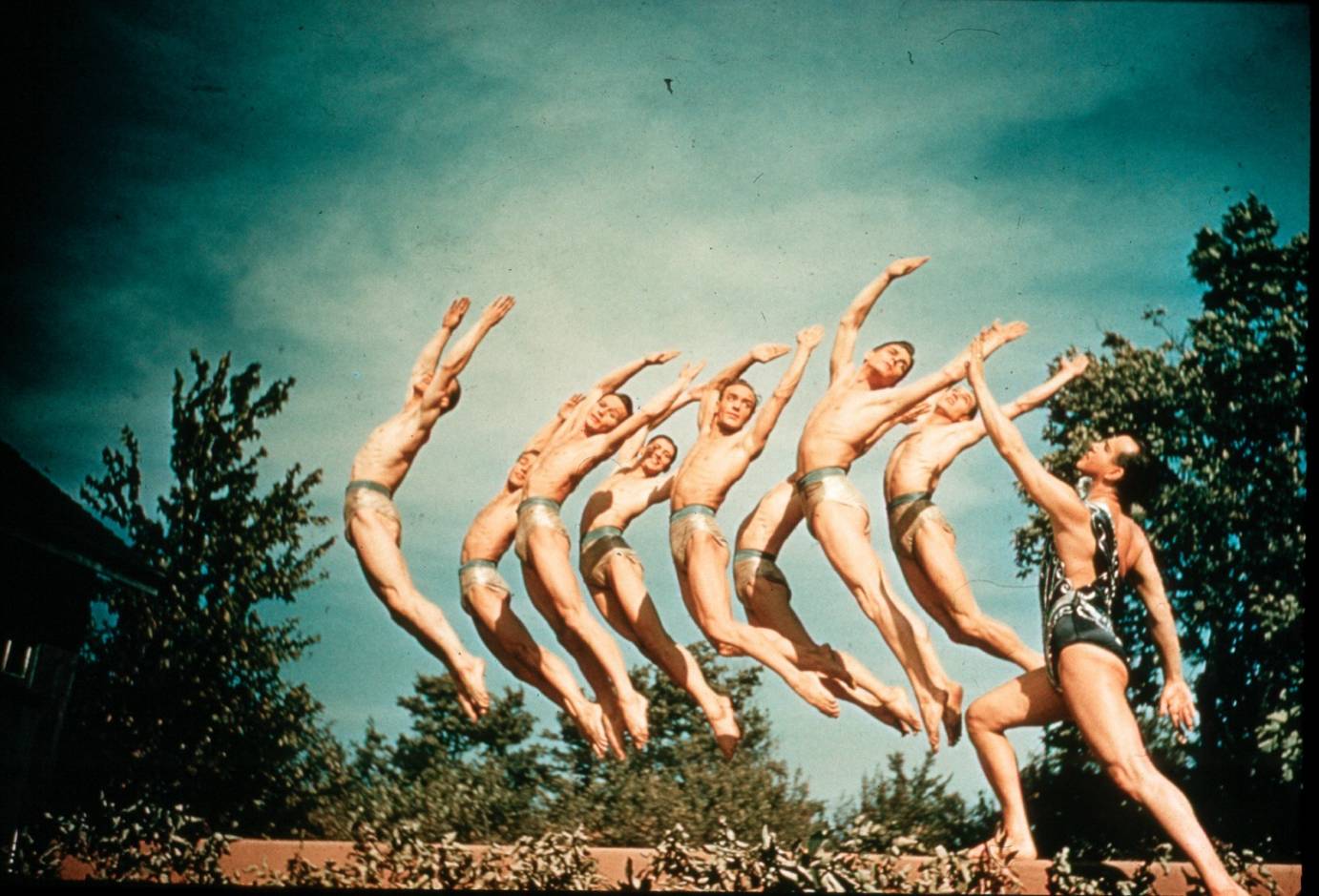 Ted Shawn's Men Dancers in Kinetic Molpai. Courtesy of Jacob's Pillow Dance Interactive.
 
WCMA and Jacob's Pillow are jointly undertaking a project to conserve, research, and fully catalogue these archival materials. The elaborate costumes of St. Denis, Denishawn, and the Men Dancers, some of which date to the early 1900s, are emerging from the original company touring trunks for the first time in decades. The exhibition covers the first three decades of the twentieth century charting the movements of St. Denis and Shawn from Los Angeles to Asia to Becket, Massachusetts.
"The rich and varied materials at the Archives demonstrate myriad creative intersections between the visual and performing arts in early 20th century America. Examples include the Denishawn Magazine beautifully designed and printed by the Arts & Crafts community of Roycroft, and Shawn's choreography inspired by a suite of abstract lithographs by Katherine Dreier, who championed American avant-garde art and was a patron of both Shawn and Marcel Duchamp." says WCMA Curator Kevin Murphy.
"The visceral excitement of a performance by Denishawn or Shawn's Men Dancers is difficult for us to imagine today, so the original costumes, set pieces, and other artifacts in this exhibition play an invaluable role in illuminating the beginnings of an American art form. It's thrilling to be able to share some of the Pillow's rare treasures in a museum setting where they can be fully seen and appreciated for the first time," says Jacob's Pillow Director of Preservation Norton Owen. 
Ruth St. Denis in Kuan Yin (1916).
 
Items on display include Ruth St. Denis' headdress and costume from Kuan Yin (1919), created from recycled brooches and costume jewelry, artificial pearls, plastic buttons and glass beads, seen in direct contrast to the ethereal portrayal of the dancer by American painter Albert Herter, also on display; St. Denis' vibrant, multi-layered silk satin kimono from O-Mika (1913), derived from an authentic Japanese garment; St Denis' swooping peacock costume with a stunning train of silk and lamé fabric decorated with gelatin sequins, first worn in 1914 and re-used until the 1940s; and Ted Shawn's Cuadro Flamenco costume, which he purchased from a bullfighter in Seville in 1923.
"Opening these trunks, which had been relatively untouched for over half a century, has been incredibly exciting. The majority of the costumes were uncatalogued and have never been exhibited together. One of the most intriguing things for me has been to add color to the black-and-white photo understandings of the Denishawn and Men Dancers companies. I think audiences will be impressed at the huge range of colors as well as materials and techniques used," says Co-Curator, Costume Specialist, and Jacob's Pillow Archives and Preservation Fellow Caroline Hamilton.
Dance We Must is organized by WCMA with the Jacob's Pillow Archives and the Williams Theatre and Dance Department. The exhibition is designed by David Gürçay-Morris.  
---
The Dance Enthusiast Shares News From The Dance World And Creates Conversation!
For more FROM THE PRESS pieces, click here.
If you have important news to share, please send an announcement or press release to info@dance-enthusiast.com!