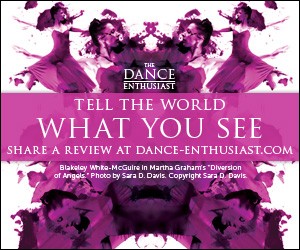 Related Features
TDE Hits the Streets for An Evening with Traditional African Dance Artists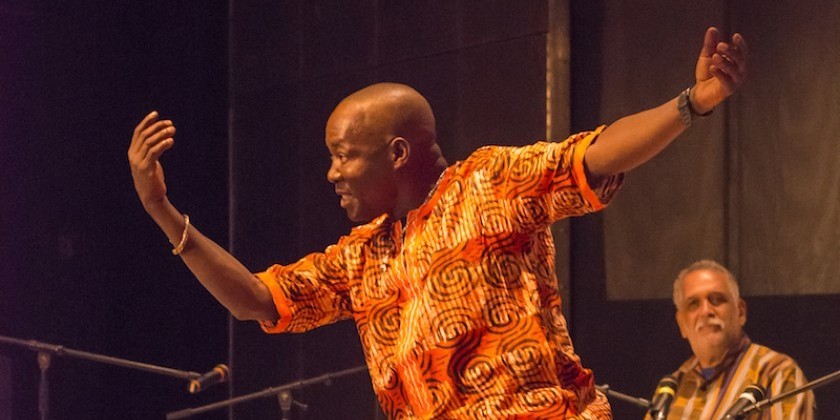 Demonstration, Celebration and Conversation
Presented by: Dance/NYC @ New York Public Library for the Performing Arts
Thursday, September 17, 2015 | 6-7:30pm
Participants: Maguette Camara, Marie Basse-Wiles, Lamine Thiam, Youssouf Koumbassa, N'Deye Gueye, and Mamadou Guissé
Moderator: C. Daniel Dawson
---
"Music is my medicine… [dance] is my vitamins"  Lamine Thiam
In an auditorium situated within the New York Public Library for the Performing Arts, the devoted, the talented, and the curious gathered for conversations and dance demonstrations with six Master African dance artists. Thiam's sentiment, shared during this town hall event, embodied a salient point about the evening: African dance forms offer practitioners more than just moves.
Those who have taken an African dance class, may recall an emphasis on community, support, and embodied investment. There is a constant dialogue between the dancers, musicians, and onlookers. These impressions found their way into the town hall space with familial nods, supportive glances, and warm embraces.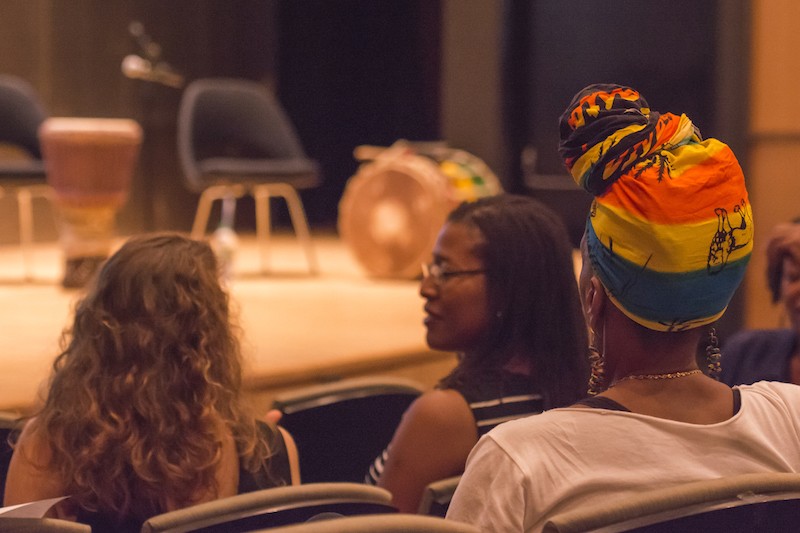 Photo: Ashley Garrett
After a brief video introducing the artists, which was accompanied by encouraging applause, nods, rhythmic claps, Mmms, and affirmations, a drum call animated the space as baritone pulses from the dundun (cylindrical drum) mimicked a heartbeat and quick slaps of the djembe (goblet-shaped drum) punctuated the space. The rhythms of the three drummers coaxed a vibrant energy that stripped away the potential stuffiness that sometimes occupies auditorium spaces. One attendee observed, "the proscenium set-up created a feeling of a 4th wall at the beginning, but once the artists warmed up, the dialogue was on point!"
Moderator C. Daniel Dawson kicked off the town hall conversation by highlighting each artist's embodiment of multiple intelligences, language, and culture. This approach suggested an aim to locate African dance forms within an academic perspective. Interestingly, this opens the door to further conversations (and a very different article entirely) about the history and current presence of African dance forms in colleges and universities.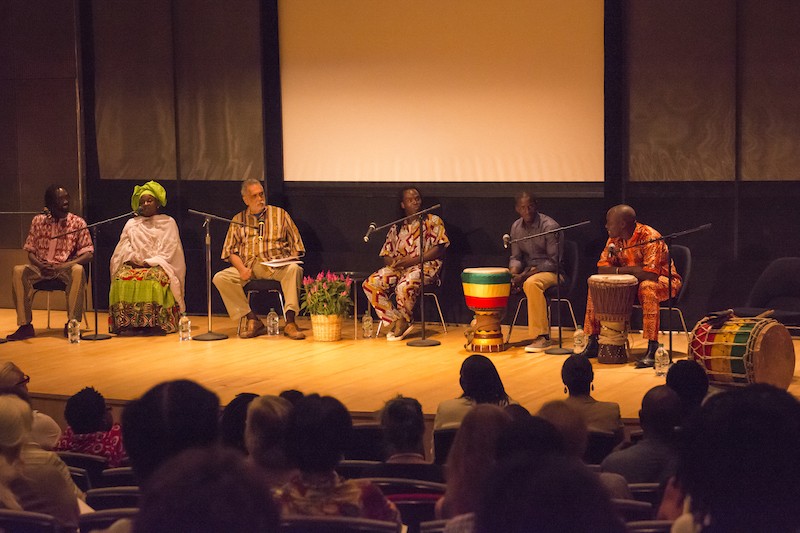 Photo: Ashley Garrett
The artists were asked myriad of questions that ranged from artistic vision and teaching practices to pinpointing the moment they decided to pursue dance professionally. Maguette Camara shared his approach to making what he does into an 'art form,' noting that in the community dance space you may see one step, but on stage, it will transform into a collection of steps (a smorgasbord of culture and community) to share an artistic vision, to tell a story, or to make it more presentational.
When recalling his journey to becoming an African dance artist, Youssouf Koumbassa described a journey that involved no support from his family. He was told that because he comes from a family of royalty, people were expected to dance for his family, not the other way around. Thiam remembered wanting to follow in the footsteps of his older brother who passed away. He described his brother as a star whose every move he wanted to emulate. Marie Basse-Wiles reminisced about the influence of her mother and traveling to different communities where she acquired different steps, rhythms, and influence. Guissé recalled having always been surrounded around by music and dance because of his mother, Basse-Wiles.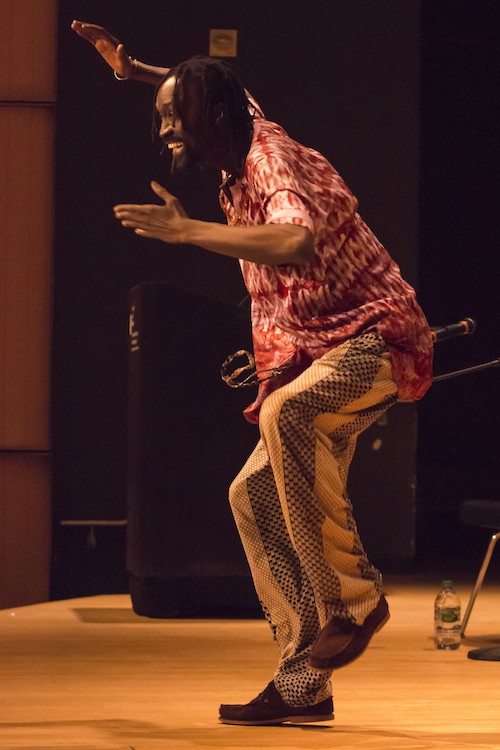 Maguette Camara; Photo: Ashley Garrett
The most salient moments of the night came from the one-liners. Panelists were quick to provide juicy mementos filled with honesty and truth. When learning African dance forms, Thiam encouraged us to "pay attention to your music, please." Camara added, "You have to understand the heart of your music to be able to dance it." Basse-Wiles reminded us, "You have to follow the junjun (a type of bass drum). The junjun doesn't follow you," and N'Deye Gueye struck us with the hard truth that "you can love the dance, but sometimes the dance don't love you." Nonetheless, she suggested that to truly engage in this work in a meaningful way, you must learn the music, culture, and elements that surround the dance you are learning.
The evening came to an end with every artist sharing his or her favorite dance. They were vivacious, captivating, and so gracious in their own way. Beautiful fabrics swirled, tossed, and swiveled in opposition to rhythmic feet. Heads bobbed, hands clapped, and bodies pulsed in time with the drum. Guissé was the last artist to share. He had to be gently nudged by Thiam to step from behind his drum, but when he did, the most lasting impression of the evening began to unfold. Guissé's mother, Basse-Wiles, joined him. Without a word, she exposed her feet to display the rhythmic accents of the dance and together they danced until the break*. An endearing moment, we could see the capacity of movement to be healing and voluminously saturated in love.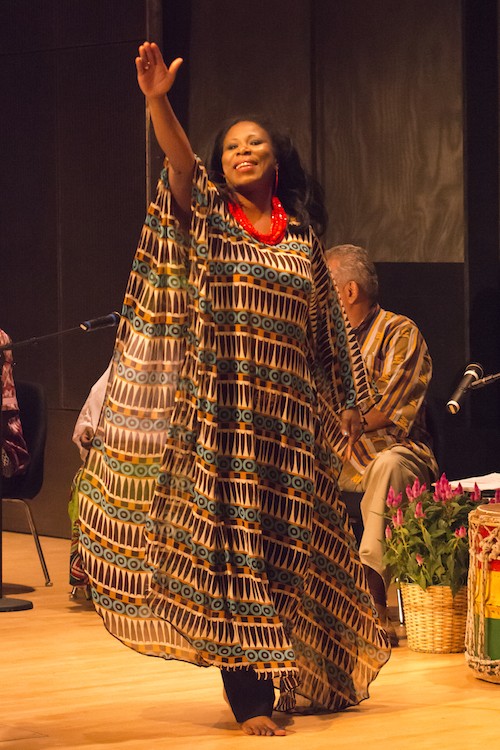 N'Deye Gueye, Photo: Ashley Garrett
As the last vibrations of the drum soaked into the wooden auditorium walls, I returned to several lasting points the artists brought forth during the evening. I wondered how a community negotiates and synthesizes a dance form that is healing, cultural, entertaining, and academic. I also contemplated a point Camara posed that considered the conditions necessary to position communal dance forms within the realm of the fine arts often reserved for ballet and modern dance. What guidelines must dance forms follow to be considered fine art? Is it possible to shift personal and cultural perspectives that make these comparisons necessary? Perhaps, these are questions for the next town hall meeting.
---