EMBODIED LIFE: Joan DuKore on Transitioning from Dancer to Magician and Being a Woman in Both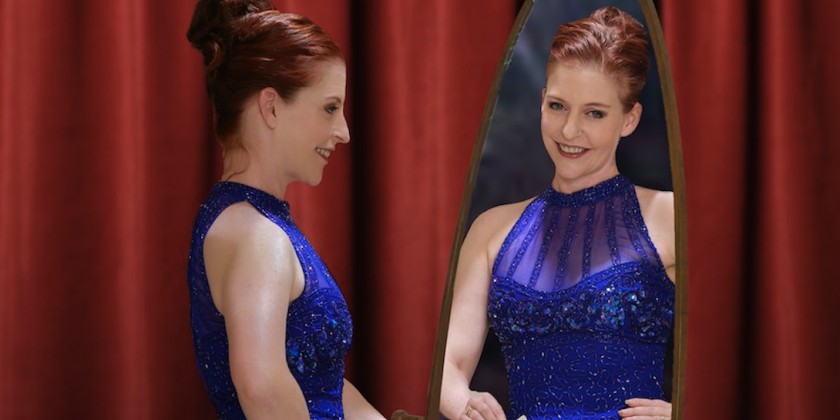 Martha Graham once opined, "A dancer, more than any other human being, dies two deaths: the first, the physical when the powerfully trained body will no longer respond as you would wish." Yet a vast expanse lies between those two deaths. While some may never leave dance's thrall, going on to careers in education, administration, academia, or directorship, others chart an entirely new path that, at first glance, may seem far from the studio and stage.
But can one ever stop dancing? Not really. The Dance Enthusiast's EMBODIED LIFE tells the stories of those who've segued to new ventures and how dance continues to inform their lives. 
---
Joan DuKore's transition from dancer to magician was in the cards from the very start,  and her journey — from Hawaii to Virginia and now Las Vegas — seems downright magical. 
Her introduction to dance began at age nine when her stepfather became the executive director of Ballet Hawaii. "I saw the older girls doing combinations in the center, and it seemed like they were dancing an entire ballet that they just learned a minute earlier. I wanted to be able to do that," DuKore says.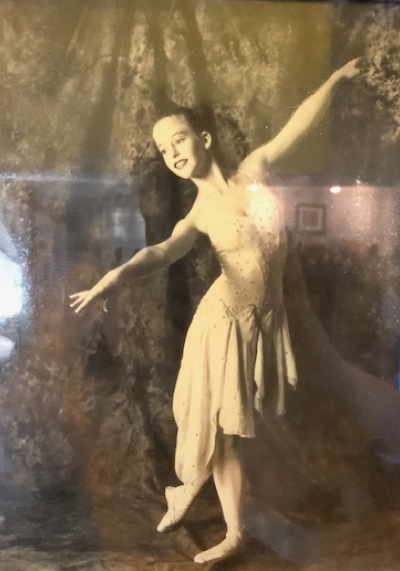 Photo courtesy Joan DuKore
When she was twelve, the dance bug officially bit her. The movement started clicking, and she began actively paying attention to her teachers. Like many young adults consumed by dance, she considered it a bad day when she didn't receive any corrections. "The desire to get better blinded me to all else (including financial security), and I couldn't imagine being in a job that didn't include that."
She moved to Las Vegas to pursue a career in dance after a stint waitressing in Hawaii. "Even though I'd never been, at 19, I was dumb enough to just pick up everything and move. I would never just move without a job or a place to live now, but then, I didn't know any better, which worked out great," she says. Booking engagements turned out to be hard since they required dancers to be several inches taller than DuKore, who is 5'5." Even still, she persevered, finding work in dance and, to her surprise, magic.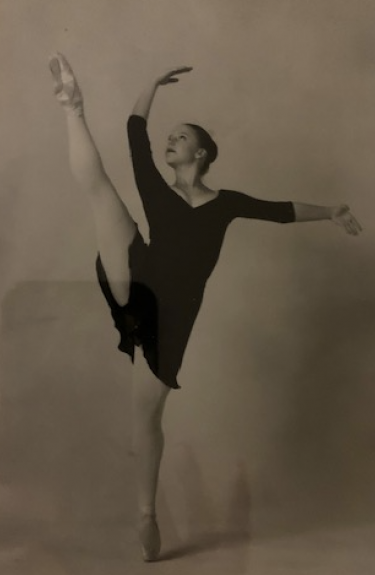 Photo courtesy Joan DuKore
In a way, DuKore was closing the circle by becoming a magician. "I learned my first magic trick long before I ever set foot in a studio. My dad loved playing cards and taught me how to shuffle and deal like a pro at age six. He also taught me the one card trick he knew." Once in Vegas, she realized this skill could be more than a party trick. A friend, impressed by DuKore's abilities, arranged her first professional appearance. "Eventually, I started getting more magic gigs than dancing ones, and I shifted over."
The learning curve to becoming a competent magician can be long or short, slow or fast. Thanks to her performing arts past, DuKore has had many assets upon which to draw. Specifically, it's given her a leg up in creating and self-directing an act. Unlike dancing, where other people tell you where to go, what to do, and how to do it, magicians themselves are responsible for crafting an effective show that encompasses the pledge, the turn, and the prestige. She says, "The best magicians use choreography. Not in the sense of dance steps, but their movements have been laid out with a purpose."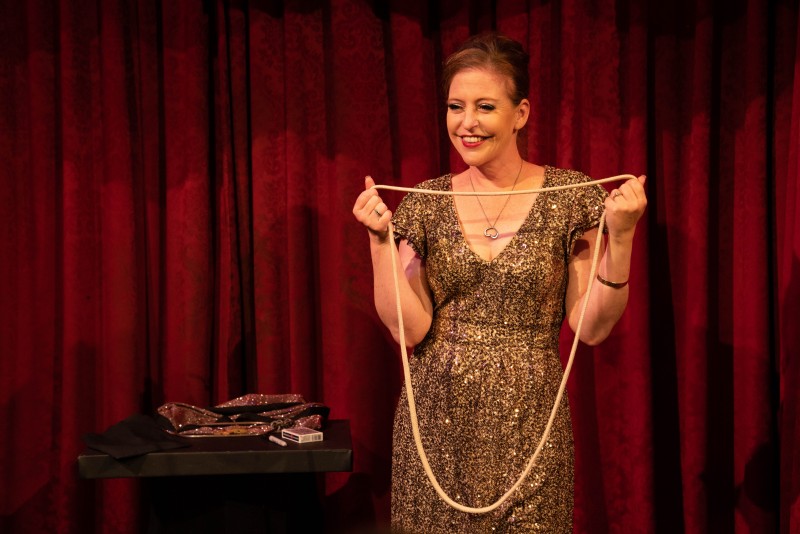 Photo by Taylor Wong
Her honed understanding of staging has been critical to her success. "Lines are important. Both sight-lines, so the audience doesn't see what they aren't supposed to, but also in the reveal of the magic, so that it is aesthetically pleasing to look at," she explains.
Unlike dancers, who are continually learning new pieces, magicians repeat their acts. This offers the opportunity to go deep into the work. "With magic, you can do the same performance for decades. It really gives you an insight into your performance that I was never able to achieve in a dance performance. There are moments and pauses and nuances that I'm constantly discovering, even with pieces I've been doing since my late twenties."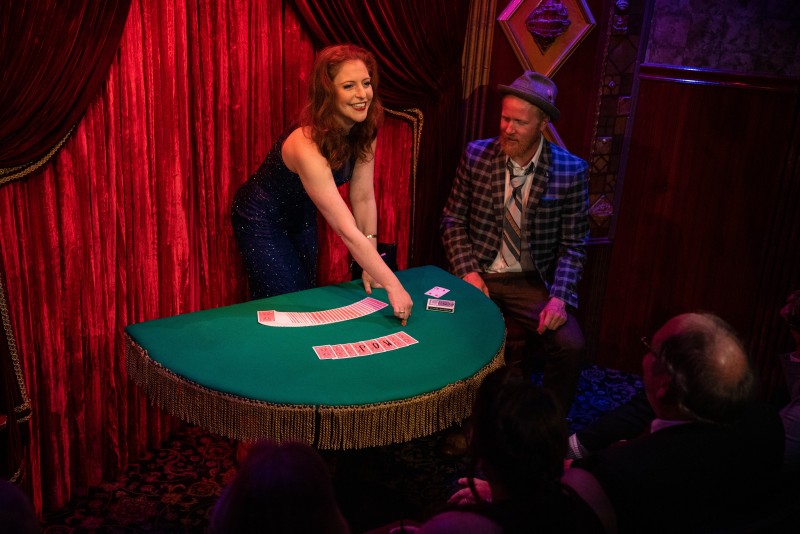 Photo by Richard Faverty (Becket Studios)
Female magicians have often been minorities in the field, which has given DuKore an edge. It's also been a refreshing change from the dance world where women outnumber men. "I went from being one of many to being something special. As P. T. Barnum said, 'You've gotta have a gimmick.' I definitely used the fact that I was a woman to my advantage."
But being female has its downsides. Although male magicians have never harassed her, she has experienced mean and dismissive heckling from the audience. "As a gig worker, there's not an HR department that I can complain to. I have to be quick-witted, thick-skinned, and find ways to address the inappropriateness without alienating the audience. It can be a balancing act."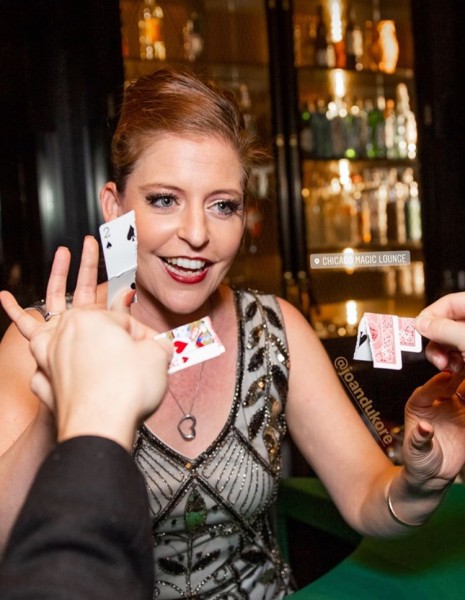 Photo courtesy Joan DuKore
Unsurprisingly, the entertainment industry flaunts a double standard when it comes to mature men versus mature women. "Older men are considered distinguished while older women are just considered old. I don't worry that I won't be able to do things onstage, but I worry that someday people won't want to watch me. Only time will tell with that one," DuKore says.
She credits dance with not only enhancing her magical gifts, but with steering her to a career as a performer. "I don't think I would have been as a good a magician without the performance training I got as a dancer; however, I don't know if I would have had the courage to be a magician without the dance training. Without dance, I would have an office job, and I don't think I would have been nearly as good at it."
---
The Dance Enthusiast's DAY IN THE LIFE covers the stories behind dance/performance and creates conversation. For more behind-the-scenes stories from NYC and beyond, click here.
---
The Dance Enthusiast - News, Reviews, Interviews and an Open Invitation for YOU to join the Dance Conversation.