A Conversation With Lucy Guerin
So, We Know They Can't Dance
Untrained
A Conversation with Lucy Guerin about her US premiere At BAM this week
November 26, 2012
---
Christine Jowers for The Dance Enthusiast
How do you choose "untrained" performers to participate in a show where their skills, or lack thereof, will be compared to those of highly trained dancers performing alongside? Who would be adventurous enough to participate in such an experiment?
Guerin, whose Melbourne-based company, Lucy Guerin Inc., will be celebrating its tenth anniversary this year, is surprised at how humorous the audience has found the experience. While, she admits that
Untrained
is a funny piece, to find humor wasn't the reason she pursued this adventure with non-dancers.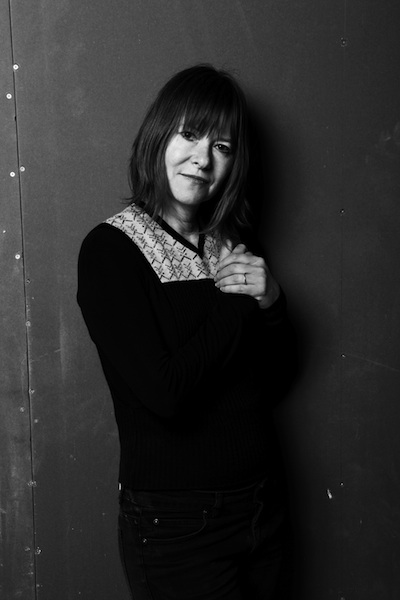 Choreographer, Lucy Guerin; Photo ©Julieta Cervantes
Guerin's questions going into the process centered on virtuosity. "Do audiences want to see artists performing the impossible, or is it watching others on stage striving that engages them?"
"Virtuosity is amazing," says the choreographer who is used to working in more abstract ways with her highly skilled dancers, "to use the human body – its motion and form- as a medium to express something else" is what she loves to do and has done masterfully over the years, not only for her company, but for the renowned international companies: Chunky Move, Dance Works Rotterdam, Ricochet (UK), and Mikhail Baryshnikov's White Oak Dance Project. Still, Guerin was fascinated by the challenge and the complete artistic departure of working with "very spontaneous, unconscious movers." 
"Dancers look comfortable and are showing you something, but, it is interesting to note what dancers can no longer do," Guerin muses. "They can't move in an unconscious way. Dancers have an imprint that's visible in everything. It's a whole other history that has an impact on their physicality and their way of thinking."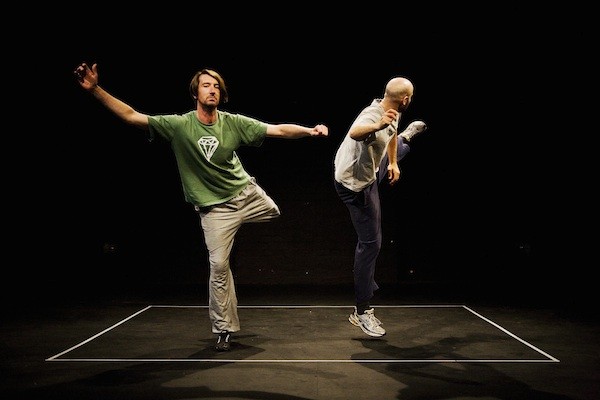 Untrained; Choreography by Lucy Guerin; Photo Courtesy of Lucy Guerin Inc.
Guerin wonders if perhaps the ease of excellence can make those watching feel cut off from the humanity of the performers. By the end of Untrained she feels that the audience becomes very empathetic and supportive of the regular blokes. It is almost as if they can imagine themselves on stage endeavoring.
Still, how do you choose which novice performers to participate?
"The first cast was my brother-in-law and his friend, Ross," chuckles Guerin. 
Both men are visual artists, familiar with her work, and when she asked them to be involved they were excited. "Excited to be paid, and excited to be jumping around in the studio. And they were funny," she says.
Problem was, after awhile, the men gained so much performing experience that, though they didn't improve their dancing skills, they did get better at playing to the crowd. (That fresh, unconscious effort can fade with lots of dates.) Because of this dilemma, Guerin now limits the runs for the non-dancers, and for extra spontaneity she only allows the performers five days of rehearsal. (Yikes.)
Can one ever be "untrained" enough?
Untrained; Choreography by Lucy Guerin; Photo Courtesy of Lucy Guerin Inc.
For the run at BAM, Guerin has assembled a brand new cast. She held auditions in Australia. Ninety people applied, but forty of them were actors. That just wouldn't do (too much stage experience.) Finally, after combing through CV's to choose the truly unskilled, Guerin found her men. 
This Tuesday through Saturday we will have the opportunity to meet bravery and daring in the face as, along with dance pros, Alistair Macindoe and Ross McCormack, environmental engineer, Jake Shackleton, and interactive designer ("It means he makes apps," Guerin explains) Mike Dunbar, give their un-formed, spontaneous all to the Muse Terpsichore (for their "world" dancing debut at the Brooklyn Academy of Music no less.)
And, you know, they
can't
dance, but we think that's great.  
---
The Dance Enthusiast's DAY IN THE LIFE covers the stories behind dance/performance and creates conversation. For more behind-the-scenes stories from NYC and beyond, click here.
---
The Dance Enthusiast - News, Reviews, Interviews and an Open Invitation for YOU to join the Dance Conversation.