Storyboard P Gearing Up for Beat Festival 2013 (DanceUpCloseVideo)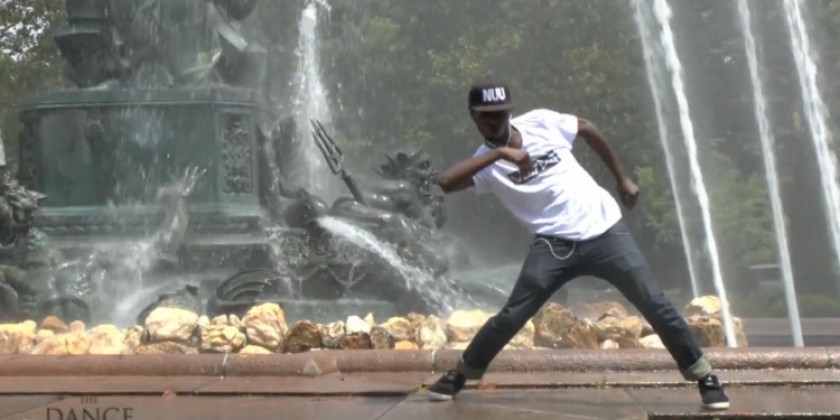 Meet The Street Dancer Extraordinaire
The Dance Enthusiast Dances Up Close to Brooklyn-born and Bred Street Dancer Storyboard P
from the Beaux Arts Hall in the Brooklyn Museum to MetroTech Commons to the Daily News Plaza
check out Storyboard's moves as part of the 2nd Annual BEAT Festival www.beatbrooklyn.com
---
Sammi Lim for The Dance Enthusiast
(Storyboard P's Apparel by VOODA Clothing Line)
A Dance Enthusiast Minute of Flow with Storyboard P

Brooklyn-born and bred, Story honed his movements in the borough's fiercely competitive street dance culture. To better understand his style, one must first reflect on his name. Storyboarding, a systematic process essential to any moving arts project, reflects on a method of sequencing visuals. 'P' stands for 'Profe-soar' – a play on words that combines his early passion for writing and teaching with the desire to becoming enlightened or elevated.

Storyboard P flows like liquid; his form fills imaginary beakers, bottles and boxes. Soft angles and sharp curves meet in unfathomable ways. While others aspire to soar like angels, Story stomps upon untrodden territory as a mutant; the dancer coined the term to describe his unparalleled style.
His gift of movement and hard work has caught the world's attention. Story is a PUMA ambassador and fellow collaborator with big names in the entertainment industry. A recent project saw him dancing in Jay Z's documentary, Picasso Baby: A Performance Art Film, which was filmed at Pace Gallery, Manhattan, and debuted on HBO on August 2nd 2013.
 
Inspired by Tim Burton's movies, Storyboard talks about spontaneity and what he wants to bring to his dance form


Dance enthusiasts can witness Story create history at the BEAT Festival this September 2013. The street dancer will take over myriad stages and spaces from the Beaux Arts Hall in the Brooklyn Museum to MetroTech Commons. One of the festival's highlights sees Story and fellow street dancers performing at the Daily News Plaza (the entrance to Barclays Center).