A DAY IN THE LIFE with Adam Barruch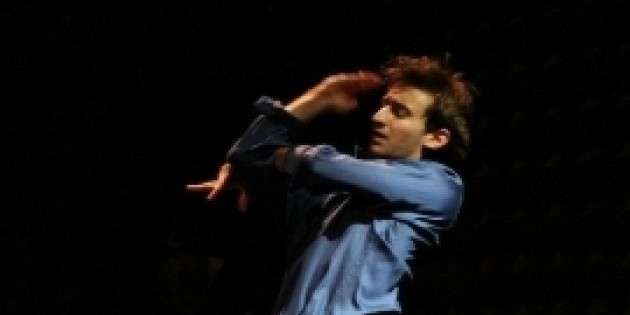 Obsessions and Confessions
---

Stacey Menchel Kussell for The Dance Enthusiast

Adam Barruch is obsessed with Barbra Streisand. The choreographer's life-long admiration of the singer inspired his upcoming dance theater show My name is Barbra ADAM which opens this Wednesday, June 5th at Joe's Pub.

"Barbra is the ultimate star, and I am particularly drawn to her work from the 1960s. It goes beyond her voice quality – as a person she was so unapologetic, so ambitious, and so raw," said Barruch in an interview with The Dance Enthusiast.

Barruch is the sole dancer in the show. He plays a mental patient exhibiting delusions of grandeur. Singing songs by Harold Arlen and Jule Styne, his character explores the concept of celebrity and the societal fascination with fame.
Adam Barruch
"In today's world we are bombarded with social media," said Barruch. "We are constantly making our private thoughts public. We are obsessively seeking self-worth."

Barruch conceived and choreographed My name is Barbra ADAM and collaborated with dramaturge Lauren Albert, musical director Rachel Kaufman, and theater director Mark Ruhala on the staging. Performed in the Pub's intimate theater, the piece challenges the body to express itself fully with both voice and gesture.

Before beginning his dance career Barruch started as child actor appearing on Broadway and on television. He has an affinity for gestural movement and cites Bob Fosse and Bill Irwin as major influences. While he had comprehensive training in ballet and modern dance at LaGuardia High School and Juilliard, he was always drawn to physical storytelling. This piece is his furthest push into the theater genre, and he took one year to prepare his voice for the role.
Adam Barruch from his film collaboration with Nel Shelby- Folie a Deux

Barruch began presenting his choreography professionally in 2008, and in a relatively short time has proven himself a trailblazer. He has been commissioned internationally to set choreography, teach, and has also created dance for camera.

He collaborated with filmmaker Nel Shelby to create the short film Folie a Deux, a duet originally designed by Barruch for the stage. The film screened in the Lincoln Center Dance on Camera Festival in February 2013.

Performed by Barruch and Chelsea Bonosky, Folie a Deux is a look at the failures and successes of a human relationship. The filming is breathtaking using multiple camera shots to capture the emotional intimacy of the face, fingers, and chest. Barruch's long, sinewy limbs and Bonosky's quick, fiery precision blend seamlessly. The floor work is particularly impressive – the couple tumbles, spins, and spirals, gliding over invisible ice.
Barruch is particularly excited about the Joe's Pub debut as it will be the first time he has sung publically in thirteen years. He is prolific, already presenting new works to be premiered in the fall. While he gravitates toward choreography and teaching, Barruch is also currently a dancer in the Sylvain mard Danse group in Montreal.

"I am always interested in reflecting the interior emotional landscape," said Barruch. "I think working with other people and dancing in other pieces is important for choreographers. Even in the lens of another artist's vision you are always clarifying your voice and your movement."

My name is Barbra ADAM plays at Joe's Pub on June 5th and 6th.
For more information, visit dancenownyc.org.


My Name Is Adam is a DANCENOW Featured Artist commission - the result of being a 2012 Challenge winner, made possible with Late Stage Production Stipend from the Mertz Gilmore Foundation.