A Day Behind the Scenes with Hubbard Street Dance Chicago: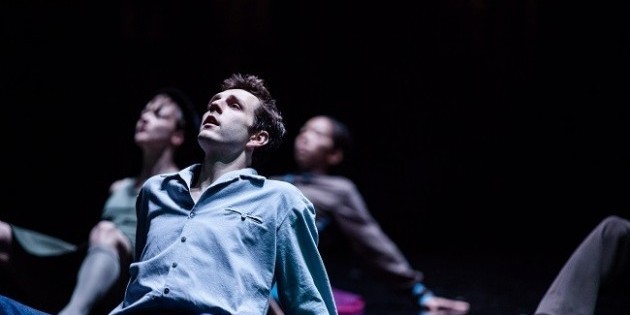 Kevin Shannon tells his story.
Behind the Scenes with Kevin Shannon: A Preview of Hubbard Street Dance Chicago's Joyce Season
Catch Hubbard Street Dance Chicago at The Joyce May 14-26
---

Stacey Menchel Kussell for The Dance Enthusiast
At eight years old, an overly energetic Kevin Shannon drove his mother crazy. Tap dance was the solution. "Fred Astaire and Gregory Hines were my heroes," said Shannon in an interview with
The Dance Enthusiast.
"We would watch old movies together as a family, and I fell in love. What started as a way to keep me out of trouble wound up becoming my career."
Two decades have passed since those first steps in the Baltimore tap class, and Shannon, now a veteran dancer with Hubbard Street Dance Chicago, takes the stage next week in the company's upcoming performance at New York's Joyce Theater. The company's repertory this season is eclectic and plays to Shannon's strengths – refined technique peppered with emotional intensity.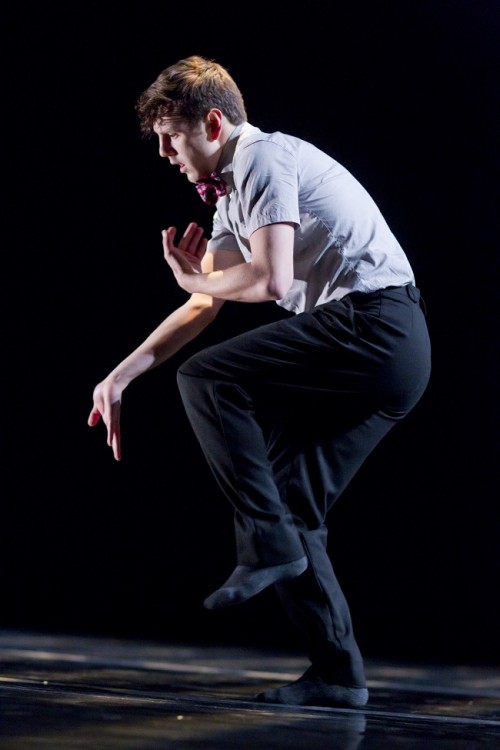 Hubbard Street Dancer Kevin J. Shannon in Recall by Robyn Mineko Williams. Photo by Todd Rosenberg.
The company is presenting two programs. Program A features four pieces created expressly for Hubbard Street: Aszure Barton's
Untouched
, Alejandro Cerrudo's
Pacopepepluto
, Robyn Mineko William's
Recall
, and Sharon Eyal's
Too Beaucoup
. Program B includes two pieces of existing repertory set on the company: Ohad Naharin's
Three to Max
and Mats Ek's
Casí Casa
.
Barton's
Untouched
examines the light and dark side of humanity, while Cerrudo's
Pacopepepluto
is a playful celebration of corporeal freedom. Both pieces are character studies exploring human strength and vulnerability.
"Aszure's work is meticulous, and the exact crafting of a small gesture can take days. She also focuses on the individual and extracts the essence of each dancer, capturing their personality," said Shannon. "Cerrudo's piece is about letting it all out. It's very clear technically, but very free. Like dancing alone in your room when you think no else is watching."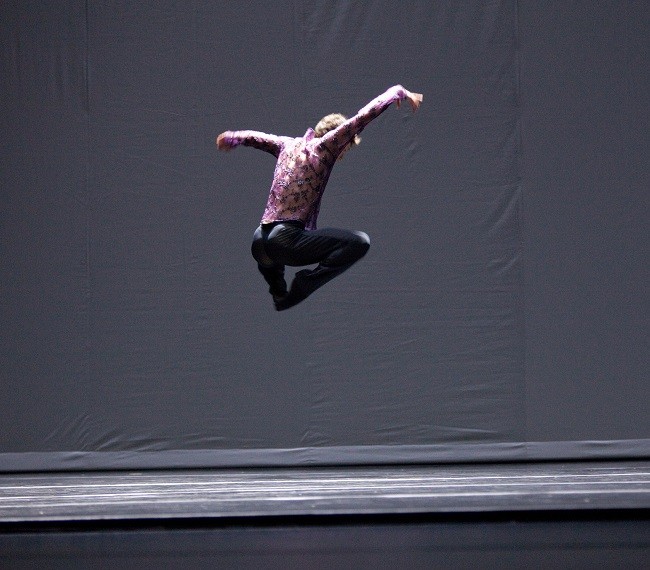 Hubbard Street Dancer Kevin J. Shannon in Quintett by William Forsythe. Photo by Cheryl Mann.
There is a unique relationship between the company and its choreographers this season. Robyn Mineko Williams is a former member of Hubbard Street, and
Recall
is her first commissioned piece for the company. Similarly, Ohad Naharin and Sharon Eyal are teacher and protégé. Eyal danced with The Batsheva Dance Company for many years under Naharin, and his influence is clear in her choreography. Their appearance together, even in different programs, demonstrates the company's investment in choreography through generations.
"
Recall
is Robyn's twist on her time at Hubbard Street. The piece has the total cool factor – very urban and pop. There is a focus on patterns and constant motion, as if we are following a grid in a Pac-Man game," said Shannon. "Ohad's piece is aggressive and raw, while Sharon's piece is very calculated and robotic, but you can see the similarity in training and style."
Hubbard Street Dancers Kevin J. Shannon and Alice Klock in AZIMUTH by Alonzo King. Photo by Margo Moritz.
The most narrative piece of the season is
Casí Casa
by Mats Ek. Through a series of vignettes, the dancers showcase the life of the residents of an apartment building, exposing the secrets behind closed doors. Taking elements from two previous works,
Apartment
and
Fluke
, Ek constructs a domestic dreamscape where quotidian scenarios express deep themes of angst, joy, and loss. "The piece is dancey but also has a theatrical element. The props – the vacuums, the stove, the door – really embellish the story," said Shannon. "As a performer, it is the full package. It has both beautiful and tragic moments."
Shannon joined Hubbard Street in 2007 directly after graduating from Juilliard. At first glance, his puppy dog eyes and wispy brown hair project an air of innocence. Watching him dance breaks that illusion. His physicality is intense and his dramatic range is extensive. Over the last six years working at Hubbard Street has seasoned him.
"When you are young you push and push until you drop. Now, I work more efficiently. I am not dancing to impress everyone, I am attracted instead to subtlety," said Shannon. "I try to tell my own story with the choreography. In any character that I play, I am always some version of myself."
From left: Michael Montgomery, Kevin J. Shannon, Paul Knobloch (foreground) and Jonathan Fredrickson in AZIMUTH by Alonzo King. Photo by Todd Rosenberg.
For more information on Hubbard Street Dance Chicago, CLICK HERE.