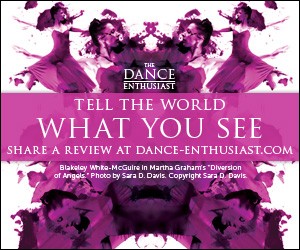 Related Features
A Day In the Life with Doug Varone and Dancers
A Day in the Life with Doug Varone and Dancers
October 8th, 2012
---
Christine Jowers for The Dance Enthusiast

There is a spirit to dance companies. People work together, travel together, sweat together, and rely on one another for support. Yet, for economic or personal reasons, dancers come and go like the seasons, and the soul of a company changes with every move. Shifting gigs and addresses, saying hellos and good-byes, adapting to new faces and bodies - it's all part of the professional dance game.
So, it was surprising to discover that for Doug Varone, whose company Doug Varone and Dancers, is celebrating their 25th Anniversary at The Joyce tonight, this has not been the case. "I feel very grateful that I haven't had to employ many people over the last 25 years," Varone admits wistfully. "People have stayed with me. It's been a small community."


One of the events he is most looking forward to, in fact, is an October 11th gala benefit for which former dancers are returning. "It will be beautiful to see many of the original members."
Eddie Taketa, a former dancer with the Murray Louis/Alwin Nikolais Company and the most senior member of the group, having danced with Varone for 18 years, says of his Varone career, "It's great to live in it (the work) and to share it." Taketa's many years with the company have felt neither long nor short, but simply "vital." This is why he continues.
"Doug is an instinctive creator. He is incredibly fast. He doesn't allow intellect to get in the way."  When intuition takes the forefront, Taketa feels that it is easier to make a piece of art truly sing. Varone's simplicity and clarity allows his dancers' intuitions to come to surface as well, and it's a rewarding experience.


Hollis Bartlett, who has been with the company for just over a year now, refers to Taketa, with admiration, as "Eddie the encyclopedia."  He goes to the senior company member with questions and, of course, Doug helps.
What Bartlett cherishes most about his work experience is that he is able to be himself. "Doug plays off individuals, letting our uniqueness come out through our dancing." Barlett admires the choreographer's "refined skill of creating organized chaos."
I was fortunate to spend a day with the company as they were preparing to move from their digs at the 92nd Street Y to the Joyce Theater for tech and dress runs. Boats Leaving, was the dance being addressed that day. It is a stirring piece created in 2006, which garnered two Bessie's (New York Performance Awards) one for choreography and another for lighting.
Xan Burley, the newest Varone dancer, will perform Boats Leaving for the first time on stage during this Joyce season and she is almost jumping out of her skin over it. Here in the rehearsal room, it is evident how meaningful the work is to her, but her mates in the company have been telling her how much more the piece will resonate in Jane Cox's blue-lit atmosphere. She just can't wait.
Boats… is about community much like dancing with Varone  is about community. All eight members of the company are on stage throughout the 30-minute dance. All eight members are sharing an experience of living together. "We are going through something, that changes every time (we perform), "says Bartlett," and we are hyper-aware of each other. Our choices are emotional."


Taketa who danced in the first iteration of Boats Leaving says, "the presence of the first group is always there" but it is, "not in comparison." Rather, the presence reminds him of  "a family that acknowledges its ancestors."
On October 9th through the 14th , 2012 at the Joyce Theater in Chelsea, we will be able to acknowledge a family who has been creating compelling worlds for us to enjoy  explore. Happy 25th Anniversary to Doug Varone and Dancers…and many more.
 
---
The Dance Enthusiast's DAY IN THE LIFE covers the stories behind dance/performance and creates conversation. For more behind-the-scenes stories from NYC and beyond, click here.
---
The Dance Enthusiast - News, Reviews, Interviews and an Open Invitation for YOU to join the Dance Conversation.