Related Features
Advertise With Us
Make an impression — place an ad on The Dance Enthusiast and receive thousands of eyes on your work every week. Learn more. 
Contribute
Your support helps us cover dance in New York City and beyond! Donate now.
A Day Of Dance In December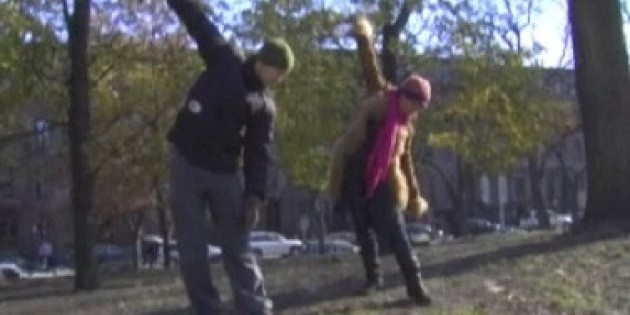 Karl Cronin, Dry Earth
Sasha Speilvogel and Felicia Norton-Labryinth Dance Theater
Christal Brown, INSPIRIT
Story: © Christine Jowers, The Dance Enthusiast
Videographer: Adam Sypnier
---
December 3, 2008 -10:00-11:30 am- A Guided Walking Tour Through Fort Greene Park
Brooklyn, NY- Karl Cronin of Dry Earth is our
Tour Guide

Dancing With Trees

Karl Cronin designs communal experiences to inform him as he creates work. Instead of solitary plodding in a studio or wandering pensively alone among the leaves, Cronin invites guests (fellow artists and anyone who is interested) to share and discover with him.

On December 3rd, a deceptively sunny frigid morning, Cronin took a group of us on a walking tour through Brooklyn's Fort Greene Park. This particular tour, and there are more to come, was part of the preparation for a piece called "10 Kinetic Poems for Walt Whitman" which will premiere in the park on May 31, 2009, Whitman's 190th Birthday. Whitman, a New York native, was an early advocate for the creation of Fort Greene Park. Cronin is especially inspired by the idea of an artist being a community advocate. Dry Earth, Cronin's project of which "10 Kinetic Poems..." is a part, consists of a series of performances, rituals, routines, activities, and reflections, highlighting the unique relationship each one of us has with the spaces we inhabit.

Our winter morning tour focused on the trees of Fort Greene Park – their design and architecture and our contemplation of what a tree's point of view of a park could be over the passage of time. Trees are in the same place for ages. Seasons come and go while trees remain. "Knowing this, how does the world look?" asks Cronin. Our environment, buildings, traffic, and people take on a new dimension from this broad perspective.

We meandered through a semi-circle of bare Gingko Trees that curve around the Martyrs Memorial in the center of the park. We danced amongst the Japanese Pagoda Trees attempting to embody patterns in movement we observed around us- Cronin calls this discovering "kinesthetic kinship." We studied the English Elm and imagined the many outside forces that had shaped its growth over the years. For a brief part of the morning, we became our surroundings.

Doug Fox, creator of the Great Dance blog and another participant in the tour, noticed with me that the trees to the north of the Martyrs Memorial seemed to be lifting their arms to the sky ceremoniously in praise. I don't know if we would have perceived this not being on Cronin's tour. The design is breathtaking.

There is much that we take for granted in our surroundings- a great deal of purpose, wonder and spirit.

(Fox also noted that outside the park there were many free parking spaces. Cronin concurred that the parking situation in Fort Greene is another natural wonder of Brooklyn to be appreciated by its inhabitants. I can only take their word, I don't have a car.)
Footnotes:
For more information about Karl Cronin, Dry Earth, and "10 Kinetic Poems for Walt Whitman":
http://dryearth.org/
December 3, 2008 -2:30-4:00 pm- First Day of Rehearsal in the Performance Space
"Noor" A Dance by Sasha Speilvogel and Felicia
Norton, Performed by Norton
Angel Orensanz Foundation, Norfolk Street, Lower
East Side, Manhattan

Dancing Good and Evil

The Angel Orensanz Foundation is housed in an historic German synagogue on Norfolk Street in Manhattan's Lower East Side. It is a structure as romantic as it is decrepit- a heavenly ruin whose high vaulted gothic-revival ceiling (with dimensions that replicate The Sistine Chapel, we are told) commands you to look upwards and experience its electric deep blue as its paint peels off on you.

A heavenly ruin seems the perfect venue for choreographer Sasha Spielvogel, the Artistic Director of Labyrinth Dance Theater, to hold a Benefit Party whose theme is good and evil. Her Of Good and Evil Winter Benefit on December 29th at 6:30 pm will premiere two works of dance art: a 40 minute dance film entitled "Dark Angel" a musing on god's most beautiful angel, the devil (shot in the Angel Orensanz Center and Castle Olavinlinna in Finland) http://www.youtube.com/watch?v=2miJ-A0SvrM and a 30 minute live solo created by Speilvogel and dancer Felicia Norton based on the life of Noor Inayat Khan, a Sufi Pacifist, spy, and the first female wireless operator in France during World War II.

Norton, who studied Sufi Meditation with Khan's brother, Pir Vilayat Inayat Khan, was moved to create this solo with Speilvogel after listening to Vilayat Inayat Khan's many tearful recollections of the bravery of his delicate sister. Noor, a gifted musician, and writer, with a quiet spiritual temperament, could have spent World War II uninvolved in resistance activities, yet she so abhorred the cruelty around her, she chose to take a stand for human rights, enrolling in the WAAF (Women's Auxiliary Air Force) where she learned to be a wireless operator. She was eventually captured by the Nazi's, and after a lengthy imprisonment, executed in the Dachau concentration camp shortly before the liberation.

The score for "Noor", by composer David Majzlin, contains one of Khan's original music compositions, excerpts of letters between herself and her brother, and passages from the recently published book, Spy Princess, by English journalist, Sharabani Basu.

This afternoon after our travels with the trees, we found Speilvogel and Norton rehearsing "Noor" in the dimly lit altar area of the old synagogue--dancing in the darkness about a heroine of light.
---
December 3, 2008 -5 pm- Tech Rehearsal with Christal Brown and INSPIRIT
Preparing for the World Premiere Dreams and Visions
Borough of Manhattan Community College in Tribeca

Dancing Dreams

A year ago INSPIRIT's Company Director asked Christal Brown, "What are you doing next year?"

"Dreams and Visions," she answered.

At the time she wasn't quite sure what that meant. Titles come first for her.

As she explored, Brown found she wanted to understand more about the clues we get in our dreams, to examine how we bring visions from the ephemeral world into reality.

She also wanted to make this dance and these dancers the most "authentic Christal" movers ever. The group trained together daily with a "training module" called Liquid Strength, a series she designed at Movement Research between 2006 and 2007.

Brown collaborated with Zimbabwean composer Fahari Malianga who wove an intriguing canvas of sound ranging from other worldly bells and gongs, to earthy percussion with whispers and warm voices, to gorgeous melody. The music beautifully supported the various states sleep and wakefulness depicted in Brown's choreography.

This evening we find Brown in a multi-tasking session of epic proportions: plotting light cues with her designer, correcting dancers, counting music, coaching movement, discussing dinner breaks with the crew and getting advice from her costume designer.
This is why we couldn't catch her on tape. Tech night is hellacious work.

One of the most intriguing moments of the evening occurred when a young dreamer ran up the backs of her fellow dancers to leap onto a swinging rope flying high above center stage.

What was the significance of that rope? Brown describes it as being a dream to hold on to. "The dreamer needs a dream to hold on to, even if it never comes true, it is something to which they aspire. That rope is the catalyst that moves a dreamer from fantasy to reality," nods Brown as she runs off to fix a small costume disaster.