A Day With Kidd Pivot
Tempest Turning Point
A Day In The Life of Dance
Kidd Pivot's The Tempest Replica

November 26, 2012
---

Stacey Menchel Kussell for The Dance Enthusiast
 
Prospero, the protagonist of Shakespeare's The Tempest, is a conflicted sorcerer. After years of living on a remote island, he abandons his magic, his art form, in order to do the best thing for his family. Prospero's plight resonated with choreographer Crystal Pite, the creator of Canadian dance company Kidd Pivot.
"I was really drawn to the themes of forgiveness and sacrifice," said Pite in an interview with The Dance Enthusiast. "Prospero is forced to give up his magic and reconnect with his humanity for the sake of his daughter. As an artist and a parent, it's a powerful and relatable story."
Set to a score of piano and voice recordings, Kidd Pivot's interpretation of
The
Tempest
is ambitious and inventive.  Instead of Renaissance castles and ball gowns, the production incorporates gothic animation and science fiction. The title subtly alludes to the film
Blade Runner
with its race of machines, the Replicants. In certain scenes, the dancers, costumed in full white jumpsuits and masks, are only distinguishable from one another by the use of expressive pantomime.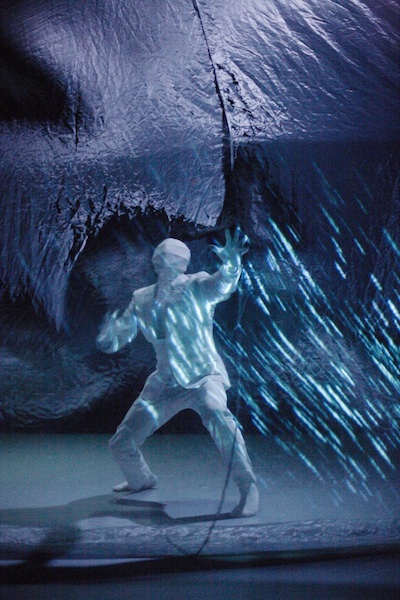 Dancer, Peter Chu in Kidd Pivot's The Tempest Replica; Choreography by Crystal Pite; Photo © Jörg Bauman
"This piece was new for me, because it was the first time I created a work based on an existing script," said Pite. "I experimented with narrative in my previous work, but I wanted to create something even fuller."
Pite retains all key elements of Shakespeare's plot while creating a new lexicon of storytelling. She projects text and animated videos onto both the stage and the dancers, to create a layered, visual interpretation of events. The cinematic scenarios are frightfully realistic. Caliban, the evil monster whose face is reflected on the wall, is a horror film villain. The famous shipwreck scene, an effect of a diaphanous cloth illuminated by rippling blue lights, is a hurricane drowning the dancers under waves of pounding water.
Dancers Eric Beauchesne and Cindy Salgado in Kidd Pivot's The Tempest Replica; Choreography by Crystal Pite; Photo © Jörg Bauman
"Some choreographers are really good with abstract movement. Some are good at humor, some at technique, some at theater. Crystal can do it all– she is a true integrator," said Eric Beauchesne, a longtime dancer with Kidd Pivot who dances the role of Prospero. "She has such range, texture, and clarity. Many choreographers avoid narrative completely, because it is such a jaw breaker to do well, but she wants to open as many doors as possible and show them to the public."
The choreography is not overwhelmed by the special effects. Pites's movement vocabulary has aspects of mime, release technique, and classical ballet. Her seven dancers are a paradox – they move their elbows, spines, and fingers with reckless abandon while maintaining clear, razor sharp lines. In
The Tempest Replica
, Pite explores a range of relationships – father and daughter, servant and master, villain and society. Even those who are unfamiliar with Shakespeare can be pulled in by these nuanced, emotional portraits.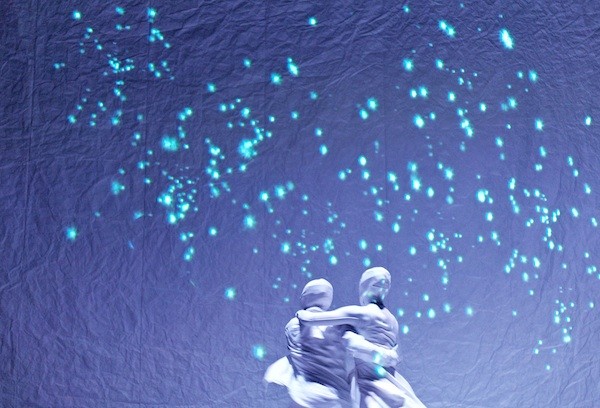 Kidd Pivot's The Tempest Replica; Choreography by Crystal Pite; Photo © Jörg Bauman
Originally from Victoria, British Columbia, Pite created Kidd Pivot in 2002 after years of dancing and choreographing with world-renowned companies such as Ballett Frankfurt, Nederlands Dance Theater, and Ballet Jazz de Montreal. Her company is exceptional not only in its theatrical versatility, but also in its international structure. The headquarters are officially based in Vancouver, but the company often meets in Europe for shorter periods of rehearsal to accommodate her dancers who hail from all over the globe.
The Tempest Replica signifies a turning point for Kidd Pivot. Arguably the most ambitious piece of Pite's career, it will also be the last creation for the company before it disbands for a year-long sabbatical.
"Touring with my family, my partner and my son, has been amazing and exhausting. It has definitely added new perspective," said Pite. "The time away will allow me to regroup and just get some time to breathe."
Stacey Menchel Kussell is a journalist who writes on dance, Jewish history, and international affairs. She is currently directing Renewal, a documentary film about dance and environmental activism.
---
The Dance Enthusiast's DAY IN THE LIFE covers the stories behind dance/performance and creates conversation. For more behind-the-scenes stories from NYC and beyond, click here.
---
The Dance Enthusiast - News, Reviews, Interviews and an Open Invitation for YOU to join the Dance Conversation.