A Day in the Life with Katy Pyle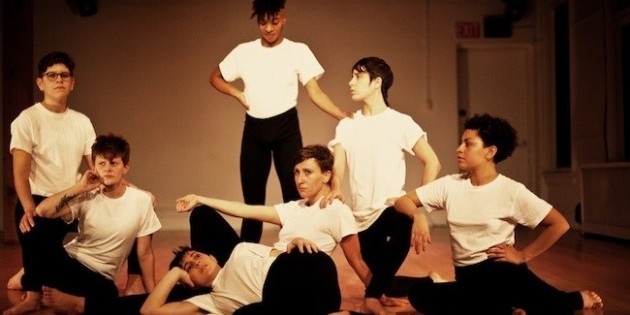 Everything is Beautiful at the Ballez:
The Firebird, According to Katy Pyle
(Catch Katy Pyle's The Firebird, A Ballez May 16-18 at St. Mark's Church)
---
Tara Sheena for The Dance Enthusiast

At the ripe old age of eleven, Katy Pyle had a thought not uncommon to many young girls: "I'm going to be a ballet dancer."

Decadent costumes, magical stories, and stunning physicality lure many, and Pyle, who trained in ballet at a local studio in Austin, Texas before moving on to the North Carolina School of the Arts (NCSA) at age 14, was no exception. In a Williamsburg cafe last month, she recalled her love for ballet but, also, the frustration she faced with its strict gender roles, something she noticed early on.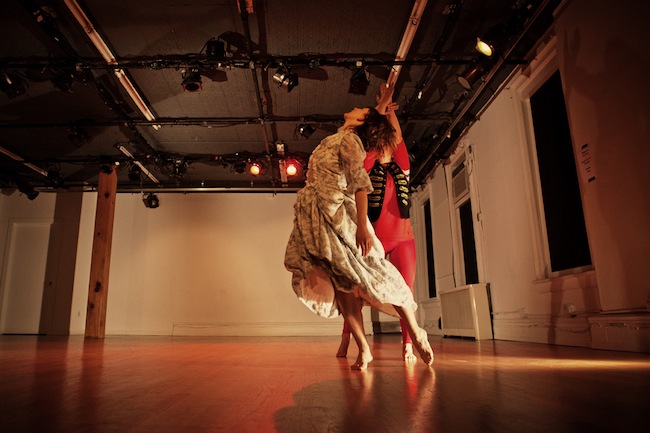 Katy Pyle (Princess) and Jules Skloot (Firebird) in Katy Pyle's The Firebird,A Ballez ; Photo Christy Pessagno at Brooklyn Arts Exchange
"I am really strong, I like to jump and turn," she says, admitting an early interest in the men's class with its more robust and driving movements. "How my body wanted to move was never in the prescribed 'gendered' movement. I could move in a feminine way but I didn't want to be on the floor [like a] dying [swan]."

Being in a strict ballet environment was just the motivation Pyle needed to break out of it. She switched from ballet to become a modern dance major at NCSA and later enrolled in dance at Hollins University, a small women's university in Virginia. Jokingly, she remembers thinking, "If I am not going to do classical, romantic ballets then I am going to follow John Jasperse around."

She recalls seeing works by post modern choreographers Jasperse and David Grenke that completely upended her way of approaching dance. The technical virtuosity and pristine appearances she found in ballet were now replaced with gawky limbs and bare feet. However, Pyle could never ignore her background and training, even many years later when she relocated to New York and performed for more experimental choreographers and directors (most recently for playwright Young Jean Lee in Lee's Untitled Feminist Show.) In fact, it was during one night at the experimental venue, New York Live Arts, where the initial inspiration for "Ballez" came about.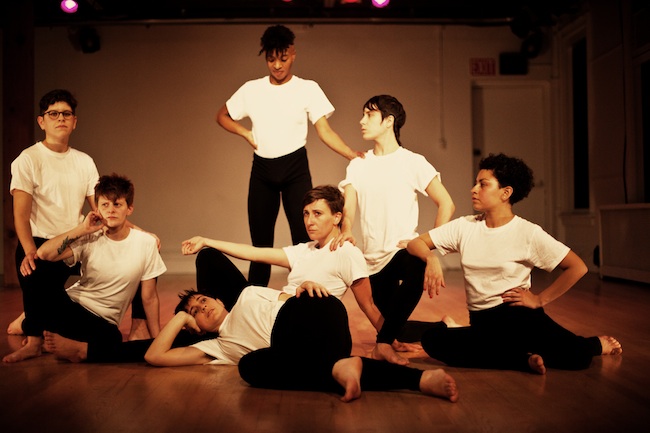 The Cast of Princes in Katy Pyle's The Firebird, A Ballez ; Photo Christy Pessagno at Brooklyn Arts Exchange
My work had been moving in a more queer direction for a couple years," Pyle admits,

"and, I love puns!"

Thus, "Ballez" was born.
Pyle describes being at a post-show hang out with a "group of queer-identifying downtown dancers" in which they discussed a want for a "super physical" vocabulary that seemed to be missing in downtown dance performances. Pyle saw this physical dancing in the classicism of ballet steps, joking that it would be great to have a "lesbian ballet." Pyle discovered a shared history (or, rather, herstory) with her peers. They had all invested time and money into a ballet practice that seemed to have been swept under the rug. "My work had been moving in a more queer direction for a couple years," Pyle admits, "and, I love puns!" Thus, "Ballez" was born.

In Pyle's Firebird, she brings together a distinct cast of characters including a Princess (Pyle), Sorceress (Cassie Mey), Firebird (Jules Skloot), and twelve queer-identifying princes, many of which have not had formal ballet training. While Pyle remains true to ballet's structures using a corps de ballet, for example, and following a narrative, her casting is what really "queers" the work, especially with its princes who are seen to have a more masculine edge whether they identify that way in real life or not. "They live in bodies that are not so classically seen as male or masculine," Pyle says, "but they find ways of standing or sitting that are really masculine…and I just think that's incredibly beautiful."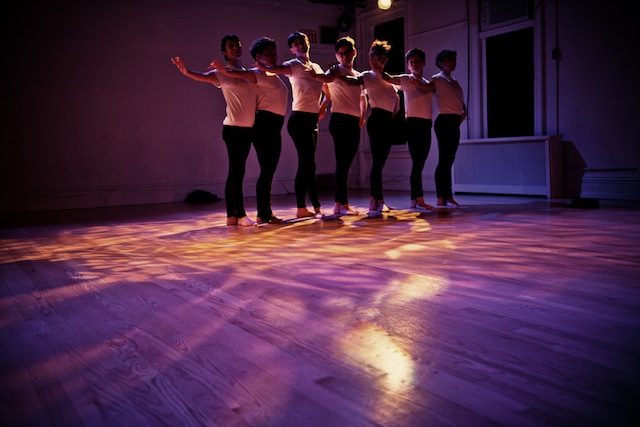 The Cast of Princes in Katy Pyle's The Firebird, A Ballez ; Photo Christy Pessagno at Brooklyn Arts Exchange

Pyle also makes a point to state that the training and background of each performer did not so much matter to her. Despite the use of classical ballet steps, the choreography is meant to serve the characters. "It's really important that every individual imagines themselves as their character before they even start the [rehearsal] process." Everyone had an idea of the fantasy world Pyle is pulling from, so each performer came to it with a slightly different perspective.

Pyle prioritizes the collaboration over the single choreographer model usually found in classical ballet. "Being with people who want to play with me is a really big deal for me," she says, "I feel like I didn't really have that as a kid. It feels like a band and like a collaborative process. I get so much energy from that."

Another large aspect of the ballez was the music. For the performances at St. Mark's church, Pyle is bringing in the forty-two member Queer Urban Orchestra to play Stravinsky's original Firebird score, a facet of the ballet that is so integral to the work.

As far as queering the score, Pyle went back and forth on how to present the music. For this week's performances, the score will remain in its original form. "For us, there's a true, queer romance in the original music," Pyle points out. "Maybe no one else has allowed that to be seen, but I feel like it's there."
Pyle's "Ballez" is a fantasy narrative that explores what it means to bring themes of queer identity to the classically gendered world of ballet. It's a brave venture and, as Pyle reminds me, it is one that presents infinite possibilities.
---