Related Features
Contribute
Your support helps us cover dance in New York City and beyond! Donate now.
A Day in the Life of Vangeline Theater
Preparing for the Premiere of "Fifth of Butoh" at Triskelion Arts
Vangeline Theater
Premieres Fifth of Butoh at Triskelion Arts
February 7-9, 2014 at 8PM
---
Vangeline. Photo:  Yi-Chun Wu.
It's a frigid day in Brooklyn when I stop in to Triskelion Arts to catch the last half of Vangeline Theater's rehearsal.  Director/choreographer Vangeline and performer Azumi Oe are going over some details of Oe's solo. Vangeline skillfully directs near-imperceptible shifts in weight and countenance that are central to preserving butoh heritage, as she pursues her vision "to carry the art of butoh into the 21st century."
Vangeline reminds me how lucky I am to see one run of the solo in costume, (an antique Victorian dress with an ample hoop skirt), and another run in Oe's rehearsal warm-ups. The un-costumed run is like peeking under the hood of a car; I get to see the intricate, muscular, mechanics that create illusions such as floating across a floor.
Oe's solo is one of five vignettes in Vangeline Theater's latest creation, 5th.  This sci-fi butoh fantasy premieres at Triskelion Arts on February 7th and runs until February 9th.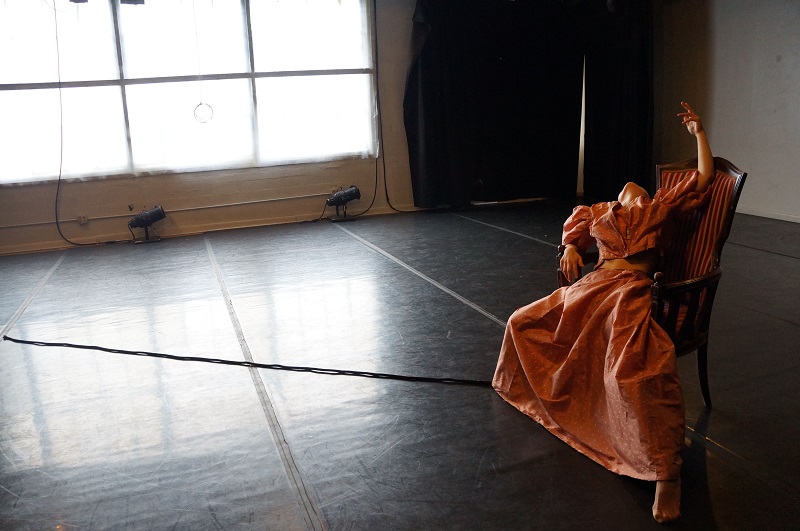 Photo: Cory Nakasue.
5 things to know about Fifth of Butoh:
1. It's based on the number 5. Vangeline extrapolates, "After I realized that I had to work with Beethoven's 5th symphony (a bit of an obsession), I started researching the role of the number 5 in history, popular culture and the arts. In American history, the fifth amendment, in dance, the fifth position, and a fifth dimension--which relates very strongly to butoh as an esoteric art. All these concepts and more are explored in the work."
2. Ysanne Spevack, who is best known for her strings arrangements with the Smashing Pumpkins, has prepared a lush and haunting cover version of Bob Dylan's' classic "Blowing in the Wind," and will also be performing live.
3. Expect a glimpse into the future of butoh. Vangeline describes herself as a French woman, living in America, practicing a Japanese art form that has deep roots in that culture. Her work aims to be a bridge between the tradition of Japanese butoh masters and a multicultural modern influence.
4. The performers underwent a fairly rigorous "method acting" process to prepare for their roles. For instance, Margherita Tisato trained as an opera singer to perform one of the sections, and Vangeline learned how to conduct an orchestra.
5. This is the first time Vangeline has created a "thematic" piece, but the themes reach farther and wider than the number 5. Transformations from masculine into the feminine, reality into fantasy, and past into the future are well represented for the attentive viewer.