A Day with Brian Brooks Moving Company
as they prepare to open the Gotham Dance Festival 2012 at The Joyce Theater (Video Included)
A Day with Brian Brooks Moving Company-
Preparing to Fly
Brian Brooks Moving Company is at The Joyce Theater as Part of Gotham Dance Festival
Shows on May 30th, 2012 at 7:30 pm- May 31st and June1st ,2012 at 8pm: for tickets click here
---
May 25th, 2012
Article by ©Christine Jowers, Founding Editor The Dance Enthusiast; Photographs by David Bazemore ( courtesy of Gotham Arts) ; Video by Christine Jowers
BRIAN BROOKS MOVING COMPANY IN BIG CITY : PHOTO © DAVID BAZEMORE
When
Gotham Dance Festival
opens on May 30th at the Joyce Theater we will be happily thrust into the visual, kinetic universe that is Brian Brook's playground. Last year Brooks and his wondrous collaborators - stellar dancers, costumers, musicians and the creative transformer of light and space, Philip Treviño - gave us the triumphant
MOTOR
and introduced us to the spellbinding
DESCENT
.
MOTOR
appealed to us not only with its propulsive, energetic movement but also with its surprising, massive web-like set, fanning out from the stage toward our seats.
DESCENT
captured us with the beauty of floating, flying and falling.
Floating along with Brian Brooks is easy because he works rigorously to give us essential experiences of movement. What seems delightfully simple as we watch from the audience is the result of fervent, meticulous investigation. Brooks dissects motion, breaking it into sequences, re -working and re -shaping it until he is satisfied that he has found the soul of something weighty and true. It is a good thing he is obsessive about detail. It serves him well. Us too.
This Gotham Dance season, audiences will have the opportunity to experience
MOTOR
and
DESCENT
again and will be awed by the New York City Premiere of
BIG CITY
, in which Brooks eagerly reveals "The dancers will be moving with 1,000 pounds of metal."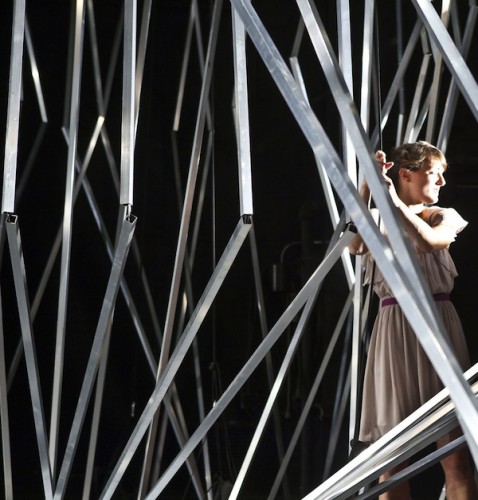 BRIAN BROOKS MOVING COMPANY IN BIG CITY : PHOTO © DAVID BAZEMORE
"We tried to take the idea of an aluminum rod, something singular, then multiply it by hundreds and hundreds.  It's a kinetic sculpture, awesome stuff, " he says as a sly grin emerges. He enjoys playing with scale. "The aluminum goes through lots of stages unfolding to surround and intersect the space, creating a kaleidoscope of possibility and idea imagery." BIG CITY, the latest effort of Team Brooks and Treviño, promises to boldly address the stage environs of The Joyce Theater as well as our imaginations.
Prepare to fly.
---
The Dance Enthusiast In Conversation with Brian Brooks
On Beginnings, Body vs. Intellect, Silence, Risk and iPhones
Christine Jowers for TDE: How do you begin to work? For example with the piece I just saw today in rehearsal, DESCENT.
Brian Brooks: DESCENT came out this contradictory partnering we discovered, where one person is supported and the other is completely passive. One person falls and the other person facilitates that.  It evolved from physical exploration that that started with me in the studio with the dancers - not talking.
I generally want to start the process with physical form. Ideas, for me, placed improperly can derail the creative process for dance making.  Physical knowing is so strong, and the intellect can interrupt it.
 
Brian Brooks Moving Company Rehearsing: A Dance Enthusiast Minute
For the last five years I have started in the studio, not talking.  I let the dancers know and we then improv and push around -sometimes for hours, days, weeks -sometimes on and off for month. I'll let this kind of exploration go on until something compels us. You know, the moment that you can't look away from, the moment that you know it's there. It is that instant in rehearsal where you say, "What did we just do?" and then we pursue that motion. When that happens I know, OK, we have the beginning of piece.
TDE: And then, do you talk?
BB: And then, we talk. (He smiles) We talk sometimes during our explorations a little bit.  We describe what we've experienced. I notice what I am seeing and I try to highlight aspects that are interesting to me as well as the ones I am not interested in. Sometimes my choices are based on personal aesthetics other times I try to honor the physical form that might come forward as a result of our studio work, trying to make that as clear as possible.  Generally not talking works. I find if I am sitting there trying to explain something to the dancers, it is not working."
TDE: Those moments when you say, "What did we just do?" Can't you lose them sometimes? That must be frustrating.
BB: Yes, it's so frustrating. Movement can just disappear, and we think we can grab it with the iPhone or the iPad, but movement is quite complicated. You can't capture certain aspects on video. There are so many multiple shifts of weight and energy and then there is the condition of muscularity. And, no two moves are the same, I'm finding out.
In one of my recent pieces, MOTOR, I banned video from the whole process. I like to just go full on with something and change the rules. I felt if the movement was really worth pursuit, we would remember it and for the next rehearsal it would be there. If we really couldn't remember how it went, then it probably wasn't worth it. This affected me deeply. For a while I thought, I'm losing everything, but then I realized it also made us attend to our work differently. We knew we couldn't rely on anything else so we built things and cycled through them physically and mentally to a point of remembering. It was awesome.
 
Brian Brooks Moving Company Rehearsing : A Dance Enthusiast Minute
TDE: You are brave.
BB: Aren't we brave as dancers? In the dance studios and with dancers on stage I feel it -risk is there. I believe this is something we dancers share, the risk of putting ourselves in the present moment, dealing with the body, making choices and letting it become our profession before our very eyes. It's risky.  Then all of the sudden, like right now, (we are sitting chatting after rehearsal) everything I have made is gone. My dancers are on break and I'm talking with you. You put in all this effort and nothing exists unless everybody is here working. So right now none of my work exists.  So risky.
 
FOOTNOTES:
And Speaking About Being Detail Oriented-
Fascinating Things You Might Not Know About Brian Brooks

1. Brian started his company in 2002 with dancer Jo-anne Lee. It was the summer and he had just booked a gig in Minneapolis. He called Lee and asked if she'd like to start a company and dance with him and she said, "sure." The rest is history. Here we are 10 years later. Jo-anne is still in the company.

2. Brian's detailed artistic explorations began when he was a boy. He had a deep interest in drawing and easy access to notebooks that he filled with cartoons, landscapes, and portraits. He then went through a phase of creating architectural drawings of office buildings and housing developments- among many other structures. He designed all phases of his projects, drawing birds-eye views of every floor plan, along with specifying the particular details of color, furniture, tile choices and so on. (He was eight or maybe nine years old at the time.)

3. When Brian went to high school his friends were interested in dance, so they started a dance company, and he immediately began choreographing and designing sets. "Look at me now," he says, "I am doing the same thing."

4. Brian began training as a dancer at age 17 (after he started choreographing.)

5. Brian's training was very eclectic but significantly he began working with Elizabeth Streb in 2000 and "dove off things". "There is nothing like the idea of demonstrating gravity with a 20 foot fall," he points out.

He enjoyed the intense study of spatial design, and existence on a fundamental level with Streb. Three years of performance and several years of teaching for her and coaching her work have influenced him. "We are quite good friends, I admire her and her work so much. It was a treat to perform and embody it."

6. To relax Brian runs in Central Park and cooks. Broccoli rabe was on last night's menu.
 
The Awesome Brian Brooks Moving Company After Rehearsal -Brian Brooks Far Right at DANY studios- Photo by Christine Jowers
---
The Dance Enthusiast's DAY IN THE LIFE covers the stories behind dance/performance and creates conversation. For more behind-the-scenes stories from NYC and beyond, click here.
---
The Dance Enthusiast - News, Reviews, Interviews and an Open Invitation for YOU to join the Dance Conversation.