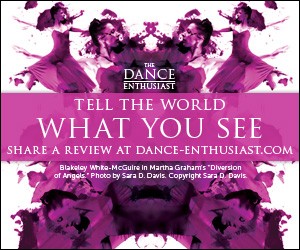 Related Features
A Night in the Life: The Dance Enthusiast at Barnard College with DAVID GORDON and VALDA SETTERFIELD
The Story Behind the Story: Mannequin (1962) and The Matter (1972)
October 2012
Garnet Henderson for The Dance Enthusiast
---
There are two sides to every story, especially when it comes to performance. And few people tell a story quite like
David Gordon
and his wife
Valda Setterfield
. The two spoke at Barnard College on October 8
th
 in a discussion moderated by
Dance Magazine
editor in chief Wendy Perron. The spirited, dynamic dialogue touched upon Judson Dance Theater, Merce Cunningham and John Cage, Gordon's work, and what it means to be a muse.
The event, "The Story Behind the Story: Mannequin (1962) and The Matter (1972)," was the most recent installment of Barnard's ongoing "On Dance" series. It was presented in partnership with Danspace Project as a component of their "Platform 2012: Judson Now." Gordon's solo Mannequin was part of the very first Concert of Dance at Judson Church, and he presented his iconic work The Matter ten years later. He is known for a unique brand of dance theater that makes use of choreography scores, improvisation, and everyday life inspiration.
Gordon will revisit these seminal works in performances at Danspace from October 25 through 27. The program will feature members of Gordon's Pick Up Performance Co, NYU students, and Valda Setterfield. Entitled
The Matter/2012
, the performance includes original movement as well as archival projection and newly created sections. There will also be open rehearsals on October 18
th
, 19
th
, and 20th.  
David Gordon and Valda Setterfield in Beginning of the End of the... Photo © Andrew Eccles
"When I moderate, I like to sit in the middle of the panel, but I've never sat in the middle of a marriage," Perron said laughingly at the start of the event. And it's a lively marriage indeed. Gordon and Setterfield make a fascinating and clearly loving couple. As they interrupted and teased each other throughout the discussion, their reminiscences were captivating, but their relationship stole the show time and again. The pair began to collaborate in the 1960s, when Setterfield was a member of Merce Cunningham's company. Thanks to their longstanding artistic and romantic relationship, Setterfield has often been referred to as Gordon's muse.
The two met through choreographer and teacher
Jimmy Waring
, a prominent figure in the avant-garde dance world before Judson came into existence. Gordon joined Waring's company after Waring saw him in a park and invited him to come to a rehearsal. At the time, Gordon's only dance experience had been in the Modern Dance Club at Brooklyn College, which he had joined because of a girl he liked.  
Valda Setterfield, David Gordon and Their Son, Ain Gordon
Setterfield explained that she struggled as a dancer before she met Waring. She grew up training in ballet, and was often criticized for being too tall and having too little turnout. Waring encouraged her not to worry about those things, and fostered her individuality.
"He didn't ask me to give up anything or change anything or say that was wrong," explained Setterfield.
Waring also introduced the two to Merce Cunningham. Gordon, who worked as a scholarship student at the Cunningham studio in order to pay for classes, described taking class with Cunningham as an "enormous, seductive pleasure." Setterfield had a similar experience.
"I felt like this amazing weight had been lifted off of me," Setterfield said. "I learned to be entirely honest in everything I did."

The conversation turned to Gordon's own work, and he and Setterfield offered their perspectives on the development of Mannequin and The Matter. Mannequin premiered at Judson Church just two days after the birth of Gordon and Setterfield's son in 1962. Gordon performed the solo in a bloody lab coat given to him by a friend, and had originally hoped to place mannequins in the space while he danced. Gordon became fascinated by mannequins while working a side job creating displays in a clothing store. He said that he was intrigued by the "peculiar personalities" of various mannequins and the ways in which it was possible to manipulate them by putting them in different poses, clothes, and wigs. However, due to the expense and difficulty of procuring mannequins, by the time of the performance, the name Mannequin was all that remained of the idea.
Given that Setterfield had just given birth at the time of Mannequin's premiere, she was largely absent during the creation of that piece. However, she played an instrumental role in Gordon's 1972 work The Matter. While Gordon was in New York working with a cast of 40 artists – some who had dance experience, some who did not – Setterfield was on tour with the Cunningham company.
Gordon wanted to make a solo for Setterfield, and so he shipped one across the Atlantic. He did this by cutting out photographs from stop-action series by photographer
Eadweard Muybridge
. Gordon pasted the photos out of order on yellow paper, creating "interrupted series."
"I was determined to remove every possible preparation for every action," said Gordon. He explained that Setterfield's movement quality was very lyrical – "she makes everything beautiful" – and that he wanted to challenge her to move in a more abrupt manner.
For her part, Setterfield explained that she strove to capture "the energy inherent in the figure" of each photograph. The solo, which was performed nude in The Matter, has lived on in many incarnations and was later set to music by Philip Glass. During the discussion, Gordon showed footage of the solo that was filmed for PBS.
The discussion shifted to Setterfield's role as "muse," which both artists agreed has been an evolving one. "I speak out a lot more now," Setterfield said. Both Gordon and Setterfield agreed that a relationship that carries on at home and in the studio is complex and sometimes muddled.
As for the upcoming Danspace performances, Gordon noted that they will not simply be reproductions of past works.
"What happens when you get to be this old is that people want to give you money for your archive," said Gordon. "I have tried to be interesting in my archive."
 
---
Valda Setterfield: Talking Dance and Theater and Relationships with Merce Cunningham and David Gordon and more
*if you have the time to look at this it is worth every minute.Christine J.,editor.
---
The Dance Enthusiast's DAY IN THE LIFE covers the stories behind dance/performance and creates conversation. For more behind-the-scenes stories from NYC and beyond, click here.
---
The Dance Enthusiast - News, Reviews, Interviews and an Open Invitation for YOU to join the Dance Conversation.