Dance: Broadway Stage and Screen-The Dance Enthusiast Visits "An American in Paris"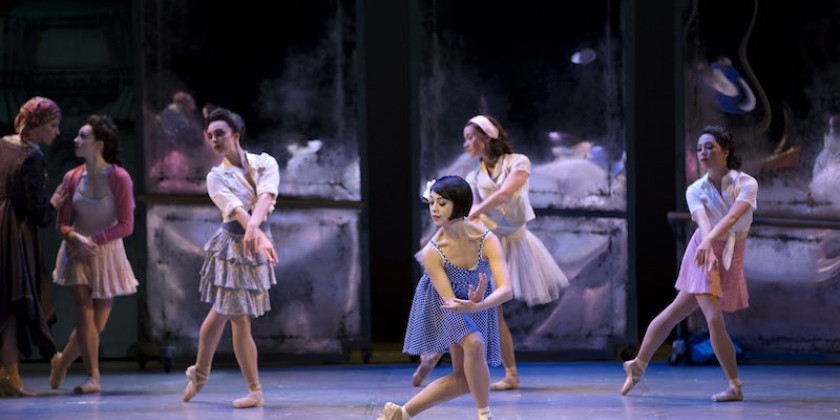 Broadway Dance Captain Allison Walsh Shares Her Experience of "An American in Paris"
An American in Paris opened April, 12th, 2015, currently on Broadway
At the Palace Theatre, 1564 Broadway
Credits: Music by George Gershwin; Lyrics by Ira Gershwin; Book by Craig Lucas; Directed and Choreographed by Christopher Wheeldon
Cast: Robert Fairchild as Jerry Mulligan, Leanne Cope as Lise Dassin, Veanne Cox as Madame Baurel, Jill Paice as Milo Davenport, Brandon Uranowitz as Adam Hochberg and Max Von Essen as Henri Baurel
Pictured above: Leanne Cope (center) with company, Photo Credit: Angela Sterling
---
On a whim, ballet dancer Allison Walsh decided to go to an open call audition in New York City for a new Christopher Wheeldon project. Little did she know that decision would change her life and her dance career forever.
Walsh is currently a dance captain as well as an ensemble dancer in the Tony nominated Broadway musical An American in Paris.  Besides performing eight shows a week, she also helps refine choreography and run rehearsals with assistant dance captain Dustin Layton and the show's associate director and choreographer Dontee Kiehn.
An American in Paris is a new musical that takes its inspiration from the 1951 film which featured Hollywood dance legends Gene Kelly and Leslie Caron.  A love story about art, friendship, and renewal in Post-World War II Paris, the show is a breathtaking theatrical phenomenon. New York City Ballet principal Robert Fairchild and Royal Ballet soloist Leanne Cope bring added sensuality and precision to the parts made famous by Kelly and Caron. The music is a score of Gershwin favorites such as "S'Wonderful" and "I Got Rhythm" and the sets of illuminated panels and animated screens by Bob Crowley bring Paris vividly to life onstage.
Wheeldon, the shows director and choreographer, bridges the gap between Broadway and ballet, blending contemporary, classical and gestural Broadway styles with ease and flair. The versatility of the show's dancers is impressive. Most of the dance cast has experience in the concert world, and their strong and varied training is evident in the almost three of hours of ballet, modern, and tap they present to the audience.
Allison Walsh
Walsh danced seven seasons with the Joffrey ballet and performed with the Philadelphia-based Ballet X, before making her Broadway debut. Her experience as both a dance captain and cast member, has expanded and transformed her perspectives on dance performance.
"The show is very different than working for a traditional ballet company in that there is so much more performance," said Walsh in a recent phone interview. "We do 8 shows a week, dancing 6 days a week, and also have rehearsal three days a week before the performance. At Joffrey we would perform intensely but only for a few weeks every three months during the company's seasons."
In addition to the rigorous performance schedule, Wheeldon's choreography is particularly physically demanding. To create a seamless effect,  he not only choreographed the dance sequences but also all of the set and prop changes. The onstage dancers move large panels, screens, and furniture in the midst of chaîné turns and leaps.  
"The offstage choreography is as important as the onstage," said Walsh. "Since we do all the set changes it feels like the whole stage is in constant motion. Chris choreographed with the advice of a physical therapist to make sure we were working safely with the sets. You have to be extremely smart with your body."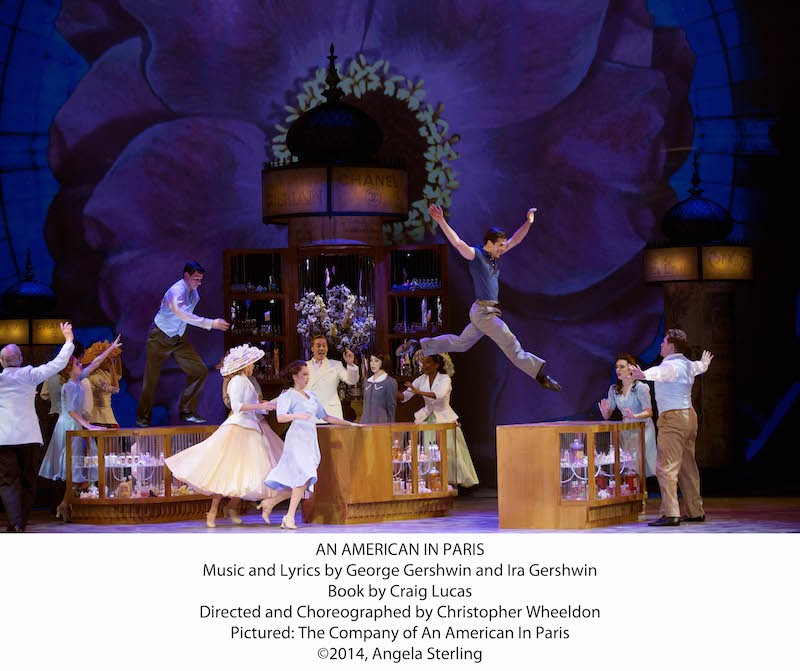 The An American in Paris journey began with a workshop of six weeks in New York to create and learn the material. After that there was a pause and then the cast and crew moved to Paris for two months to finish up rehearsals, tech the show,  and  open at France's Chatalet Theater. After another month break, the cast moved the show back to New York and has been at the Palace Theater ever since.
"While in New York, even during preview period, there was a lot of reworking, especially because the New York stage was so much smaller than the Paris stage, "said Walsh. "Ballet productions are very rarely changed around that late in the game."
Walsh has relished in the all the newness her Broadway role has brought into her life. Working as a dance captain has opened her eyes to the inner workings of such a large scale production and deepened her appreciation for the show and its message.
"We were rehearsing in Paris during the Charlie Hebdo attacks and saw the city's heartbreak," said Walsh. "With each performance we bring Gershwin's uplifting vision of Paris to life.  'Love is the only thing that matters,' they sing in the show – it's really true."