Related Features
Contribute
Your support helps us cover dance in New York City and beyond! Donate now.
The Dance Enthusiast Hits The Streets for Amy Jordan's The Victory Dance Project's Opening Night - Celebrating Jordan and legendary, Chita Rivera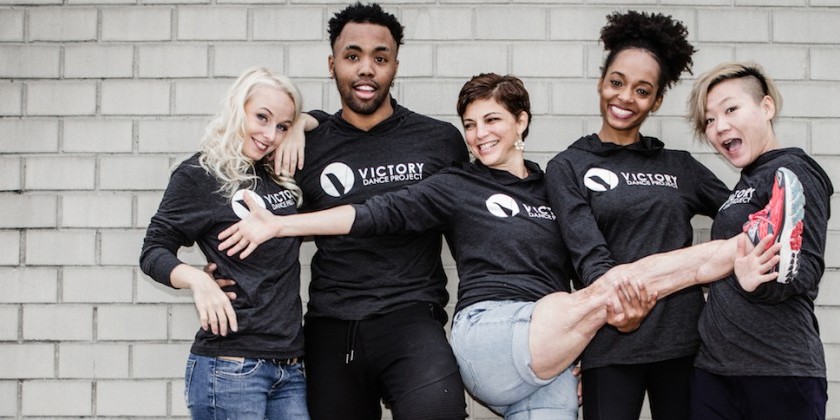 A Tale of Valor and Community
The Victory Dance Project "This Moment On"
Manhattan Movement Arts Center
June 15th - Opening Night with an Awards Ceremony honoring Chita Rivera as a Woman of Valor
Amy Jordan: Founder and Artistic Director /Christopher Jackson: Associate Director/Gary Lewis: Rehearsal Director
Ensemble Cast: Aika Takeshima, Christopher F. Jackson, Corey Writght, Danilo Silvestre, Erica Johnston, Hayley Fridenstine, Jefferson Pierre, Joshi Martina, Karen Niceley, Larah Pamplin, Marissa Graham, Martell Ruffin , Petra Dušková Dis, Rachel Neitzske, Saleem Abdullahi, Scott Schneider, Tiffany Mellard, Ty Evans, William Briscoe
---
The story is not the choreography, nor is it the adroit and energized ensemble of the Victory Dance Project. Tonight determination and courage stand center stage with Amy Jordan as she miraculously dances for the first time after being horribly maimed while pinned under a New York City bus. That was 2009. Jordan vowed then, if she lived through the ordeal, she would do a victory dance.
Sitting facing us on a long bench under a bright center spotlight during Christopher Jackson's Ceremony in the Air, she gently lifts the bottom edges of her flowing pantsuit to, one at a time, uncover both her legs: the left looks as we expect most lower limbs to look, but the right, reconstructed with painstaking care, appears to have been "through the wars." There is no sentiment expected from Jordan's leg reveal. We're not meant to gasp or pity, but rather to appreciate this woman's reality.
Amy Jordan ; Photo Cherylynn Tsushima
Prior to Jordan's turn on stage, the head of her surgical team, Dr. Palmer Bessey of New York Presbyterian Hospital, speaks to the audience about her determination to keep her leg when most would have immediately chosen to amputate. Jordan insisted that she wanted to feel her leg dance again. What else would a dancer say?
Chita Rivera — the Chita Rivera — ten-time Tony nominee, two-time Tony winner for roles on Broadway from 1961 to 2006,  reminds us of dancers' persistence, as she accepts an award from the company for being a Woman of Valor. "Dancers," says Rivera, "are from a world all their own," meaning, they don't understand the word "quit."
Amy Jordan, Karien Plantadit, Chita Rivera, and Aika Takeshima holding the Woman of Valor Award as Rivera urges Jordan to keep on fan kicking.
Photo by Cherylynn Tsushima
A cab in NYC hit Rivera years ago, and she was told that she would probably never dance again. "I think I said, 'shit,' " she mentions in a beautifully off-hand way. "I don't swear much."
Obviously, Rivera got right back to dancing. Gorgeous and now in her 80's, she is preparing to "hit the road" with Tommy Tune, but tonight she is here as a dancers' dancer.  "I have been inspired by dancers my whole life," says Rivera and, acknowedging the inherent struggles we all meet in life, she adds with profound admiration, "Amy gives us every reason to go on."
While Jordan may be front and center in tonight's choreography, a cohort of dancers encircle her, radiating energy. Their movement ripples through her upper body as she watches them. Their dynamism impels her to stand and inspires her to sweep her remodeled leg in expansive fan kicks. A dancer grabs on to her arm, so she can lean forward into a deep arabesque. She is carried, held aloft by a small group that moves her in the light as she chants, eyes-closed in meditation.
Amy Jordan Dancing with Joshi Martina in Christopher Jackson's Ceremony in the Air ; Photo Cherylynn Tsushima
Dr. Bessey describes his victory as rebuilding and saving a "mangled extremity," but he reminds us, his is merely one component of Jordan's triumph. His work coupled with Jordan's dogged perseverance through countless hours of rehabilitation was crucial, but the "secret sauce" to her success, and who the doctor graciously pays kudos to this evening, is Jordan's community — the supportive dancers,  creative team, dear friends, and audience.
No one can win alone in the darkness.
---