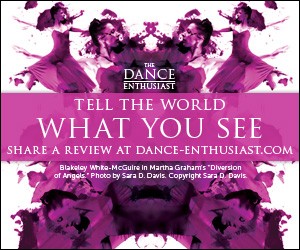 Related Features
The Dance Enthusiast Hits the Streets To Read Along with Anabella Lenzu DanceDrama
Unveiling Motion at Bronx Museum
Venue: Bronx Museum
Date: December 3, 2014
Choreographer/Writer: Anabella Lenzu
Dancer: Lauren Ohmer
---
The North Wing Lobby of the chic Bronx Museum gives one a delightful sense of displacement, particularly on a Bronx Culture Trolley Night, for those who don't venture north much. The now forty year old Bronx Museum is enjoying a moment of sublime pride in the political charged nature of its borough and artists, housed so handsomely in the 2004 building designed by the Miami-based firm Arquitectonica. 
Anabella Lenzu at The Bronx Museum
For this Trolley Night, Argentinean born, now NYC based choreographer Anabella Lenzu read from her bilingual book "Unveiling Motion and Emotion" and introduced solo excerpts performed with pristine clarity by Lauren Ohmer, her look-alike assistant. The tenth in a series of readings with performances, this Bronx Museum event celebrated Lenzu's confident stance which she concedes stem from her steadfast embrace of certain principles.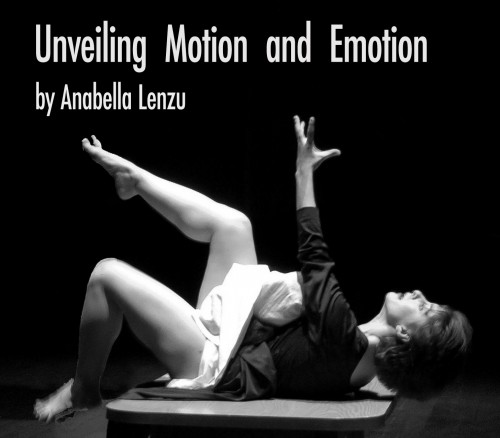 "When I choreograph, I always think of Eugenio Barba and his theory of the four audiences. When he created his pieces, he imagined four people who together would form the perfect audience: 'a blind man, a deaf man, a child, and a critic.' Lenzu's reference to the Italian experimental theatre director/theorist Barba indicates her sense of social responsibility as a creator of theatre. She positions herself squarely as a teacher, and an anthropologist who draws her inspiration from a wide range of  references, folkloric, historic, and literal. She declares one chapter "I want to be the eternal student," and confesses that she was originally self-taught. The daughter of Italians who emigrated to Argentina, close to the border of Patagonia, she found that "understanding a country's traditional dances is a way to understand a country's soul, its society, and its attitudes." The excerpt from The Corral, 2009, performed with a handkerchief simply and beautifully showed how so much can be said with just a piece of fabric.
Lauren Ohmer
True to her bow to Barba, her choreographic excerpts possess a prime color boldness that a child could easily respond to, and an unusually classic structure that a critic might appreciate. Often, that symbolic blind man was acknowledged with spoken word – such as a repeated "NO!" - while the deaf man, of course, could savor the succinct language of her dance.
Her book filled with photos by Todd Carroll sells for $30 and can be obtained from www.AnabellaLenzu.com
Among other intriguing exhibits, a trip to the Bronx Museum offers a chance to see the hip hop culture of music, dance, art and as captured in 'Here I Am: Photographs by Lisa Leone." now on display through January 11, 2015 http://www.bronxmuseum.org/exhibitions/here-i-am-photographs-by-lisa-leone