Related Features
Contribute
Your support helps us cover dance in New York City and beyond! Donate now.
DAY IN THE LIFE OF DANCE: Art Cake Deliciously Brings Brooklyn's Dance and Visual Art Scene Together
Art Cake Dance Series Residency Artists Premiere Their Work This Weekend
October 20-21st at  7:30pm ( House Opens at 7pm)
214 40TH STREET
BROOKLYN, NY 11232
INFO @ ARTCAKE.ORG
(646) 392 2253
Tickets are available online at Eventbrite here
---
What do dance and cake have in common? Hmm…Both have layers, both require creative and attentive processes to make, and both are ephemeral–often experienced as a community and always consumed in the moment. While a photo or video can record their likenesses, no device can capture their truest essence.
In its second-ever Dance Series Residency, Art Cake, founded in 2019 for and by artists of Sunset Park, invited choreographers to experiment, play, and revive the essence of live dance performance after two years away during the pandemic.
Raymond Pinto, Dance Residency Artist; Photo Courtesy of Art Cake
The artist sons of minimalist painter pioneer Robert Ryman, Cordy and Ethan Ryman created Art Cake to provide affordable workspace for artists of all genres. As the expense of studio space around the city discouraged many from pursuing their artistic practices, the Ryman brothers saw an opportunity to give back to the neighborhood, establishing Art Cake as self-sustaining through its artist renters.
  Vinson Fraley, Dance Residency Artist : Photo Courtesy of  Art Cake
Shortly after its inaugural exhibition by Suzanne Bocanegra, COVID hit the city, affecting public art spaces heavily. Art Cake thrived during this time because of their Artist Residency program, which allowed visual and fine artists to safely create and present work from the space's ten multi-use studios.
Sayer Mansfield. Dance Residency Artist; Photo Courtesy of Art Cake
As these artists continued making work, longtime friends and curators, Morgan Griffin and Marina Gluckman, Art Cake's executive director, witnessed many dance spaces also being shut down, bringing the community to a  standstill. Reaching into their existing friendships and networks, the two invited Brooklyn-based dancers to work in the studios, birthing the Dance Series Residency.
This year, the invited dance artists are Kristel Baldoz, Vinson Fraley, Sayer Mansfield, Raymond Pinto, Grace Yi-Li Tong, and Griffin herself.
The Series cohort come from movement backgrounds ranging from repertory companies like Pilobolus and Bill T. Jones/Arnie Zane Company to the fashion and yoga arenas. All the artists work within contexts of self-identity and world-curiosity, a connecting thread we'll see at the Dance Series culminating performance.  Each artist will be premiering original work in the form of a solo or duet, to be presented side-by-side on October 20-21, 7:30pm at Art Cake. Tickets are available online here.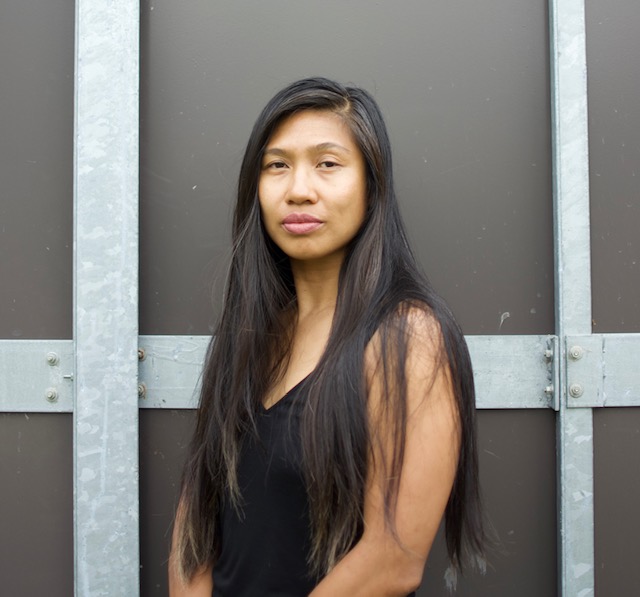 Kristel Baldoz, Dance Residency Artist: Photo Courtesy of Art Cake
The series encourages the choreographers, all at different points in their careers, to generate new material and experiment with concepts inspired by the space itself.
And what a space! Renovated by Brooklyn-based architectural firm, Smith & Sauer, Art Cake is a 13,000 square foot converted bakery that was formerly Financier Patisserie (lending a slice of its history to its current name.)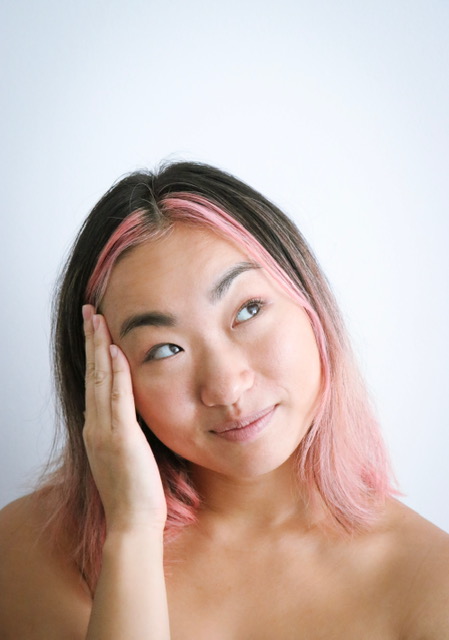 Grace Yi Li Tong, Dance Residency Artist; Photo Courtesy of Art Cake
Audience members for this weekends performance  will enter on the ground floor which opens into  5000 square feet of naturally lit industrial space. Mixing natural elements with remnants of the former factory's structure, metal supports frame the space for dance, and draw our eyes upward  past the "forever-high" ceilings and through the expansive sky lights. The design invites an open-studio culture encouraging artists to drop into each other's creative sessions for feedback and dialogue, and seamlessly merging the studio cultures of both the dance and fine arts worlds.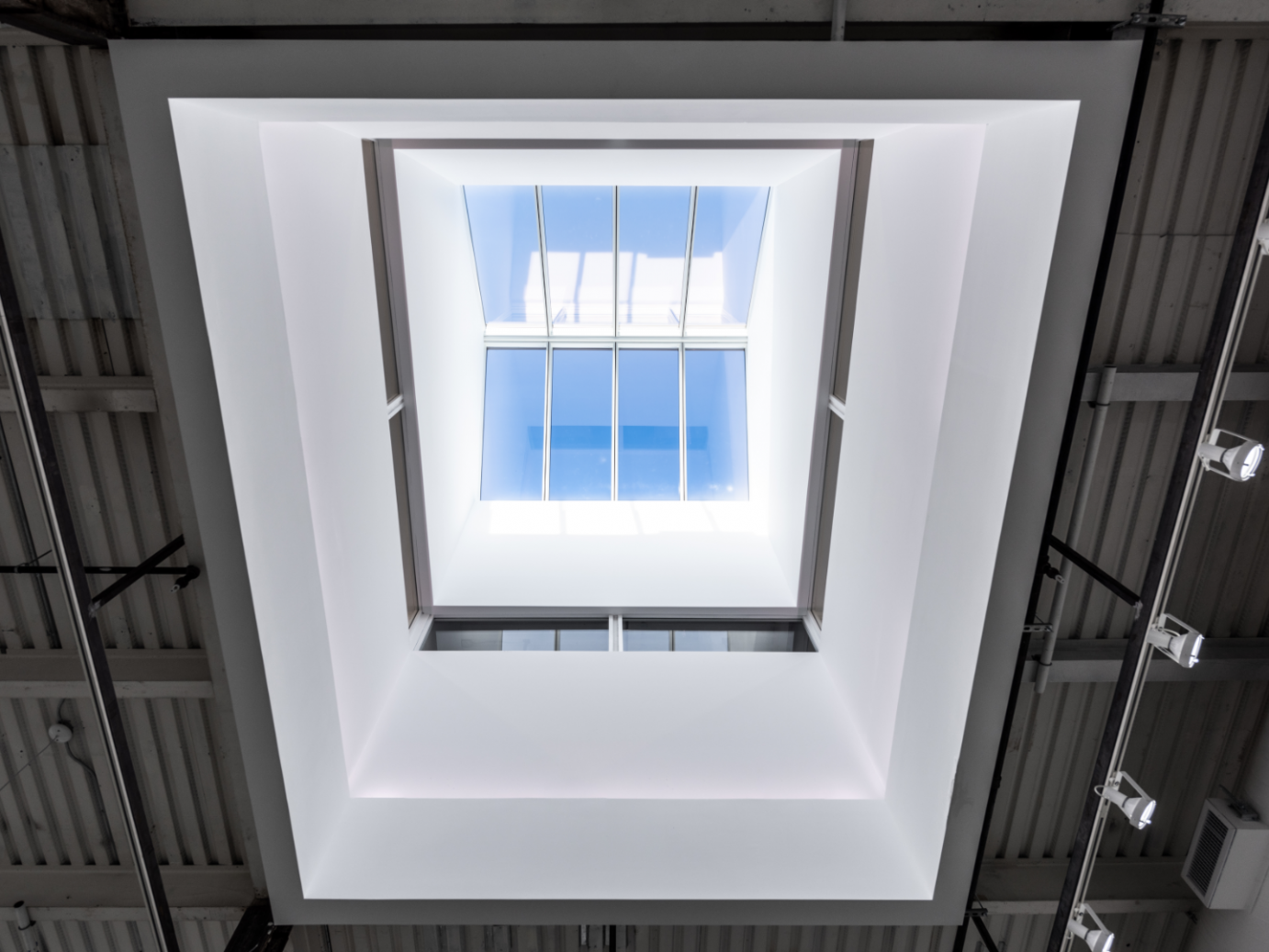 Art Cake Skylight ;Photo Courtesy of Art Cake
Art Cake Gallery;Photo Courtesy of Art Cake
As Sunset Park evolves so too does its arts scene. Intentionally building the Dance Series around all Brooklyn-based artists, Griffin and Gluckman fertilize a growing professional dance hub with Art Cake's beautiful, open space as its heart-center. Though the Dance Series still in its toddler years, the home and support system that Art Cake provides to Brooklyn dance creatives promises to broaden beyond imagination as we re-enter the post-quarantine art scene.
---
The Dance Enthusiast's DAY IN THE LIFE covers the stories behind dance/performance and creates conversation. For more behind-the-scenes stories from NYC and beyond, click here.
---
The Dance Enthusiast - News, Reviews, Interviews and an Open Invitation for YOU to join the Dance Conversation.