Related Features
Advertise With Us
Make an impression — place an ad on The Dance Enthusiast and receive thousands of eyes on your work every week. Learn more. 
Contribute
Your support helps us cover dance in New York City and beyond! Donate now.
Artistic Director Colin Connor on the Limón Dance Company's Upcoming Season at the Joyce Theater
Featuring Masterworks by José Limón, with Premieres by Connor, and Francesca Harper
José Limón Dance Foundation's Spring Season Preview Event
May 16, 2019 at Dance Theatre of Harlem
Limón Dance Company
The Joyce Theater
May 29 – June 2, 2019
For more information and tickets, please visit HERE
---
The Limón Dance Company's current home is with Dance Theatre of Harlem on 152nd Street. The two companies not only share studio and office spaces, but also are torchbearers of important, treasured legacies of our dance world. Their coexistence in close quarters seems to be both a creatively fruitful relationship and an economically sound solution for survival in trying times.
I had the good fortune to attend a preview of the Limón Dance Company's upcoming Joyce Theater season. To see an excerpt of José Limón's masterpiece THE MOOR'S PAVANE serves as a powerful reminder why this particular heritage is the backbone of humanism in dance. Every gesture conveys an emotion and moves the plot forward. I cannot think of a more ingeniously constructed work in the entire dance canon. If this alone is not recommendation enough to go and see the company, new dances promise a welcome variety.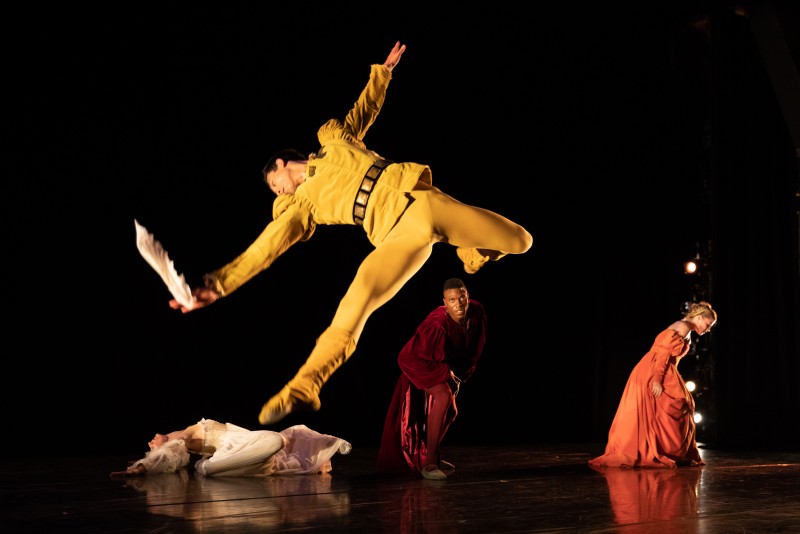 José Limón's The Moor's Pavane; Photo by Hayim Heron
Artistic director Colin Connor says of his new work The Weather in the Room, "[It] focuses on the energy between the two individuals in a couple, almost any couple."
He enjoys experiencing the nuanced energy of a mature couple (here, former company member Stephen Pier and his wife, renowned Graham dancer, Miki Orihara) co-existing with the vibrancy of his younger company members. The couple draws him into the work, while the group creates the 'weather' around them. "The layering of the two [energies] charges the stage giving dimension to the story."
Connor met Canadian composer-musician Sarah Shugarman when she accompanied his dance class. Delighted by her artistry, he chose several compositions and asked her to connect them for the score of his new work.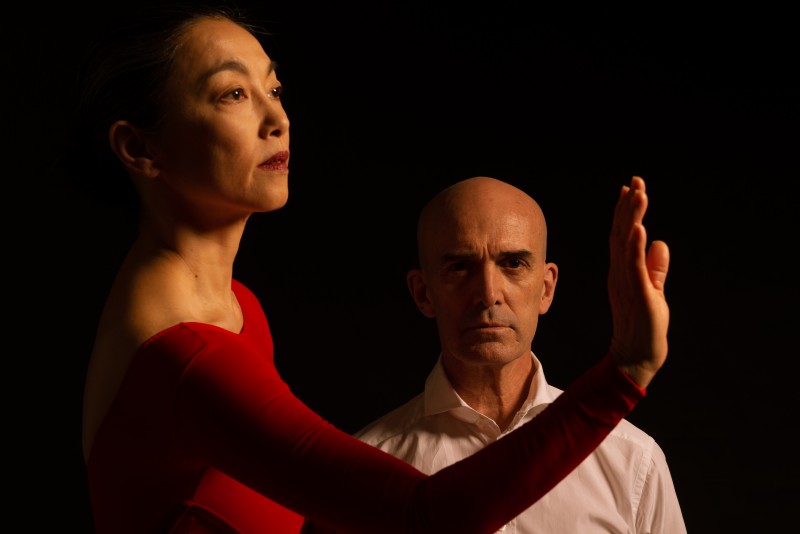 Stephen Pier and Miki Orihara in Colin Connor's The Weather in the Room; Photo by Christopher Jones
New music is definitely one of the attractions in the second premiere that will grace the stage at the Joyce. None other than Nona Hendryx is responsible for the music for choreographer Francesca Harper's Radical Beasts in the Forest of Possibilities.
"Radical Beasts . . . speaks of virtual infinity — a completely contemporary experience. I love the urgency and intangible complexity in this work," says Connor. "This is echoed in the contrast between Nona's techno soundscape and the intimate the tactility and tenderness of her live piano playing. Much of this work is built on intention-based improvisation . . . the challenge for the dancers is to work in a different way."
The Joyce program will be completed by one of Limón's later ensemble works, PSALM, choreographed in 1967. Doris Humphrey, Limón's trusted mentor and editor —who famously said "all dances are too long"— made sure that her mentee's œuvre would never fall in that particular category. Humphrey had long passed when Limón created PSALM.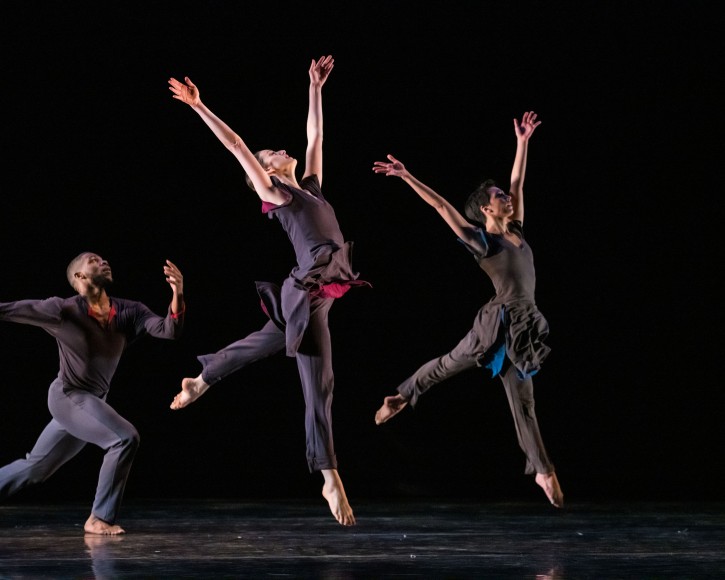 José Limón's Psalm; Photo by Anthony Collins
When Connor's predecessor, Carla Maxwell, decided to re-stage the piece in 2002, she took it upon herself to edit the work and commissioned a then new score by Jon Magnussen.
The Limón Dance Company continues to foster a contemporary generation of choreographers by commissioning new work, as it presents its founder's treasure chest in innovative ways.
While individual interpretations change from cast to cast and year to year, I am happy to see THE MOOR'S PAVANE in its original glory over and over again. I applaud the effort to keep Limón's work relevant for the future.
---
The Dance Enthusiast Shares IMPRESSIONS/our brand of review and Creates Conversation.
For more IMPRESSIONS, click here.
Share your #AudienceReview of performances. Write one today!