ARTISTS ACTIVATED: Finding Her History — Davalois Fearon at Lincoln Center's New York Public Library for the Performing Arts. A Conversation With Linda Murray, Dance Curator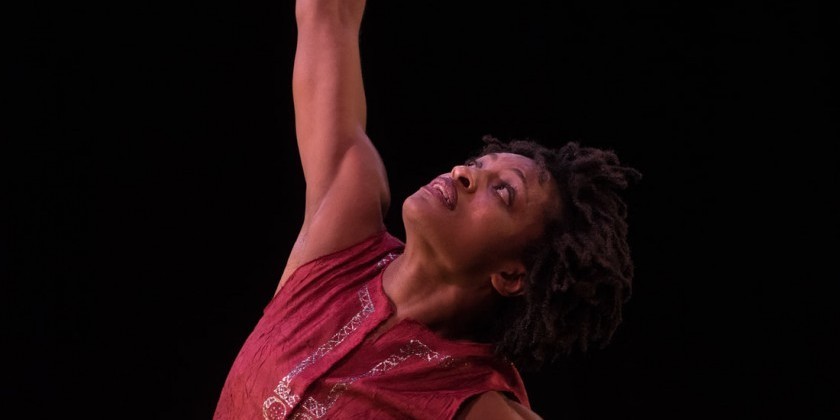 Dancing, Talking, and Fighting to be Seen
January 18, 2018-New York Public Library for the Performing Arts- Bruno Walter Auditorium
---
Davalois Fearon, the Jamaican-born, Bronx-raised dynamo known for her ravishing dancing with Stephen Petronio, struck out on her own in 2016, creating Davalois Fearon Dance. Now, in full on choreographic mode, she is deep into the process of her second evening-length work. In excerpts of the autobiographical Time to Talk, Fearon travels from her familiar Jamaican dance-hall, reggae-ease to the more bound, shape-oriented classical forms in which she's come to excel. She addresses prejudice as she moves. Experiencing racist attitudes, she found "art to be a wonderful way to deal with it."
In between dancing excerpts, Fearon throws on her puffy, winter warm-up gear to sit and chat with a soft-spoken, interested Linda Murray, curator of the Jerome Robbins Dance Division. Fearon chose clips from the library's vast archive in a quest to connect to the African traditions and post modern attitudes that "reside in my body."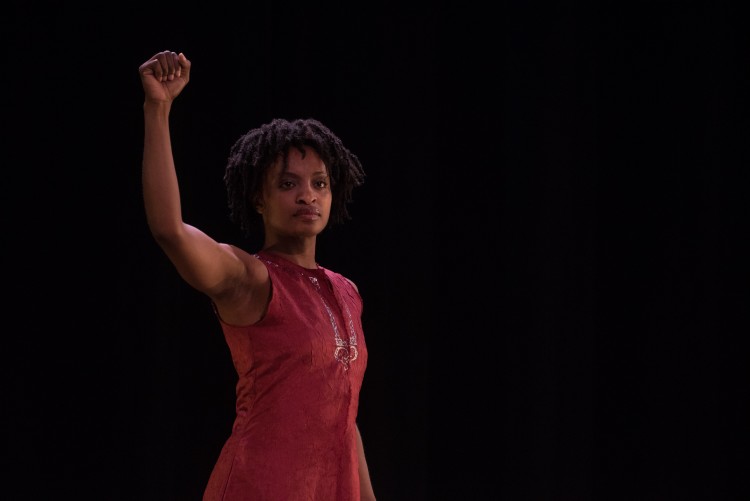 Davalois Fearon in Time to Talk; Photo by Mark Frohna
Some of the best parts of the evening are spent listening to the dancer and curator go on animatedly about what intrigues them. The syncopation of ballerina Diana Adam's feet in a 1958 scene from Balanchine's The Nutcracker attracted Fearon.
"What do you see?" asks Murray.
Balanchine's rhythmic drive reminds Fearon of the same impulse in a short West African film that we watch immediately after the ballet clip. Both ballet and African dance value virtuosity, particularly in the footwork. Fearon points out that both forms require a  strong mind-body connection — that sense of knowing where to put one's weight in order to achieve impressive accomplishments.
"The two worlds (ballet and African dance) are more connected than we might think," offers Murray.
During a question and answer period, Fearon describes "fighting to be seen," telling the audience that one of her biggest heartbreaks was not not seeing herself in her graduate school's curriculum. She was surprised that of approximately ninety artists on her list to study, only five were African-American.
Davalois Fearon in Time To Talk ; Photo by Andre Imaging
It's particularly poignant to watch a film clip of the oft unmentioned pioneer, Edna Guy (1907- 1982) swirling exultant in a white, full-skirted outfit, to the joyful spiritual "Every time I feel the Spirit." Murray referred to Guy as a black dancer in Ruth St. Denis' Company.
Actually, Guy could only dance with Denishawn in school recitals: in the 1920's the white audience would not tolerate black and white performers sharing the stage. When Guy traveled with the Denishawn Dancers, she did so not as a dancer, but as St. Denis' seamstress or assistant. Even when looking for work as a chorus dancer in Harlem, she was often dismissed as being too dark-skinned for the job.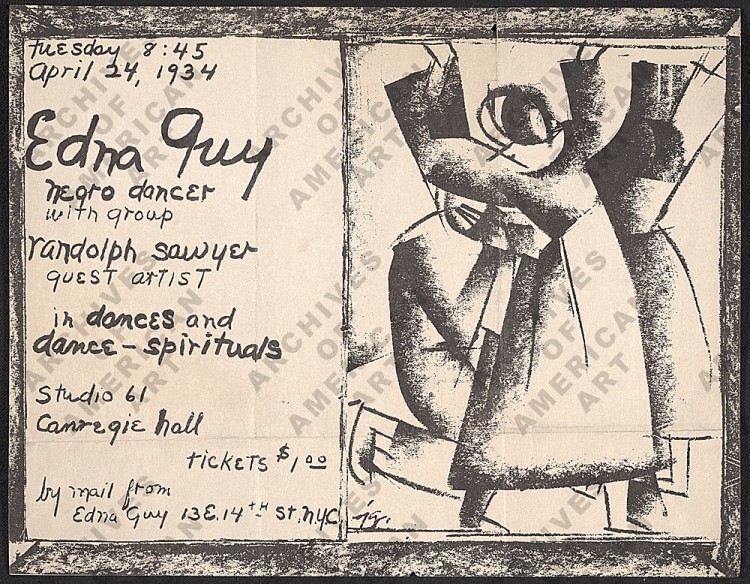 Original Show Program from Edna Guy's Concert at Carnegie Hall; from the Archives of American Art- Smithsonian Museum
Never ceasing in her own fight to be seen, Guy went on to dance, choreograph and organize noted performances, one being the "First Negro Dance Recital in America" co-produced in 1931 with another influential, oft unmentioned, black dance pioneer, Hemsley Winfield.  In the wonderful book, Modern Bodies, Dance and American Modernism from Martha Graham to Alvin Ailey by Julia L. Foulkes, we can find and be moved by Guys own words: "I shall be the first colored girl to make the world see that a little negro, an American, can do beautiful and with much feeling — the creative dances of her soul …"
One might wonder if Guy could have ever imagined a Davalois Fearon.
Time to Talk / Davalois Fearon
PERFORMANCES 2018
March 27 @ 7pm, March 28 & 29 @ 9pm
Mabou Mines Theater
150 First Avenue, Second Floor,
New York, NY 10009
CONTACT: MABOU MINES
P.O. Box 777 - Peter Stuyvesant Station -New York, NY 10009
Phone: 212.473.0559
info@maboumines.org
PRE-SALE TICKETS AVAILABLE NOW THROUGH OUR INDIEGOGO CAMPAIGN.
REGULAR TICKETS GO ON SALE AT THE END OF FEBRUARY.
The Dance Enthusiast Writes What Dancers Are Talking About and Creates Conversation.
For more Behind the Scenes Stories of the NYC Dance World Click on to our Day In The Life of Dance Section