Artists Activated: Gesel Mason on Embodied Legacy, Spherical Leadership, and 'Dancing the Visions of Contemporary Black Choreographers'
As the Artist Prepares for her Solo Show "No Boundaries: Dancing the Visions of Contemporary Black Choreographers" at The Billie Holiday Theatre Presented by 651 ARTS and RestorationART
No Boundaries: Dancing the Visions of Contemporary Black Choreographers
Friday, April 6, 2018 at 7:00PM Saturday, April 7, 2018 at 7:00PM
The Billie Holiday Theatre 1368 Fulton Street Brooklyn NY 11216
Pictured above: Rennie Harris' You Are Why!
---
Over the past fifteen years, having commissioned nine solos, Gesel Mason's dancing body has become a living archive of over seven decades of choreographic vision that expands the range of work by, for, and about African-Americans. The solos offer windows into the choreographers' lives, illuminating the unique inventions, legacies, and aesthetics of these prominent Black choreographers — including what these artists were up against historically, culturally, and personally when the works were made.
Mason and I shared a video call to talk about the work, the idea of activating personal and collective space through embodied legacy as well as the meaning and power of breaking down boundaries created by words like "legacy." The journey and inspiration for this work grew from Mason's experience at Booker T. Washington High School of the Performing and Visual Arts where she was exposed to many different forms at a young age. When Mason went to college, though, she ran into a system that gave her basically two choices. Mason was told that, "as an African-American dancer, you can be in the Ailey company or Dance Theatre of Harlem . . ."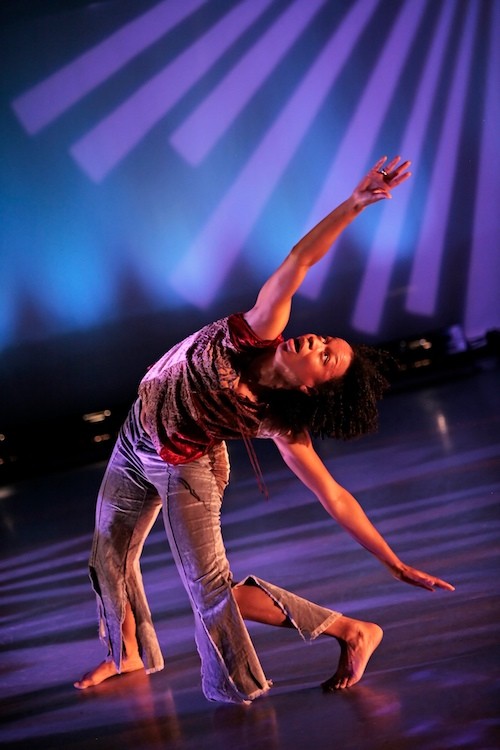 Gesel Mason in Jawole Willa Jo Zollar's Bent; Photo Credit: Amitava Sarkar
"I found myself in a [reactionary] position," says Mason, "of saying 'I'm not that.' As I got older I realized that there was this whole genre of Black dance. I went to the IABD — International Association of Blacks in Dance Conference — and saw all these different kinds of folks doing different kinds of work."
Mason continued, "I wanted to break apart this idea of what Black dance is and who does it and what it should look like,  the stereotype of it and really open up the possibilities. No Boundaries, was [in response to] what felt, to me, like very confining ideas of what Black dance was. All of the choreographers and pieces in this project are in conversation with some part of our selves and perhaps the parts of ourselves that are also found in each other."
Woven into the live performance are video pieces, conversations with the various choreographers, shot as they were setting their work on Mason. One such clip is the story of a piece by Donald McKayle, Saturday's Child that he made when he was 18-years-old. Mason shared, "He's choosing to do a dance to a poem by Countee Cullen and in the story that he tells, he talks about Martha Hill, head of Juilliard at the time, and Doris Humphrey, who were trying to lead him in another direction, and gave him some impressionistic music. And there he is a precocious 18-year-old in the The New Dance Group, who was like, 'No, I want to do a dance to a poem about homelessness.' "
Gesel Mason in Donald McKayle's Saturday's Child; Photo Credit: Enoch Chan
"That is something that's come up for me, in terms of embodying these things — instead of this feeling of 'I don't do that' . . . I'm getting excited by, 'I totally do that . . .' I'm totally interested in telling those kind of stories and looking at the way that someone told it before. Maybe that is the thing that has cracked open possibilities. From Dunham, and being able to move our hips on the stage, to Pearl Primus, to Bill T. Jones, to Ralph Lemon, to Bebe Miller — the ways that some of these artists have not been afraid to just go . . . Whether it's about your identity; whether it's about humanity; whether it's about a social issue; whether it's about deconstruction of the body so that I don't have to live in some limited understanding of what Blackness is . . . or gender, or my sexuality [is] —  I think these artists crack open ways for us to see ourselves on stage. And that to me, is what this [project] has become."
We talked about the hierarchical connotations of words like legacy and cannon. We discussed the facts of hierarchy being rooted in structural racism. As a former member of the Liz Lerman Dance Exchange, Mason points to Lerman's approach to power and leadership, referencing the practice of Hiking the Horizontal. In this concept and book, Lerman explores the act of shifting the art model from a vertical depiction, in which the "top" relates to certain aesthetics, self-expression and purity of form (or art for art's sake), and the "bottom" describes art that is ritualistic and functional, born of the daily lives of the community that performs it. Lerman suggests we turn the line sideways, placing these popularly defined polar opposites on equal ground such that they become directional pulls, not  "better-than" or "lesser-than" motifs.
 Gesel Mason in Dianne McIntyre's Where You Come From; Photo Credit: Daniel Beahm
Mason and I then spoke about the concept of taking that horizontal line and wrapping it back on itself so that the two ends meet, forming a circle. We conceptualized expanding that circle in all directions to form a sphere. If the idea of legacy, of eldership, of the dance cannon could be contained and experienced in this way might we begin to break down the structural and institutionalized, racist systems of hierarchy in dance? Can work like Gesel's live on more easily if it exists in a broader space?
In an effort to share and preserve this rich history, No Boundaries is transforming into a digital archive, which will feature interviews, dance-for-camera shorts, and documentation of the selected choreographies. This presentation of No Boundaries at the Billie Holiday Theatre will be the last live performance of the project, featuring solos by Gesel Mason, Donald McKayle, David Roussève, Bebe Miller, Jawole Willa Jo Zollar, Rennie Harris, and a recently commissioned work by Kyle Abraham. Mason shared, "my body has been the archive and I'm trying to keep that same embodied sense even as it turns digital."
---
The Dance Enthusiast Covers The Stories Behind Dance Performance, Speaking with Artists  and Creating Conversation
For more Behind the Scenes Stories of the NYC Dance World Click on our Day In The Life of Dance Section.