Related Features
Contribute
Your support helps us cover dance in New York City and beyond! Donate now.
Ashley R.T. Yergens on Premiering his First Full-Length Work "prettygirl264264" at Abrons Art Center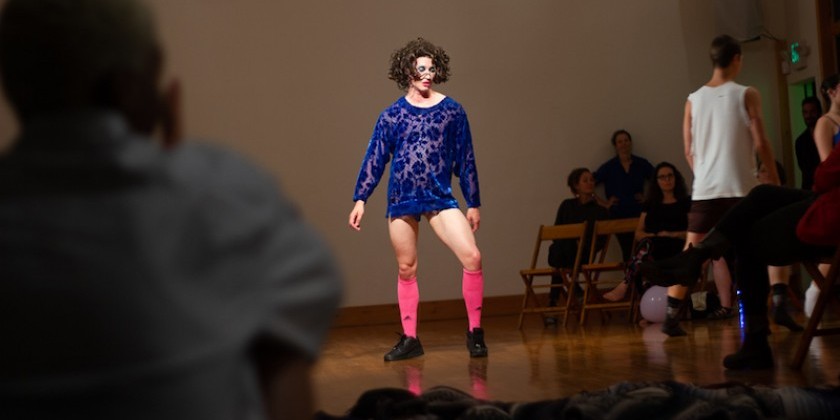 [World Premiere] Ashley R.T. Yergens: prettygirl264264
November 1-3, 2018; 7:30PM
Abrons Art Center Underground Theater
Tickets: $20; tickets are sold-out online, but there will be some available at the door each night
* AT LEAST 50% of the box office proceeds will go directly to Trans Equality
---
Multicolored balloons cover Abrons Arts Center's Underground theater floor. A life-size doll also lays prone in front of a flat screen TV. This is neither the set for a whacky sketch show nor a children's birthday party. It's the live funeral of Ashley R.T. Yergens. The living 26-year-old trans performance artist will unveil his imagined final resting place in the context of prettygirl264264.
Under the piece's candy-colored funhouse exterior lays something profoundly sad. "It deals with queer and trans erasure both in our daily lives but also in our deaths," says Yergens during a rehearsal break from his upcoming first full-length performance. "There's a strong history of trans people being mis-gendered at their funerals or their loved ones not acknowledging them . . . I saw this performance opportunity as a way to want to be remembered . . . This is a homage to those who haven't been able to do that . . ."
Yergens approaches his life — where there's often an overlap between his personal and professional ones — with contemplative scrutiny. He wrestles with what it means to feel in alignment with his body while grappling with newfound white male privilege. (In 2015, Yergens underwent hormone therapy and later top surgery).
Ashley R.T. Yergens; Photo: Ryan Duffin
In prettygirl264264, Yergens along with a cast of trans and/or queer artists explore their identities and strive for mutual understanding. They cull inspiration from multidisciplinary artist Larissa Velez-Jackson, visual artist Cindy Sherman, and pop culture. Most notably, the work includes imaginary deleted footage of "Becoming Chaz," the 2011 documentary that follows the transition of Chaz Bono, the son of Sonny and Cher. Yergens found his fascination and criticism for this famous American family to be a wealth of artistic fodder: their symbolism in culture, how Cher is seen as a gay (but isn't gay) icon, and Chaz's reluctance as a trans male spokesperson.
Live performance isn't the only place Yergens examines gender and sexual identity. Social media functions as a performance space for him too. One of his earliest internet experiences, in fact, sparked the work's title. Pretty Girl 264264 was Yergens' first AIM screenname — most likely a stock name AOL suggested when he first created an account.
Ashley R.T. Yergens; Photo: Ryan Duffin
In 2015, Yergens used social media as a way to document his transition, "posting very messy thoughts." Recently, however, the artist was cyberbullied and in turn deleted all of his accounts. He has since created a new Instagram handle, @cucumbermintpuree. "I thought I had boundaries around it," Yergens says of his past relationship to social media. But he realized that some could not discern his online personality from his actual self and became frustrated with the ease in which words can be misconstrued.
Today, the artist continues to post, albeit with constant revaluation on how he relates to the digital space. Like his peers, Yergens includes messages of hope and solidarity to queer, gender nonconforming, and trans Instagram followers, he gives shout-outs to worthy causes and individuals, and he instigates conversation within and out of the dance community regarding representation. Yet he is reticent to claim the title of activist or advocate. "To me, Ashley R.T. Yergens, who is able-bodied and for the most part has cis-passing white male privilege, should only speak on behalf of myself. I don't know what it is to be a trans woman of color or a two-spirit person, for example."
Despite his misgivings about being an agent of change in the performance community, Yergens has found himself with increased visibility. On October 21, The New York Times published an article revealing efforts by the Trump Administration to "roll back recognition and protections of transgender people under federal civil rights law."
Ashley R.T. Yergens; Photo: Ryan Duffin
The article may have emboldened individuals to take notice of Yergens' work. (prettygirl264264's run is sold out, although people can come early to performances to try to puchase tickets at the door.) This new attention gives the artist mixed feelings. While he acknowledges that everyone should be outraged by the memo, Yergens points out that many trans people publicly communicate the challenges and inequities they face on a daily basis.
Even if others are only just waking up to these issues, Yergens is grateful for the opportunity to help foster understanding in hopes of making a "tiny stitch" in the fabric of queer and trans storytelling. "For me it's really exciting to be a trans person and use my gaze to tell you, cisgender person, to try this on," Yergens says with a sly grin. "I've found that to be empowering. Perhaps, at a later date I will disagree. But at this point in time, that feels important."
A Message from Abrons Art Center:
The rights of transgender citizens are currently under attack! Abrons Arts Center believes that artistic practice is key to a free and healthy society. In light of recent news about threats to federal protections for transgender and gender nonconforming people, we are proud to support the work of the Sylvia Rivera Law Project (https://srlp.org/). Donate
here
and learn more about what you can do to support trans communities
here
.
The Dance Enthusiast Covers The Stories Behind Dance Performance, Speaking with Artists and Creating Conversation
For more Behind-the-Scenes Stories of the NYC Dance World Click on our Day In The Life of Dance Section.