BalletX Prepares to Heat up Philadelphia with its Winter Concert Series
Dancers and Guest Choreographers discuss next week's upcoming winter concert series
Wednesday-Sunday, February 12-16
8 p.m. *Wed.-Fri., 2 p.m. & 8 p.m.* Sat.-Sun.
Starting at $22, click The Wilma Theater for Tickets
---
As Philadelphia fights snow storm after snow storm, BalletX heats up the city with their highly anticipated Winter Concert Series. This show will feature two world premieres, one company premiere, and the return of a favorite. The Dance Enthusiast had a chance to catch up with BalletX during one of the show's final rehearsals at The Performance Garage.
Upon entering The Performance Garage, a former horse stable and automobile garage turned eclectic contemporary dance epicenter, one cannot help but feel connected to the members of BalletX. Company dancers offer warm hellos to visitors as they stretch, review choreography, and interact with one another. After a few minutes it's obvious that the company is a family. The dancers, directors, and choreographers are all genuinely interested in each other's work and committed to making their Winter Concert Series nothing short of outstanding.
"Preparing for this concert has been challenging both mentally and physically," admits new company dancer Zachary Kapeluck. "Everything is continually morphing, even up to this point. It has been a lot of new information."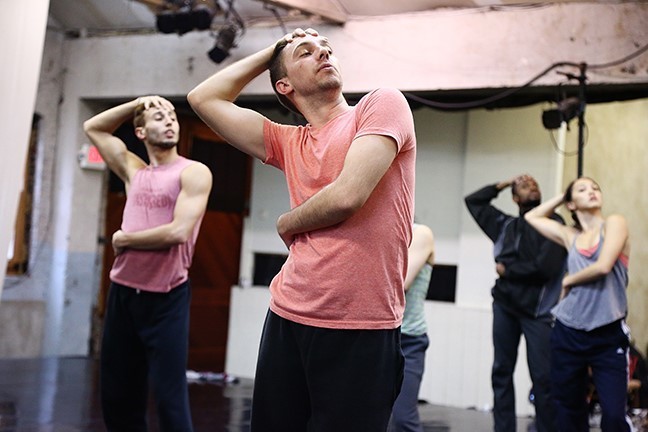 Joshua L. Peugh leading a rehearsal of Slump. Photo: Bill Hebert.
The Winter Concert Series requires versatility from its dancers. They are expected to take on new movement challenges, transform steps to fit their own bodies, and become various characters throughout the show. This pressure is outweighed by the pleasure of working with a group of talented guest choreographers: Joshua L. Peugh, James Gregg, and Jodie Gates. Each artist brings an inspiring dance background, innovative movement, and passion to their game.
"It has been so nice working with the guest choreographers for multiple weeks in a row," says Kapeluck. He explains that the company quickly became comfortable with the visitors and their creative process. "It has really been collaborative."
According to BalletX dancer Andrea Yorita, Joshua L. Peugh's process was soothing — almost therapeutic. "We hardly realized how much movement we covered so quickly. Joshua was just that calming. He gave dancers lots of imagery to explore, draw connections from, and use for our own personal inspiration. He was able to treat each dancer as an individual and make sure that the movement felt good on our bodies."
Joshua L. Peugh agrees that images are a driving force behind his dance-making. For BalletX's Winter Concert Series, Peugh is offering two dances: the company debut of his 2012 piece Slump along with a world premiere pas de deux, Valentine's Day. Slump explores the human condition using comedy and commenting on sexually provocative manners, while the new duet plays with the evolution of a romantic relationship.
Choreographer James Gregg comes to BalletX with experience as a painter, photographer, and former dancer for the world-renowned Les Ballets Jazz de Montréal. "Since Les Ballets Jazz was a repertory company, it gave me an education in choreography. Working with many great guest artists taught me to create movement and paint the stage," says Gregg.
James Gregg with dancer Jesse Sani in rehearsal for Head in the Clouds. Photo: Bill Hebert.
Choreographer Jodie Gates returns, bringing back 2012's Delicate Balance. This dance holds a special place in Yorita's heart. She had the pleasure of receiving training and mentorship from Gates as a dance major at the University of California, Irvine. "Jodie taught me a lot at school. She also introduced me to BalletX. Performing her piece in a professional company really bought everything full circle for me," says Yorita.
BalletX's Winter Concert series promises to be memorable: entertaining, emotional, and diverse. "There are so many moments where our dancers can display their true colors," says Kapeluck with anticipation.
---
Audience members can also enjoy two additional programs leading up to certain shows. At 7pm on opening night there is Conversations with the Artists, where New York City-based dance critic and writer Elizabeth Zimmer will be talking to BalletX guest choreographers and directors. The fun continues with A Pie, A Pint & The Process that takes place before the show on Saturday, February 15th at 4:30-6pm at The Wilma Theater. It costs just $5 and includes pizza and beer. The topic of conversation will be what it takes to be a professional dancer. Leading the discussion is Manfred Fischbeck, Artistic Director of Group Motion Dance, Ellie Goudie-Averill, Group Motion Dancer, and BalletX dancers Chloe Felesina and Richard Villaverde.  These programs are a part of The X-Process, an audience enrichment initiative made possible through Engaging Dance Audiences administered by Dance/USA with generous funding from The Doris Duke Foundation.