Related Features
Advertise With Us
Make an impression — place an ad on The Dance Enthusiast and receive thousands of eyes on your work every week. Learn more. 
Contribute
Your support helps us cover dance in New York City and beyond! Donate now.
Becoming "Iphigenia"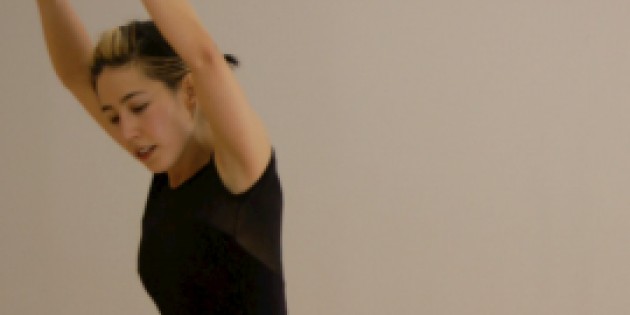 Going Greek
with RIOULT Dance NY
---
Christine Jowers for The Dance Enthusiast

RIOULT Dance NY promises to enchant audiences during their New York Season June 4-9, 2013 at The Joyce Theater. Artistic director/choreographer Pascal Rioult's newest work, Iphigenia is a dance drama inspired by the Greek heroine of the same name from Euripides' "Iphigenia in Aulis."

"There are many levels in which you can read that play," acknowledges Pascal Rioult, in a brief chat after a rehearsal . Rioult has been fascinated by Euripides' "Iphigenia in Aulis" since he was a high school student in France.
Pascal Rioult on his premiere work.


The play centers on the Greek leader Agamemnon,ready to do battle in the Trojan War. Artemis the goddess of war, offended by Agamemnon, has stopped the winds which would enable his troops to sail to Troy. The only action that will appease the goddess and ensure the soliders' arrival is the sacrifice of Iphigenia, Agamemnon's daughter. Unbeknownst, to the young girl, Agamemnon agrees to her death for his solidiers' glory. He convinces his daughter to come to him on the pretext of marrying her off to the famous warrior, Achilles. When she discovers her destiny, Iphigenia agrees to give her life for her country with honor.

"Certainly there is a message having to do with who is sacrificed in the name of war... for reasons that always seem to be the same, you know, greed. But I decided not to go political...I was more interested in the drama of Iphigenia. The psychological strength of this character is unbelievable, and the fact that she is an innocent young girl, confronted with the tragedy that she is going to be sacrificed by her own father- she transforms. That is what was interesting to me." Ipheginia's metamorphosis reminded Rioult of Joan of Arc.
Jane Sato on dancing the lead role in Iphigenia

Iphegenia's composer Michael Torke, is the third of the American composers commissioned since 2011 by Rioult through the company's Dance to Contemporary Composers Series. Torke's new score is based on a unique orchestration of eight instruments: two clarinets, two bassoons, two French horns, a cello, and contrabass. Ipheginia will be performed live by the Camerata New York Orchestra for the full Joyce run.

On the beginnings of working with Torke, Rioult recalls, "I gave him the synopsis... but the genre also was important. The first discussion was, 'I want to tell a story. I have characters who I want to interact, with relationships that evolve, and psychological scenes...' and I wanted to use a Greek Chorus. We discussed this for a long time. Would the Chorus sing like the old days? Would it there be rapping? We went through everything... and came up with something, the closest thing I can think of is an opera."

Said Torke, in a recent press release, "the Chorus and ensemble sections provide the recitatives advancing the story, while the pure dance moments are like arias - stopping the action and allowing the emotion to be expressed."



Highly regarded for his fine sense of musicality and abstract dance interpretations, Rioult admits (when asked about the challenges that this new work and first opera posed), "This is a different process for me. How do you get to the essence of a ( psychologically) complicated story?" He constantly questioned how to bring the drama of Eurpides' play into 20 minutes on stage with dancing bodies.

Judging from the compelling movement and expressive bodies seen in rehearsal, Rioult has definitely found answers.