Behind The Scenes Video with Erin Cairns Cella at The Women In Motion Estrogenius Festival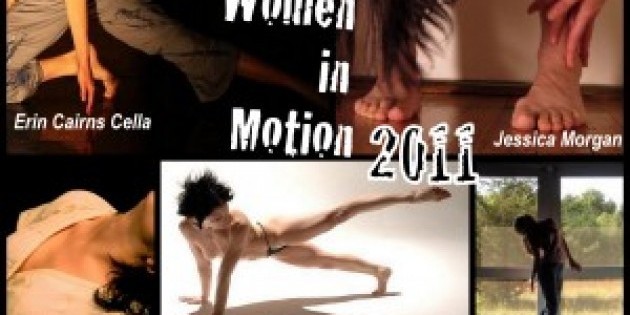 Video Windows into the Process of "Ice and Uncertainty"
Behind The Scenes with Erin Cairns Cella, Christopher Shepard and Joanna Nobbe
video by Christine Jowers for The Dance Enthusiast
---
Erin Cairns is drawn to icebergs and experimentation. This Friday night and Saturday she will be playing with form as one of the featured choreographers of Women In Motion's Embodying Wonder. I spent a lovely day in rehearsal with Erin and her dancers. Best wishes for a wonderful show.
---
How It All Came About:
---
A Minute of Dancing On Ice:
---
The Pull Towards The Ice
---

Ice and Uncertainty by Erin Cairns Cella finds inspiration in the landscape and climactic changes of Antarctica, and questions how one body or mass in space can affect another. Utilizing situation based improvisational methods, image based movement, and set choreography, the piece requires a heightened sense of performance, as the structure of the piece is dependent upon what the dancer/dancers choose to do first. Glacial speeds, a warped sense of direction, ghostly energies, and succumbing to gravity create an alien-esque sense of time and environment, echoing the notion that Antarctica is a mysterious mass, separate from the rest of Earth. The inherent structure of the piece combined with the dancers' struggle to be more body aware asks: how aware can we be? and, does increased awareness equal certainty? Performed by Erin Cairns Cella, Joanna Nobbe, and Christopher Shepard with music by Ryuichi Sakamoto.
 
---
About The Festival:
Women in Motion (WiM) presents Embodying Wonder, an evening of contemporary dance that explores the ways we embrace various states of awe and curiosity. Choreographers Zena Bibler, Erin Cairns Cella, Julie Fotheringham, and Jessica Morgan bring us dances about Antarctica, ghosts, deformity and the beauty of not knowing. These four artistswere selected by WiM producers, Melissa Riker, Amber Sloan, Esther Palmer and Anne Zuerner to envision and create an evening of dance that moves beyond the typical showcase format, while allowing each artist's individual voice to come through. Embodying Wonder is the result of four unique choreographers coming together.EstroGenius is an annual celebration of women's creative/art/performance work that has been produced by Manhattan Theatre Source for the past eleven years. Women in Motion has been a part of EstroGenius since its inception and celebrates the work of female choreographers. WiM commissions new work from a selected group of artists each year and supports them in every step of the process of creation and performance. WiM has produced a diverse group of over 65 dance artists in its 11 years including Janessa Clark, Kathryn Enright, Yina Ng, Amiti Perry, Jonette Ford, Sara Joel, Jeanine Durning, Artichoke Dance, Freefall Ltd, Jennifer Nugent, Sharon Estacio, Jule Jo Ramirez, Paradizio Dance, Darrah Carr, Sara Juli, Wendy Blum, Erin Reck, Lindsey and Jason Deitz Marchant, Marta Renzi… and the list of once emerging, now established artists goes on. Our artists come from diverse backgrounds and the work they create is rich and varied, showing influences from theatre, puppetry, mask work and performance art.

 

Where and When:

Performances will take place at Gibney Dance Center (Studio 1), Friday November 4 and Saturday November 5, 2011 at 7:00pm and 8:30pm. Tickets are 8 and available online through ovationtix at manhattantheatersource.org and at the door. Reservations are recommended.

Gibney Dance Center is located at 890 Broadway, 5th Floor, at the corner of 19th St.  Public transportation is available by taking the L, N, Q, R, 4, 5, 6 to Union Square.

 

 

 

 

 

 
---
The Dance Enthusiast's DAY IN THE LIFE covers the stories behind dance/performance and creates conversation. For more behind-the-scenes stories from NYC and beyond, click here.
---
The Dance Enthusiast - News, Reviews, Interviews and an Open Invitation for YOU to join the Dance Conversation.