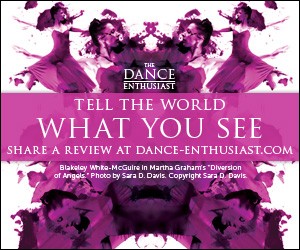 Related Features
Behind The Scenes at FLICfest
The Dance Party is on at Irondale
Talking FLICfest with the Ever Festive Jeramy Zimmerman
January 21, 2012
---
Christine Jowers for The Dance Enthusiast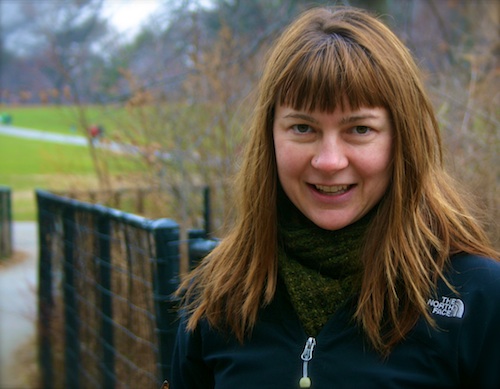 Jeramy Zimmerman, Founder of the three year old FLICfest ;Photo Brook Notary

Jeramy Zimmerman is a festive kind of gal, meaning, in this case, that she really she likes to create festivals. In 2007, Zimmerman collaborated with the creators of 60x60 (a well known music festival featuring 60 pieces of new music lasting 60 seconds each) to give birth to an accompanying 60x60 dance extravaganza. Described by The New York Times, as "mad" - but with "the kind of madness that makes the cultural world go round,"- dancers, at the mercy of a countdown clock, shared the best choreography they could perform in a speedy morsel.
Four years later in 2011, Zimmerman began to play with a completely different kind of event, FLICfest –a festival that supports full-length dance evenings created by independent artists dedicated to big ideas.Now in its third year of existence, FLICfest, at the Irondale Center in Fort Greene, Brooklyn offers audiences a chance to experience the full flavors and unabridged explorations of today's front line dancemakers in a festival atmosphere.
This year the line-up of talent is not to be missed.
Alexandra Beller's other stories plays on Saturday February 2nd along with the Steve Love Performance Group ; Photo Steven Schreiber
It all started after Zimmerman premiered her own work, HOMELAND in 2010 at Irondale, a then undiscovered spot for dance. Her company, CatScratch Theater danced the typically short three -show season that most self-producing choreographers in New York do, but when it was over Zimmerman simply didn't feel finished or ready to dive into something new. It was this feeling of unfinished business that led to her dream up FLICfest.
Irondale wanted to do more in the way of producing dance and Zimmerman wanted to create opportunities for other independent, self- producing artists to make new pieces or revisit their older ones. It was a perfect match.
In a
NY Press
article, Zimmerman described Irondale as the offspring of BAM's Harvey Theater and Judson Church and she remarks, "I'll stand by that. It's in such a lovely state of preserved decay. To me, that really highlights the grandeur of the space and it is why I originally sought it out for
HOMELAND
. There are so many reasons that I love it for FLICfest: I think that the space really has a personality and becomes part of all of the individual shows, bringing an element of continuity to the diverse styles of each choreographer. I also love working with the folks at Irondale. They are a scrappy, multi-tasking bunch. The company is run by working actors and I think it shows in the sensitivity they bring to working with us."
Today, after two years of co- producing the festival, Zimmerman is happy to report that 2013 marks the year that Irondale becomes the "full on producer" leaving her to advise artistically and develop new visions for FLICfest as well as get back to her own choreography.  
Crush The Pearl choreographed by Jordana Che Toback ; Photo by Christopher Duggan; Toback's work will play on Saturday January 26th along with Amy Cova Dance
"I envision this festival becoming the anchor for more discussions and larger dynamic programs where artists can talk about how they produce, how they create, and how they run their campaigns- so that we (self-producing choreographers) are not always re-inventing wheel."
Zimmerman mentions that while her tastes veer to "more cutting edge performance art, it helps her to work with "a varied board of directors who keep the festival well-rounded and grounded, so that we can give people a breadth of experience."
For six nights, from January 24
th
– February 2
nd
FLICFest presents two shows a night – each show designed to feature artists who work in contrasting ways.The variety of the two featured artists and the fun cabaret evenings after the "proper" performances keep audiences coming back and, Zimmerman notes with a modest laugh, "people have been starting to come for more than one night, staying for two performances and even attending the cabaret. And they're not even my board members!"  
Jillian Sweeney Photo Alexandra Corazza; Sweeney's work will play on Thursday January 24th along with Summation Dance
What can Zimmerman tell us about the work featured this year? First, she mentions that she never sees exactly what the artists are going to perform until the evening of tech rehearsal."It's exciting."
Off the top of her head Zimmerman mentions looking forward to Jillian Sweeney ,a regular at experimental New York venues such as The Chocolate Factory and HERE, "performing a work outside of her comfort zone."Jordana Che Toback, the
Bella Lewitzky
trained, former Mark Morris dancer who is equally at home with dance, theater, pop and sexy cabaret, will be serving up "a lot of dramatic unison that's going to look great in the space."
Zimmerman is curious to see what Dana Salisbury, of Salisbury and the No-See-Ums ,known for creating dances for blindfolded audiences, is devising in collaboration with Mari Meade Montoya, an up-and-coming choreographer with a talent for combining dance and humor.
Alexandra Beller, FLICfest's 2013 Honoree; Photo Robert Maxwell
Since becoming the sole producer of the festival, Irondale has made the decision to honor one choreographer out of the twelve chosen each year. This year the honoree is Alexandra Beller who, after a singular career dancing around the world with the Bill T. Jones/Arnie Zane Company, is celebrating ten years of creating independent work with her
Alexandra Beller/Dances
.
"Alexandra embodies what it means to be a successful self-producing artist, " says Zimmerman. She is excited to see Beller's evocative other stories performed on the same evening as dance veteran Stanley Love's work. The Stanley Love Performance Group has been around sharing gusto and good times since 1992. "I used to dance with Stanley Love, a long time ago, like 15 years," recalls Zimmerman. "Watching his work is like watching a party."
 
To catch the festive spirit of FLICfest Click
HERE
for times, tickets.
To find out about the excellent line-up of artists, take a look below.
FLICfest at Irondale Schedule:
Thursday, January 24
7:30 Jillian Sweeney
9:00 Summation Dance Company
Friday, January 25
7:30 Chris Masters
9:00 Yin Yue
Saturday, January 26
7:30 Amy Cova
9:00 Jordana Che Toback
Thursday, January 31
7:30 Austen Selden & Sarah Connor
9:00 Maurice Fraga
Friday, February 1
7:30 Dana Salisbury & Mari Meade Montoya
9:00 Sari Nordman
Saturday, Febraury 2
7:30 Alexandra Beller
9:00 Stanley Love
Program details and the lineup for the late-night cabaret TBA.
---
The Dance Enthusiast's DAY IN THE LIFE covers the stories behind dance/performance and creates conversation. For more behind-the-scenes stories from NYC and beyond, click here.
---
The Dance Enthusiast - News, Reviews, Interviews and an Open Invitation for YOU to join the Dance Conversation.