Dance Up Close to Belinda McGuire and MADboots Dance Company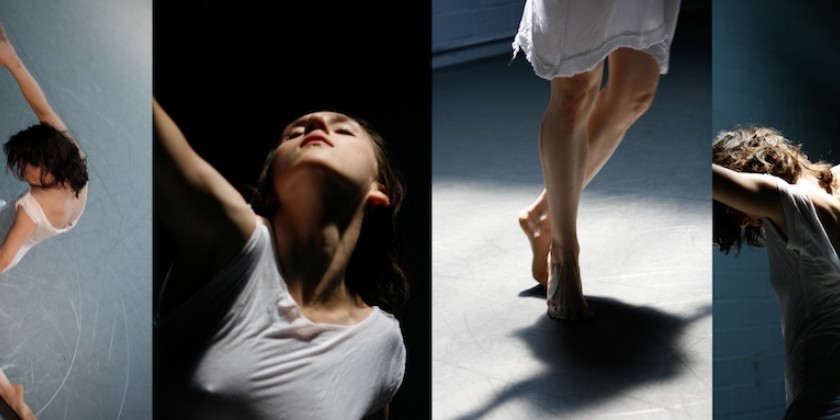 As the Two Present their Works-in-Process at Gallim Dance
MADboots Dance Company and Belinda McGuire Showing
April 26, 2014
Gallim Dance at The Church of St. Luke and St. Matthew
---
Click on MADboots' website for information on their performance of BEAU on June 6 at Tisch School of the Arts (Fifth Floor Theater at 111 2nd Avenue) and Other Summer Performances Outside New York
For more information on Belinda McGuire and her summer teaching schedule, click on her website.
---
This April, dancemakers Belinda McGuire and MADboots joined forces to showcase their work at the Gallim Dance space in Brooklyn. McGuire, a seasoned artist who has performed with Gallim, Doug Varone and Dancers, and The José Limón Dance Company along with creating her own work, invited the two-year old choreographic duo to share the early stages of their newest work, BEAU. The multigenerational afternoon allowed audiences to witness work they may have never seen in an intimate setting where they also had the opportunity to chat with the choreographers following the showing. It was a beautiful example of artistic collaboration and creative development.
---
These artists also took a moment to chat with The Dance Enthusiast after their performance. Belinda McGuire shared some of her artistic journey, from her early training in Graham and Limón through her performance and teaching experience. She has grown to think of the torso as a fifth limb that can redefine the way movement is perceived and experienced.
Belinda McGuire on the Torso as the Fifth Limb
---
MADboots, the brainchild of Jonathan Campbell and Austin Diaz, is an all male dance company. They began working in duets and went on to involve other artists. These gentlemen have returned to their more intimate creative process, working on each other's bodies in the development of their newest creation. Working with only male dancers informs their work heavily, but it does not define them. As Campbell said, "Is it important? Yes and no."
MADBoots Man Up
---
All three artists' work is also heavily influenced by materials. McGuire shared how her solo, Cello Counterpoint, continued to grow once she received her costume, designed by Katharine Mallinson. "In order to maximize what the costume has to offer…the movement has to be more severe," McGuire posits. She also uses body paint in Fable. The branch-like artwork, which runs diagonally across her back, enhances the movement quality while symbolizing the naïveté of McGuire's constantly moving body.
Meanwhile MADboots is playing with what is and is not important on the stage. From flowers, to mouthpieces, to glittered hoods, each prop has a period of necessity and a period of expendability as it exaggerates or eliminates features of their moving bodies throughout the work. "That's another thing we're trying to figure out," shares Jonathan, "How do these things matter and how do they not matter at times?"
Flowers to Glittered Hoods and Mouthpieces: MADboots and Belinda McGuire on Props and Costumes
---
Campbell and Diaz also offered a more detailed glimpse of their process in building BEAU. The work, which will be performed in its first full iteration on June 6th at Tisch School of the Arts, is inspired by writings of Édouard Levé, fashion magazines, and religious imagery. These ideas along with their deeply physical, athletic movement vocabulary find their way into an unsewn patchwork quilt, a collage that is not yet glued.

MADBoots on Building BEAU: A Whole Lot of Crazy
They do not intend the work to ever become narrative, but they are looking to craft a world that elicits a visceral response from the viewer.  Join them June 6 to see what how you feel and respond.
Bonus Video: A Minute in MAD boots