New York Dance and Performance Awards Announces 2014's Bessie Nominees and the Outstanding Emerging Choreographers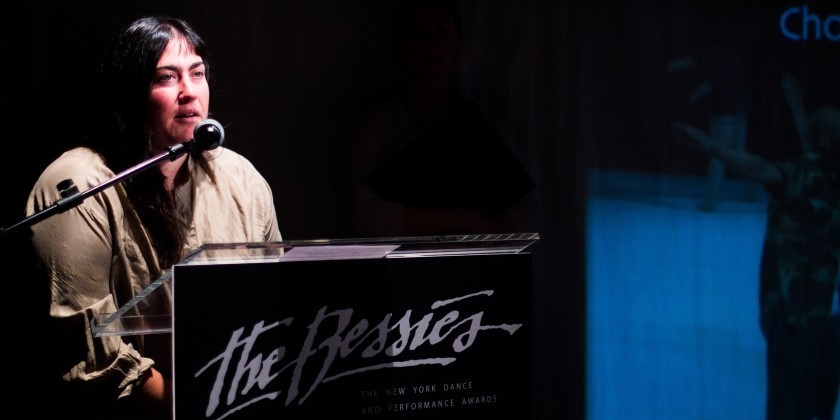 Jessica Lang and Jen Rosenblit Tie as Outstanding Emerging Choreographers - Highlighting Expansive Vision of the Bessies
New York Dance and Performance Awards- The Bessies 2014 will be held October 20th at The Apollo Theater
---
On July 16th, a press conference was held to announce the nominees for this year's Bessie Awards. The event was a dual celebration of history and progress: the Bessies turn 30 this year, and the press conference featured an homage to the first award ceremony in 1984. The air of newness about the proceedings arose thanks to the location, Gibney Dance's recently acquired space at 280 Broadway.
Gina Gibney herself was on hand to make a few remarks before the nominees were announced, and she received a very warm welcome. Gibney emphasized that she wants to transform 280 Broadway into a true hub for the dance community. The space, of course, isn't new to New York City dancers as it used to house Dance New Amsterdam. Gibney's swift and remarkable salvaging of this location, and the huge risks she has taken to keep it in the dance family, so to speak, served as an appropriate backdrop to the celebratory announcements.
The press conference wasn't just about nominations – one of the awards, for Outstanding Emerging Choreographer, was presented on the spot. Bessies director Lucy Sexton elicited a big laugh from the crowd when she shared that her daughter called this award the "emergency choreographer award," prompting audience members to ponder which choreographers would be our 9-1-1 call.
Outstanding Emerging Choreographer Jessica Lang. All photos: Ak-47 Division/Anna Kuzmina
It was a tie for Outstanding Emerging Choreographer, with the award going to both ballet artist, Jessica Lang, who "seamlessly incorporates striking design elements and transforms classical ballet language into artfully crafted, emotionally engaging contemporary works" ( see Lang's website for more); and contemporary artist, Jen Rosenblit, whose work "calls for weathered bodies whose weight and complex identities render an explicit nature" (see Rosenblit's blog for more.) Lang remarked that it was a special honor to receive a Bessie Award because Bessie Schonberg was her teacher. (Technically the New York Dance and Performance Awards, the prizes are known as the Bessies after that much beloved educator.) Rosenblit remarked that she and Lang couldn't be more different as artists, which she pointed out as a testament to the wide range of works being recognized by the Bessies.
Also featured were the members of the Juried Bessie Award Committee, who are tasked with choosing one artist who exhibits the most new and exciting dance work in New York City. That artist, who will be announced at the Bessie Award ceremony in October, is then connected with out-of-town performance and residency opportunities. This year's committee members are Tere O'Connor, Annie-B Parson, and Eduardo Vilaro.
A video montage of moments from the inaugural Bessie Awards ceremony in 1984 featured a clip of Bessie Schoenberg herself. "I wasn't given an award," she says, "they only made me into one."
The awards ceremony will return to the Apollo Theater for the fourth time on October 20, 2014. Tickets go on sale on August 4th, which Sexton reminded the audience should be easy to remember because it is 8/4, as in 1984, the year of the first Bessie Awards.
And Now for the Full list of  New York Dance and Peformance Award Nominees:
---
           Outstanding Performer  
Maggie Cloud in Passagen by Pam Tanowitz

Sean Donovan in the work of Witness Relocation, Jane Comfort, Faye Driscoll, and others

Julia Hausermann in Disabled Theater by Jerome Bel and Theater HORA
 

Sean Jackson in Rhythm in Motion by Lisa LaTouche 

Mickey Mahar in the work of Miguel Gutierrez, Adrienne Truscott, Ryan McNamara, and Gillian Walsh  

Angela "Angel" McNeal For her hip hop battle improvisations at Harlem Stage E-Moves 15 Battle  

Sara Mearns New York City Ballet  

Aakash Odedra in Get on the Good Foot, organized and shaped by Otis Rasheed as part of A Celebration in Dance at the Apollo Theater 

Tiler Peck New York City Ballet  

Rebecca Serrell-Cyr in Fire Underground by Donna Uchizono  

Linda Celeste Sims Alvin Ailey American Dance Theater  

Stuart Singer in Within Between by John Jasperse  
Outstanding Music Composition/Sound Design  
Complete, with guitarist Giuliano Modarelli for Exit/Exist choreographed by Gregory Maqoma

G. Lucas Crane for This Was the End created by Mallory Catlett  

Steven Taylor for Aubade choreographed by Douglas Dunn  

Nicholas Young for his inventive tap 'percussion platforms' in Rhythm in Motion  
Outstanding Revival  
Dark Swan by Nora Chipaumire The Joyce  

Myth or Meth (or Maybe Moscow?) by Radiohole Tom Murrin Full Moon Performance Festival at La MaMa  

State of Heads by Donna Uchizono New York Live Arts  

Bach Partita by Twyla Tharp American Ballet Theatre  
Outstanding Production  
Asase Yaa African American Dance Theatre Djembe in the New Millenium Kumble Theater for the Performing Arts  

Camille A. Brown MR. TOL E. RAncE  Kumble Theater for the Performing Arts  

Mallory Catlett This Was the End The Chocolate Factory  

Liz Gerring Glacier Montclair State University  

Maria Hassabi Premiere The Kitchen  

John Jasperse Within Between New York Live Arts  

Anne Teresa de Keersmaeker En Atendant/Cesena Brooklyn Academy of Music  

Akram Khan Desh Rose Theater, Jazz at Lincoln Center  

Sarah Michelson 4 Whitney Museum of American Art  

MIMULUS Cia de Danca Dolores The Joyce  

Okwui Okpokwasili Bronx Gothic Danspace  

Aki Sasamoto Sunny in the Furnace The Kitchen  
Outstanding Visual Design  
Thomas Dunn for New Work for the Desert by Beth Gill  

Patricia Forelle with Jenny Mui, Avram Finkelstein, and Kathy Morganroth of YMX by Yellowman; and Nicholas Vermeer, Olivia Barr, and William Ward of NYC Resistor for Vectors, Mary, and Snow by Brooklyn Ballet  

Peter Ksander, Olivera Gajic, Ryan Holsopple, Chris Kuhl, and Keith Skretch for This Was the End by Mallory Catlett

  Tim Yip for Desh by Akram Khan  
Outstanding Emerging Choreographer  
Rashida Bumbray for The Little Red Rooster in a Red House Harlem Stages E-Moves 15

 Jessica Lang For the formation of her own company and its inaugural season The Joyce  

Jen Rosenblit for a Natural dance The Kitchen  

Gillian Walsh for Grinding and Equations: Two Duets at Abrons Abrons Arts Center